Dr. Fauci Says Here's How to Vote Without Catching COVID
Watch out for the fundamentals and you can vote safely.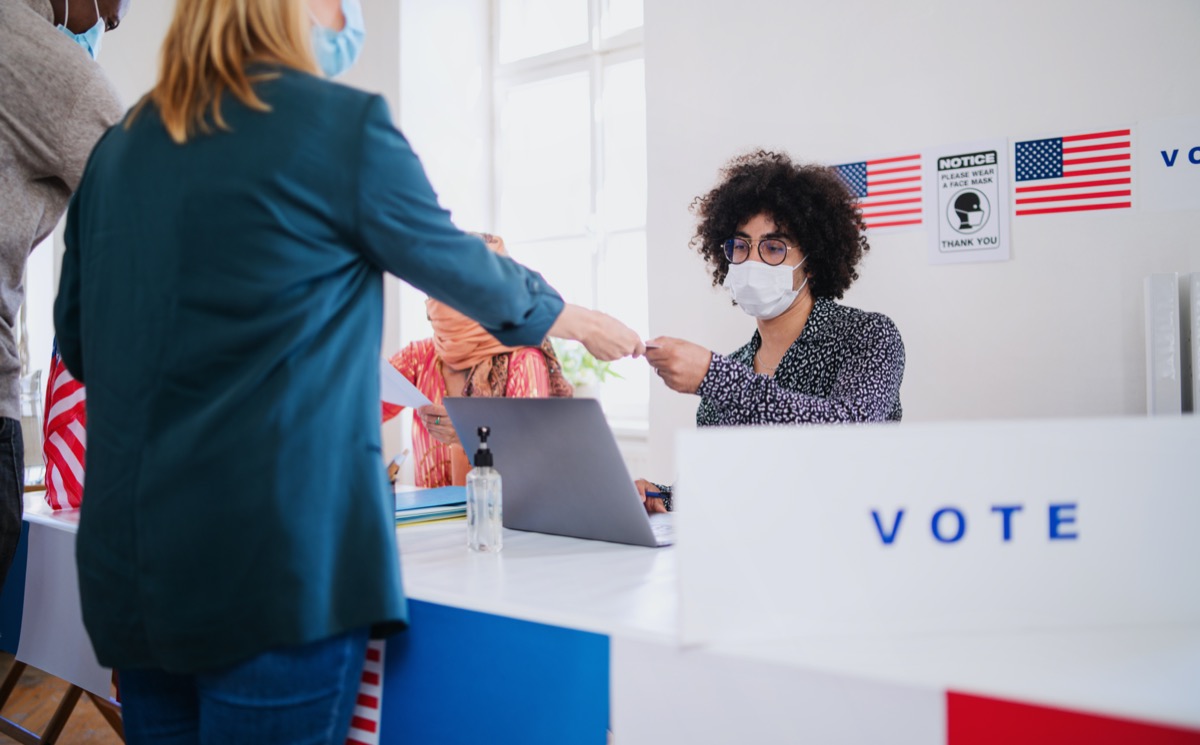 During an election year in which mail-in voting has become a hot button topic, Dr. Anthony Fauci, the nation's top infectious disease specialist, discussed when it's OK to go to the polls, in an interview with ABC News' Start Here podcast. Read on, and to ensure your health and the health of others, don't miss these Sure Signs You've Already Had Coronavirus.
Fauci Says He Plans to Vote in Person
"Yeah. I'm going to go to the poll," Fauci said of his current plans. He lives in Washington, D.C. and advises you to consider how badly COVID is spreading in your neighborhood before making any decisions, and also to ensure your polling station is following best practices. "If the polling groups who are in charge of it, they're going to do…what happens when you go to a grocery store or to a coffee shop—you see things, things on the floor: 'Stand Here.' And then six feet later, there's a little couple of shoes that say, 'Stand Here' and then 'Stand Here.' So if you stay six feet apart and you wear a mask and you're in line outside, and when you go inside, if the polling staff clearly are being careful with masks, you physically can go and vote. For sure, because it's just the standard public health measure."
Host Brad Mielke asked if Fauci would go early or on Election Day. "I don't know," answered Fauci. "I was talking about that with my wife and I think we might go early."
How to Tell if a Polling Station is Too Risky
Fauci said he'd take precautions if certain fundamentals weren't observed. In order to not enter a polling station: "Well, I'd have to see people who don't have masks and I'd have to see people who are by the nature of the physical structure of a situation where they cannot be six feet apart—that is not well organized," he said. "Then I would be concerned. And then I might do a mail and vote."
RELATED: I'm an Infectious Disease Doctor and Would Never Touch This6254a4d1642c605c54bf1cab17d50f1e
How to Avoid COVID-19
As we head into Fall, Dr. Fauci has been reiterating following the fundamentals. During an interview with Wired on Wednesday, he said: "We're talking about taking a very prudent, careful approach to reopening the economy by the common five or six things," he explained. These included "wearing masks uniformly, avoiding crowds, keeping distance, doing things outdoors absolutely much more preferentially than indoors, and washing your hands frequently." 
"It sounds like rather simple things, but they do have a major impact on whether you can get those surges to come down," he added.
And, due to the impending cold and flu season, he offered another recommendation: getting the flu shot. "We now have enough flu vaccine to vaccinate almost 200 million people," he pointed out. 
"Everybody, six months or older should get a flu shot," he stated. 
"If we do and abide by those public health measures that I just mentioned, we might mitigate well the flu season," he continued. 
As for yourself, do everything you can to prevent getting—and spreading—COVID-19 in the first place: Wear a face mask, get tested if you think you have coronavirus, avoid crowds (and bars, and house parties), practice social distancing, only run essential errands, wash your hands regularly, disinfect frequently touched surfaces, and to get through this pandemic at your healthiest, don't miss these 35 Places You're Most Likely to Catch COVID.
Alek Korab
Alek Korab is a Co-Founder and Managing Editor of the ETNT Health channel on Eat This, Not That!
Read more about Alek