Dr. Fauci Says War on COVID Has Become 'We vs. Them'
The top infectious disease expert worried about divisiveness in America.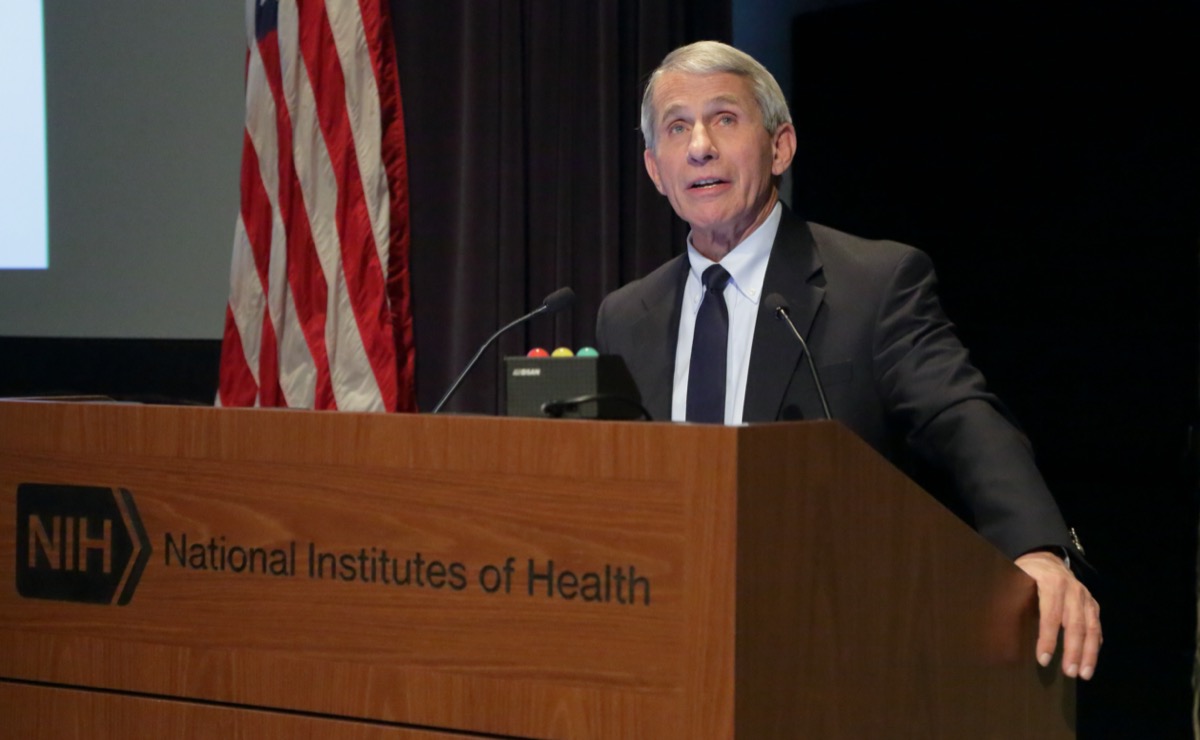 COVID-19-related deaths surpassed 200,000 in this week, and depending on whom you ask, that number is either true and tragic, or over-inflated, and our concerns about coronavirus overblown. Dr. Anthony Fauci, the director of the National Institute of Allergy and Infectious Diseases, frets about this division. He spoke with cofounder of the COVID tracking project at the Atlantic and Atlantic staff writer, Alexis Madrigal, at the virtual Atlantic Festival, about America's "we vs. them" mentality, and what we can do to stop it. Read on, and to ensure your health and the health of others, don't miss these Sure Signs You've Already Had Coronavirus.
Dr. Fauci is Worried About Misinformation 
"It's been detrimental because what the general public needs is a message that's consistent and that they believe and what's happened, unfortunately, and you have to be asleep not to realize this, that we're living in a very divisive society right now," he told Madrigal. "There's no doubt about that. That's not my opinion. That's just obvious of what we see. It's politically charged also."
"What's happened," he continued, "is that public health issues and public health recommendations have taken on a 'we versus them' approach. Getting back to the point where getting people to wear a mask"—which the two had discussed earlier—"it was like a statement not to wear a mask. People, as you know, it's public knowledge now, have been threatening me as a public health person, literally threatening me and my family because I'm saying we should be doing public health things like wearing a mask. Physical distancing"—it's as if "I'm doing something that is harmful to them, they interpreted as the public health measure is hurting them."
"No," he said, "the virus is hurting us, not the public health measures."
We Can All Turn Things Around—Together
"The public health measures really should be looked upon as a vehicle or a pathway to reopen the economy and to get the country back and to get employment back," Fauci pleaded. "It shouldn't be looked upon as an obstacle."
He maintained he wasn't talking about shutting down the country. "We know what the detrimental aspect of that is on a lot of people," he said. "I'm talking about trying to open the economy, but doing it in a measured, careful way. According to the guidelines that we carefully put forth. If we did that, I'm almost certain, we would not have seen those surges of cases that brought us up to 70,000 a day and have now plateaued down at 30 to 4,000 a day. I believe if we do that, we're going to see things turning around. And I know because if you look at that big map of a beautiful country, there are certain areas of the country that are doing really well. We need to make those be the models."6254a4d1642c605c54bf1cab17d50f1e
To keep yourself free from COVID-19, do as Dr. Fauci advises: wear a mask, avoid crowds, wash your hands and don't miss these 35 Places You're Most Likely to Catch COVID.
Alek Korab
Alek Korab is a Co-Founder and Managing Editor of the ETNT Health channel on Eat This, Not That!
Read more about Alek