Enlightened Has Two New Chocolatey Ice Cream Treats—And They're Shockingly Keto-Friendly
Two flavors that are usually loaded in carbs have magically been made into keto diet approved desserts.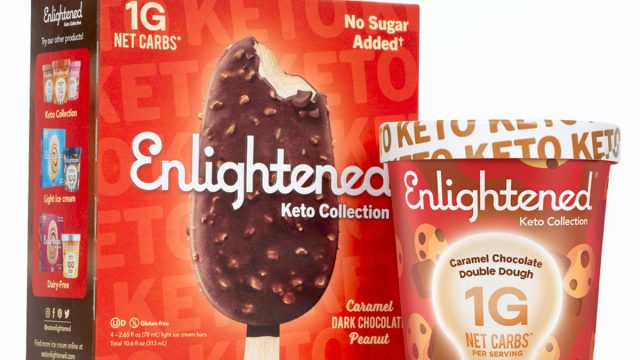 The creators of the low-calorie and low-carb ice cream pints, Enlightened, just launched two new flavors and—plot twist! They're keto-friendly.
The health-forward ice cream company has debuted two new decadent frozen desserts: Caramel Dark Chocolate Peanut ice cream bar and Caramel Chocolate Double Dough ice cream pint. Both are new additions to the company's existing Keto Collection.
Enlightened dipped into keto territory in August 2019 with four ice cream bars and seven pint flavors—giving keto diet followers a whole bunch of options to satisfy their ice cream craving while also staying on track with their carb-restricting diet.
RELATED: 3 Great Ice Cream Brands That Are Keto Diet-Approved.
Keep in mind, since these frozen desserts are keto-friendly, they're high in fat and shockingly low in carbs. Both of Enlightened's new flavors, for instance, contain 1 gram of net carbs—which, in this case, are calculated by subtracting both the grams of fiber and the grams of sugar alcohols from the total number of carbs.
Your diet aside, here's the scoop on these new launches as far as your taste buds should be concerned: The Caramel Dark Chocolate Peanut may just be the most indulgent keto-friendly bar on the market. Smooth, caramel-flavored ice cream is rolled in crushed peanuts and then dipped in keto dark chocolate, giving the treat a harmonious balance of sweet and salty flavors.
The Caramel Chocolate Double Dough ice cream pint offers double the taste value with caramel and chocolate ice cream, gooey, low-carb brownie bites, and bits of chunky chocolate chip cookie dough. This mix makes for both a rich and delightful dessert that doesn't contain excess added sugars or carbs.
To get your hands on these new, tasty developments, know that the Caramel Dark Chocolate Peanut ice cream bar is now available on eatenlightened.com and at Foodtown, Giant Eagle, HEB, Sprouts, and other national grocers. The Caramel Chocolate Double Dough ice cream pint, however, will be available online and at select retailers starting in March.
Keira graduated from DePaul University with a BA in Journalism and is a freelance writer based in Brooklyn, NY.
Read more