Your Kids Won't Believe These Chicken Nuggets Also Have Veggies
The kid-friendly finger food sneaks in hidden veggies so your kids can finally eat greens with ease.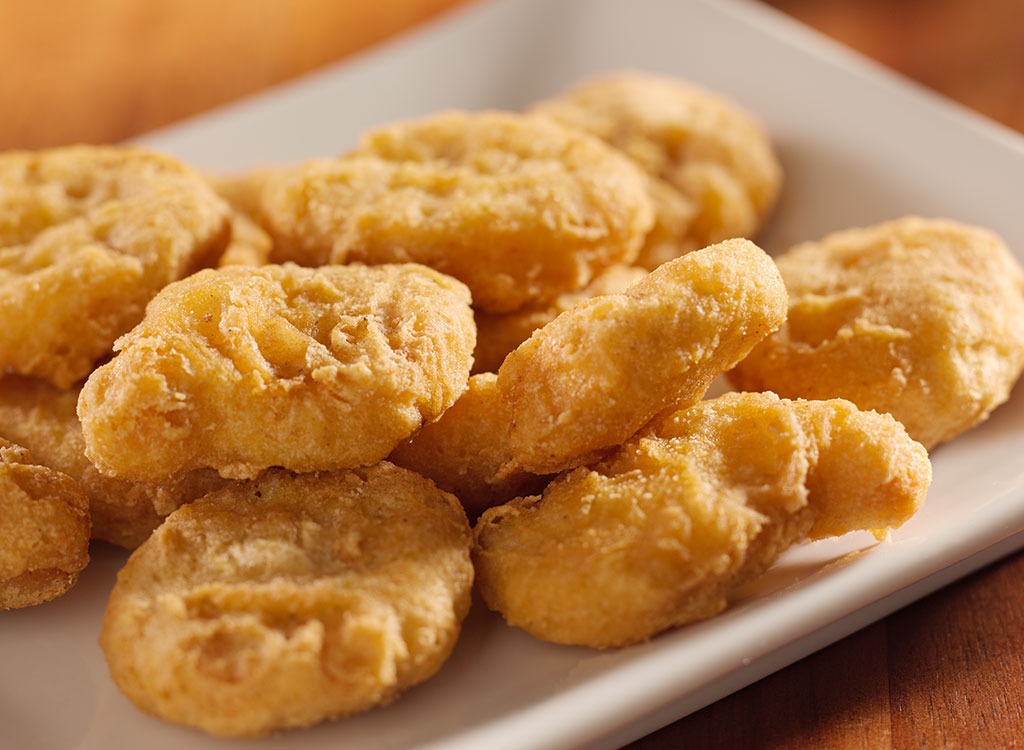 Have your kids' whines and tears won against your endless struggle to force them to finish the green stuff on their plates? We don't blame you for quitting chugga-chugga-choo-choo-ing peas into your child's mouth, but that doesn't excuse your kiddos from getting their daily dose of veggies. If you're tired of devising creative ways to win the battle, jot Farmwise's new All-In-One Chicken Veggie Nuggets & Tenders onto your grocery list.
The health-conscious brand uses only white meat chicken that's humanely raised cage-free and without antibiotics or hormones before spiking it with non-GMO broccoli, carrots, white beans, and potatoes, and breading it with a gluten-free coating. The result is a kid-friendly protein that's crunchy on the outside, juicy on the inside, and totally rivals the best-selling staple at McDonald's.
"For the ultimate in convenience, we decided to blend the veggies inside for all-in-one chicken and veggie nutrition. Chicken Veggie Nuggets and Tenders are a parent's dream—the great taste and texture of traditional Chicken Nuggets with veggie nutrition that every parent is searching for," Farmwise Co-Founder Cristina Peters said in a statement.6254a4d1642c605c54bf1cab17d50f1e
How do the All-In-One Chicken Veggie Nuggets & Tenders Perform Nutritionally?
Chicken Veggie Tenders
per 3 tenders
: 220 calories, 11 g fat (1.5 g saturated fat), 340 mg sodium, 19 g carbs (2 g fiber, 1 g sugar), 11 g protein
One serving of three tenders also packs in 20 percent of your daily value of sight-sharpening vitamin A, 15 percent of your DV of flu-preventing vitamin C, 15 percent bone-protecting vitamin K, and 4 percent fatigue-fighting iron.
Chicken Veggie Nuggets
per 4 nuggets
: 200 calories, 10 g fat (1.5 g saturated fat), 310 mg sodium, 19 g carbs (2 g fiber, 1 g sugar), 10 g protein
Four nuggets serve up 20 percent vitamin A, 10 percent vitamin C, 10 percent vitamin K, and 4 percent iron. Swap Mickey D's McNuggets for Farmwise's pick and you'll get an extra gram of fiber, a slew of vitamins, and zero kidney-harming phosphates or inflammatory hydrogenated oils.
You can also sneak more veggies into your kids' favorite meals by stocking up on Farmwise's Veggie Rings, Veggie Tots, and Veggie Fries, which are a healthy and satiating take on onion rings, tater tots, and regular French fries. while these innovative picks will certainly help round out your a picky eater's diet, they should by no means replace real vegetables. To get your kid to eat more wholesome veggies on the daily, try blending kale and spinach into a fruit smoothie and serve carrots and steamed broccoli with a clean ranch dressing.
April Benshosan
April is a born-and-raised Brooklynite who has a passion for all things health, wellness, and tastebud-related.
Read more about April
More content from
Groceries