I Tasted 5 Fast-Food Hash Browns, and This One Is The Best
A good crunch and fluffy inside seals the deal.
A hash brown may not be the first food item you think of when you're having breakfast, but they are a side dish that could heighten the entire meal. You can eat a hash brown by itself, or you can incorporate it into a dish of your choosing, making scrambles, sandwiches, really anything you want to do with this versatile potato. 
Fast-food chains have continuously added breakfast items to their menus, some being more popular than others within their own chain or against their competitors. When it comes to the hash brown, it's time to decide which one takes the street credit. After trying five hash browns from some of the most popular fast food chains, I hashed it out and decided on the ultimate winner. 
The rules were simple; on menus full of creative ideas, menus that incorporated their hash browns into their own unique dishes, all I had to do was order one side of hash browns. No additions, no meals, just the hash browns in all their glory.
What I tried
Burger King's Hash Browns
Chick-Fil-A's Hash Browns
Dunkin' Hash Browns
McDonald's Hash Brown
Taco Bell's Hash Brown Patty
Rated from least favorite to most, here are the hash browns that are worth the buy—and the ones to skip. And if you're looking for a meal to go along with your hash browns, try these 8 Healthiest Fast-Food Breakfasts, According to Dietitians. 
Taco Bell's Hash Brown Patty
When I think of Taco Bell, I do not immediately picture their breakfast menu, as I feel it falls short when comparing it to their lunch and dinner items. However, they do offer plenty of interesting breakfast staples as well as classics, like a traditional hash brown patty, so I couldn't say no. With that being said, the hash brown patty left me disappointed.
Before biting into it, I could see the to-go bag was covered in oil spots, meaning I was in for a greasy chew. Low and behold, when I sunk my teeth into it, I just tasted oil, leaving me with a strong aftertaste with every bite. I will say that the hash brown had a nice crispiness to it, but because of how thin it was, it was falling apart with every bite. For the amount of grease and for the inability to eat it without making a mess, I have to rank it last on the list.
Dunkin' Hash Browns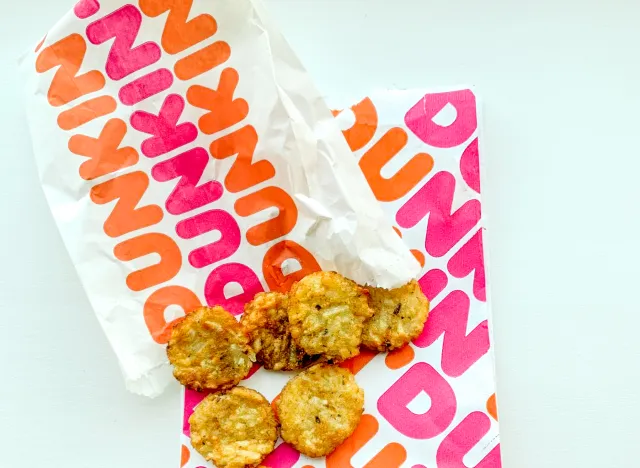 I did have to give Dunkin' brownie points because these were the only hash browns that I could order at any time throughout the day without worrying about the breakfast time limit. The Dunkin' I visited also gave me eight medallions instead of the six you're supposed to get, so I appreciated the extra two spuds nonetheless.
However, if I learned anything from those extra hash browns, it's that quantity does not always mean quality. For example, the texture was this unordinary mixture of crunchy, dense, and soft…all at the same time. I'm not sure how they did it, but I would take a bite of one medallion and succumb to a rough rounded edge, then the next bite would be this combination of a fluffy inside with too much chew.
Although I wasn't the biggest fan of the texture, Dunkin' hash browns didn't rank last because I thoroughly enjoyed the flavor. They use a seasoning blend that includes garlic, parsley, and some other ingredients. I found this super unique because this is the only chain that used bold flavors.
Burger King's Hash Browns
This chain was the only one that gave me a choice of size for the hash browns. Although classified as a side, a medium-sized order of hash browns could easily make for its own meal. They come in small, nugget-shaped pieces, making them easy to pop into your mouth in one bite. After several chews, I got a good crunch feeling with a soft potato interior.
On paper, they seem great, and they look picture-perfect for the camera. However, the reason why Burger King didn't rank higher is that there's nothing really special about them. They're pretty plain compared to some of the other hash browns I've tried. When looking at the golden-brown exterior, you expect a mouthful of flavor when biting into them. I didn't get that flavor, I actually didn't get much flavor at all. They were just an average pile of spuds.
Chick-Fil-A's Hash Browns
In a close battle for first place, Chick-Fil-A came up just shy of the win. For a side, they gave you a decent portion of hash browns. I had about 12 or so hash browns in one box serving, which I think was the perfect amount. The medallions were a perfect size, and each one looked near-identical to the other, making it aesthetically pleasing. The coating was also spot on, as a crispy brown exterior delighted both my mouth and eyes. Eating each one felt like I was indulging in a guilty-pleasure breakfast without the actual guilt.6254a4d1642c605c54bf1cab17d50f1e
Unfortunately, as enjoyable as the hash browns were, I was left disappointed when I took a bite and the medallions were no longer hot. I don't know if the restaurant I went to had them pre-made and left out of the fryer, or if they were sitting on the counter for too long, but I wasn't able to enjoy them to the fullest. The taste of a fresh batch of hash browns was left up to the imagination, leaving me wondering if they would've been better if they weren't cooled down.
McDonald's Hash Brown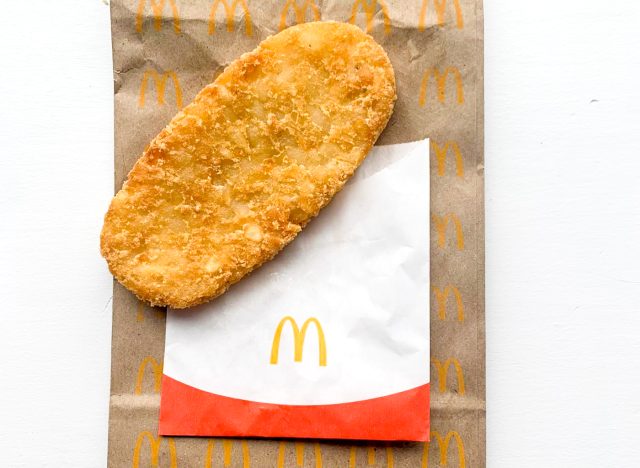 When it comes to their hash brown patty, I truly believe that they've hit the nail on the head. McDonald's switched from frying their hash browns in a mixture of cottonseed oil and beef tallow to vegetable oil with all-natural beef flavoring. They did this because beef tallow is a form of rendered fat, causing the original oil to be unhealthy and making the hash browns very high in saturated fat.
The new and improved hash browns are now not only healthier, but also even more delicious. They're made from fluffy shredded potatoes, so the crispiness of the exterior harmonizes with the cloudy interior without overpowering one another. They also don't taste greasy, but somehow pack a load of flavor into one patty. It's magic!
This is the hash brown patty I'd want in my breakfast sandwich; it has a perfect crunch to fluff ratio, with perfect golden crusting. You can actually hear the crunch when you bite into it, and something about that emphasizes satisfaction.
Kayla Garritano
Kayla Garritano graduated from Hofstra University, where she majored in Journalism and double minored in Marketing and Creative Writing.
Read more about Kayla