Dr. Fauci Says This One Place Needs to Close Down Now
"Close the bars and keep the schools open," he says.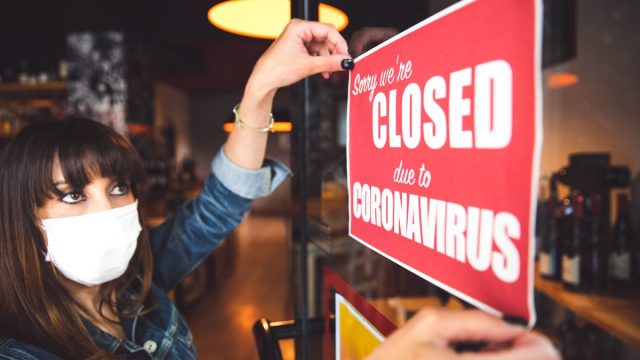 The prediction of a "dark winter" appears to be coming true, as intensive care units across the country are filling up with coronavirus patients. In response, some states—like California, New York and Pennsylvania—and instituting mitigation measures that include stay-at-home advisories or business shutdowns. Dr. Anthony Fauci, the nation's top infectious disease expert and head of the National Institute of Allergy and Infectious Diseases, said, at The Wall Street Journal's CEO Council Summit on Tuesday, that one business in particular posed a threat to your safety. Read on to hear which place should close down now, and to ensure your health and the health of others, don't miss these Sure Signs You've Already Had Coronavirus.
"Close the Bars and Keep the Schools Open," Fauci Says
"One of the things that I've been speaking about lately is that I have said—we know now that in schools, the rate of infection is less than what we would have predicted and the children seem to be doing well, but we've got to provide the resources to the teachers, as well as to the local communities, to be able to address any self contingencies that come up with regard to protecting the health and the welfare of the children and the teachers," he said. "You know, you have probably often heard me say 'close the bars and keep the schools open.' I didn't mean that to be a facetious soundbite. I meant it that it's important to do that."
Fauci has repeatedly said bars are hives of COVID-19 transmission. Earlier this year, speaking before the Senate, CDC Chief Dr. Robert Dr. Redfield emphasized "knowing what the kinetics of transmission are in the community"—i.e., do you live in a hotspot or an area where there is limited transmission—and Dr. Fauci didn't hold back in identifying one type of establishment that is the ultimate danger zone for transmission. 
"Congregation at a bar inside is bad news," he stated. "We really got to stop that. Right now."
"And when you do close the bars or limit capacity in the restaurant," he said earlier this month, "make sure we get resources to help the owners of the bars and the owners of the restaurant, not just shut them down and let them essentially make them for themselves, but give them the kind of assistance that they need. Because we do know that the bars that are open when you have congregating in bars, indoor in cold weather, that's a perfect setup to spread. So bottom line: close the bars, support the people who own the bars and keep the schools open."
Fauci talked more about such relief with the WSJ. If "you're going to close the bars and limit capacity of indoor dining and restaurants," he suggested, "we've got to get some relief to the bar and tavern owners, to the restaurant owners. We can't ask them to sacrifice at this time as we don't give them any relief, otherwise they're going to lose their source of livelihood. So there has to be resources to help enterprises like restaurants and bars to participate in the public health endeavor. We seem to sometimes forget that we ask people to do things that is very deleterious to their welfare, namely closing up or not allowing full capacity indoors in a restaurant."
Fauci said it wasn't his bailiwick to provide such relief, but he is a proponent of it.
RELATED: 7 Tips You Must Follow to Avoid COVID, Say Doctors
How to Survive This Pandemic
As for yourself, do everything you can to prevent getting—and spreading—COVID-19 in the first place, no matter where you live: Wear a face mask, get tested if you think you have coronavirus, avoid crowds (and bars, and house parties), practice social distancing, only run essential errands, wash your hands regularly, disinfect frequently touched surfaces, and to get through this pandemic at your healthiest, don't miss these 35 Places You're Most Likely to Catch COVID.
Alek Korab is a Co-Founder and Managing Editor of the ETNT Health channel on
Eat This, Not That!
Read more