Dr. Fauci Says Most People Did This Before Catching COVID
Family or "friends getting together, eight to 10 people for dinner" can be fatal.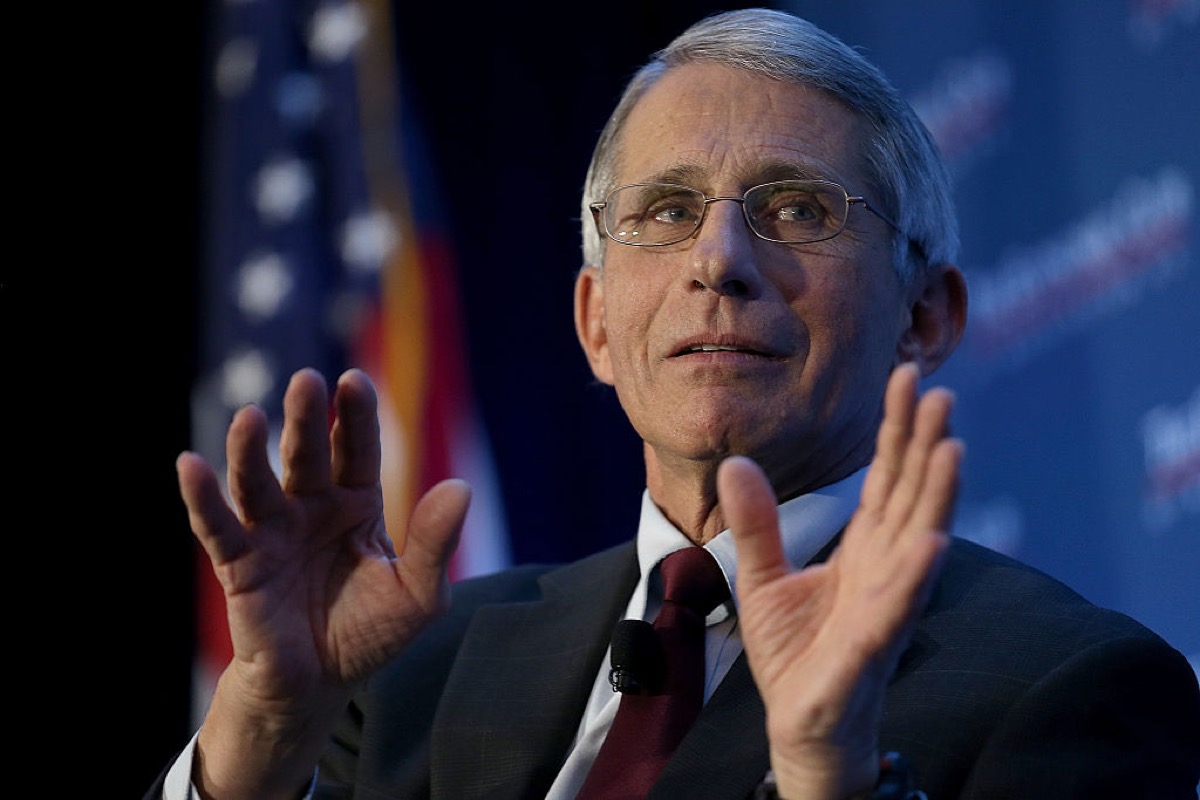 With coronavirus cases frequently resulting in 3,000 deaths a day, Am I going to catch it, too? Dr. Anthony Fauci, the nation's top infectious disease doctor and director of the National Institute of Allergy and Infectious Diseases, talked with Andrea Mitchell of MSNBC about where everyone is catching COVID these days. Read on to hear his warning, and to ensure your health and the health of others, don't miss these Sure Signs You've Already Had Coronavirus.
The Rising Cases Do Not Surprise Dr. Fauci
Dr. Fauci warned a day might come in which we reached more than 100,000 cases a day—and it's here. "I think it's pretty clear what's happening when I made that—um, I wouldn't say prediction; I didn't want to jinx us—but I said I would not be surprised, this was at a Senate hearing or months ago, when I said when we were at 40,000 cases, that if we did not do something different, really accelerate our prevention activities, that I would not be surprised if we reach a hundred thousand. And unfortunately, very, unfortunately, that was prescient because as you pointed out correctly, we're over that right now."
Fauci says "the reason I'm not surprised at it is that whenever you have a respiratory borne illness and you enter into the cooler months of the fall and the soon to be colder months of the winter, you do more things indoors as opposed to outdoors. And that's just another added ingredient to the risk you have with a respiratory infection."
Dr. Fauci Says Here's Where Many People are Catching COVID
"It was very interesting—when Dr. Birx"—that's Dr. Deborah Birx, a fellow member of the Coronavirus Task Force—"has gone around the country, trying to get this message across, she has noted—and in my own intelligence, as it were, because I connect with people in the different cities throughout the country—they are seeing now infections less in the big gatherings than in family gatherings, friends getting together, eight to 10 people for dinner, in a social gathering in which they feel well, 'We know everybody here. We may not need to wear a mask, but we may not need to get tested.' We need to know about the asymptomatic spread. It's important. We cannot deny it. There are people out there innocently and unwittingly who are infected, don't have any symptoms or infecting others. So much more widespread testing of asymptomatic individuals is going to be very important as we enter and go into these months of indoor type gatherings."6254a4d1642c605c54bf1cab17d50f1e
How to Avoid Death During the Pandemic
Until we reach herd immunity, practice Fauci's fundamentals: avoid family gatherings, wear a face mask, social distance, stay outdoors more than indoors, avoid crowds and to get through this pandemic at your healthiest, don't miss these 35 Places You're Most Likely to Catch COVID. 
Alek Korab
Alek Korab is a Co-Founder and Managing Editor of the ETNT Health channel on Eat This, Not That!
Read more about Alek