Dr. Fauci Says Do This Right "Now" to End COVID
It will all depend on one major factor—you.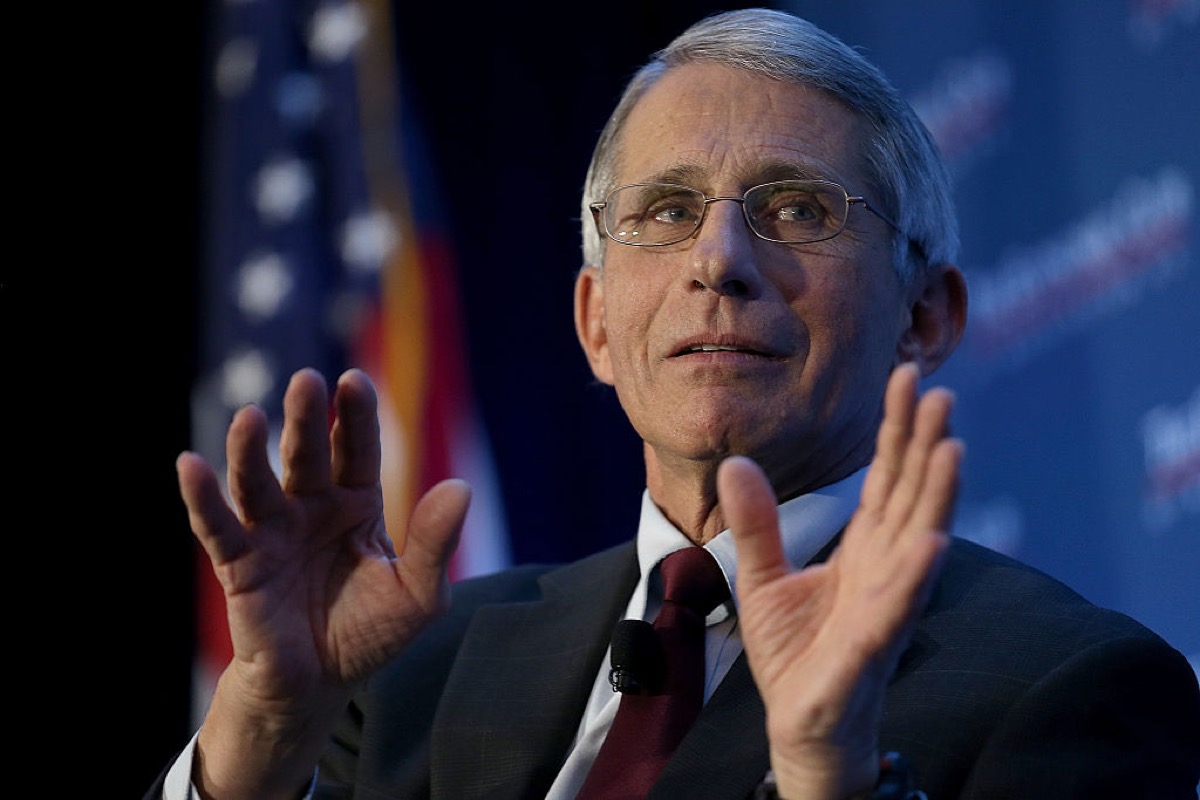 We are currently in the worst surge of virus in the COVID-19 pandemic, with infections, hospitalizations, and deaths breaking records on a daily basis. With the introduction of the first vaccine this week, many people are wondering how long it will take before we start nearing the end of this international health crisis. During an interview with CBS This Morning's Gayle King, Dr. Anthony Fauci, the nation's go-to infectious disease expert, revealed when we will start nearing the end of the pandemic. Read on, and to ensure your health and the health of others, don't miss these Sure Signs You've Already Had Coronavirus. 
We "Have" To Do This Now to Stop COVID
Dr. Fauci called the administering of the COVID-19 vaccine when so many people are dying "bittersweet." "We should celebrate the fact that the science has come through, but it is not over yet," he warned. "We have a ways to go. We have to abide by the public health measures that we talk about all the time. This is not going to just turn around overnight. We have a ways to go. And public health measures is the bridge to get to the vaccine, which is going to get us out."
King asked Fauci: "What do you think [it] is going to take now to have a real impact to slow the spread of this virus?" "What we're going to see is an increase in the number of people who ultimately get vaccinated. When you reach a certain percentage of the population to get vaccinated, you can really have an important and profound impact on the dynamics of the outbreak. So it's going to take a few months to do that," Dr. Fauci revealed.
6254a4d1642c605c54bf1cab17d50f1e
He explained that the first level of people to get vaccinated includes healthcare providers as well as those who are in nursing homes and long long-term facilities. "And then after that, you're going to start seeing other priorities coming," he continued. "I would imagine by the time we get to, let's say March, end of March, beginning of April, we will have people who are in the general population that are not in any particular priority groups. And we hope that the overwhelming percentage of the population will accept the vaccine."
Dr. Fauci Said When We'd Get to "the End of This Outbreak"
Once the majority of the population is vaccinated, the health crisis will be under control. "If we do that, we will get a veil or an umbrella of herd immunity over the population that would dramatically diminish the dynamics of the outbreak," Fauci said. "When we do that, then we [get to] the end of this outbreak. So it's going to take months to do, but we certainly are on the right track."
However, the key word is "if," as Dr. Fauci explains many people are hesitant to get the vaccine. 
"The challenge is the acceptance on the part of various elements in our society, and we're working very hard and minority populations understandably have somewhat of a skepticism," he pointed out. "I've been out there, my colleagues have been out there trying to outreach to that group of individuals and explain to them the things that make them skeptical."
One of the reasons why some are hesitant has to do with "the speed with which this has happened." However, Fauci maintains the speed is actually "a really good thing" because "the speed is a reflection of the extraordinary scientific advances in vaccine platform technology that allowed us to get here quickly and also the enormous investment that has been made in developing and producing doses of vaccine."
How to Stay Alive During the Pandemic
What will Fauci be doing for his holidays? Not hanging with his kids. He wants them—and he and his wife—to remain alive. Follow his lead. "I'm going to be with my wife — period," Fauci told the Washington Post. "The Christmas holiday is a special holiday for us because Christmas Eve is my birthday. And Christmas Day is Christmas Day. And [his kids] are not going to come home … That's painful. We don't like that. But that's just one of the things you're going to have to accept as we go through this unprecedented challenging time."
As for yourself, follow his fundamentals and help end this surge, no matter where you live—wear a face mask, social distance, avoid large crowds, don't go indoors with people you're not sheltering with (especially in bars), practice good hand hygiene and to protect your life and the lives of others, and don't visit any of these 35 Places You're Most Likely to Catch COVID.
Leah Groth
Leah Groth has decades of experience covering all things health, wellness and fitness related.
Read more
More content from
ETNT Health