Dr. Fauci Calls Distrust of Vaccine 'Disturbing'
Polls show half of Americans aren't willing to do this to end the pandemic.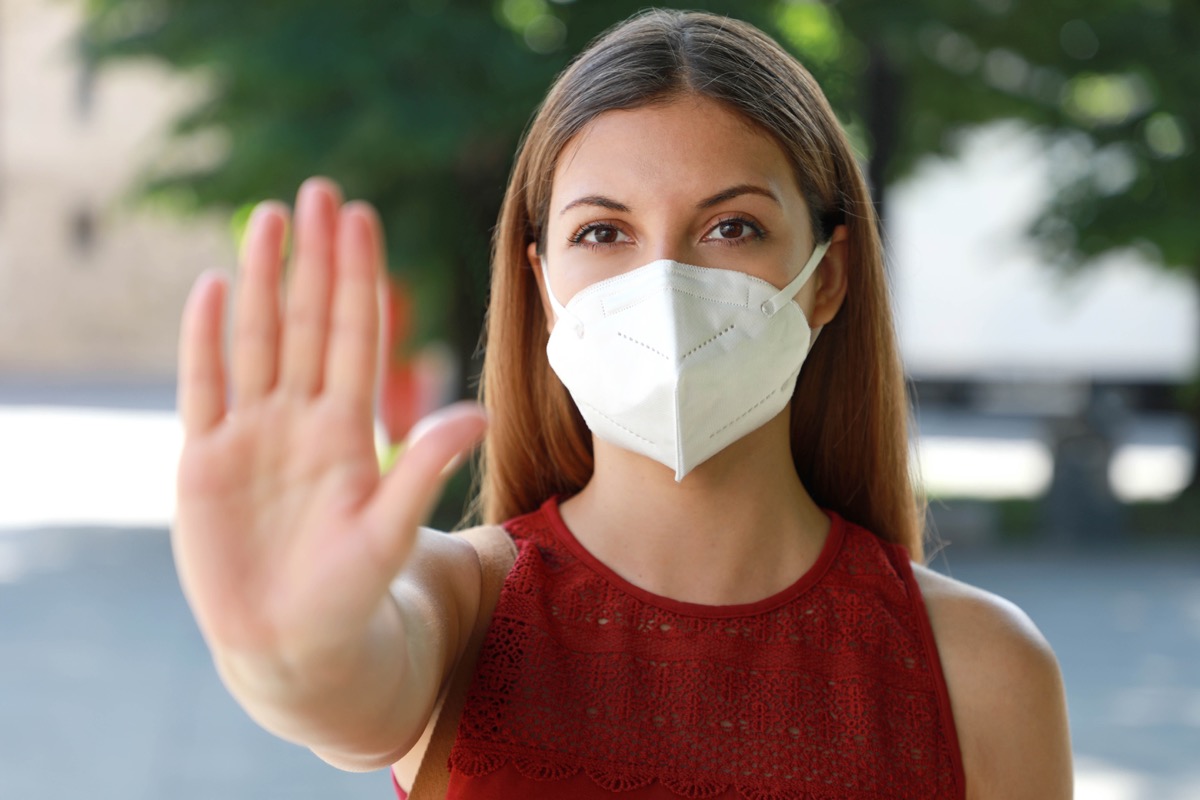 Dr. Anthony Fauci, the nation's top infectious-disease expert, finds it "disturbing" that many Americans are reluctant to get a coronavirus vaccine.
Despite the fact that COVID-19 has killed more than 230,000 Americans and caused massive upheavals in nearly every facet of American life—closing schools, office buildings, restaurants and bars—recent polls have found that a majority or near-majority of Americans wouldn't get vaccinated against coronavirus as soon as it becomes possible. 
Last week, six in 10 respondents in a Axios/Ipsos poll said they wouldn't get a vaccine as soon as it became available. That's up from 53% in August. In a Sept. 16 Pew Research poll, only 51% of respondents said they definitely or probably would get vaccinated—a 21-point drop since May. And to get through this pandemic at your healthiest, don't miss these Sure Signs You've Already Had Coronavirus.
Messaging to blame?
Fauci made the comment at the Texas Tribune Festival on Tuesday, attributing the lack of public trust to "mixed messages that have come out of Washington."
President Trump has at times contradicted health officials' recommendations, such as mask-wearing, making them politicized. Some fear Trump is trying to rush through a vaccine, at the expense of safety, to gain a political advantage before the Nov. 3 election. 
Fauci said that health officials must work to "regain the confidence … that this is being done to protect them as individuals and to protect our society."
Ideally, they will have to work fast. Fauci and other experts have said that clinical trials could produce a vaccine worthy of approval within months. "I feel cautiously optimistic, as a scientist, that we will have a safe and effective vaccine," said Fauci. "I believe it will happen, and it will happen likely by this end of the calendar year."
Fauci, who has advised six presidents and is the director of the National Institute of Allergy and Infectious Disease, has said previously that potential vaccines are progressing rapidly because of scientific advances, not political concerns.
"We pay particular attention to safety, and the rapidity with which we are moving relates more to technical logical advances in how you can make a vaccine, even before you start testing it," said Fauci on Aug. 4. "When we talk about speed, it doesn't mean sacrificing safety considerations, nor does it mean sacrificing scientific integrity."
Vaccines on fast track
Several potential vaccines are currently in clinical trials. Last Friday, Johnson & Johnson said the vaccine it is developing caused a strong immune response in 98% of participants in a 1,000-person trial. That vaccine will proceed to a Phase III trial of 60,000 people, with results expected by the end of the year or early 2021.
6254a4d1642c605c54bf1cab17d50f1e
Vaccines by at least five other manufacturers are currently in Phase III trials, according to a tracker by the Regulatory Affairs Professionals Society.  
As for yourself, do everything you can to prevent getting—and spreading—COVID-19 in the first place: Wear your face mask, get tested if you think you have coronavirus, avoid crowds (and bars, and house parties), practice social distancing, only run essential errands, wash your hands regularly, disinfect frequently touched surfaces, and to get through this pandemic at your healthiest, don't miss these 35 Places You're Most Likely to Catch COVID.