Dr. Fauci Says Here's When It's Safe to Go Back to Work
It depends on one major factor.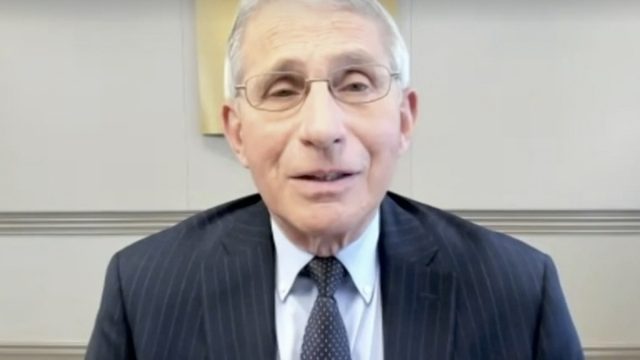 With a COVID-19 vaccine just days to weeks away, the question on many people's mind is: when will life go back to normal? As many people have been working remotely since March, returning to the workplace will be a key indicator that we are in a good place in regard to the virus. On Tuesday Dr. Anthony Fauci, the nation's leading infectious disease expert, spoke with The Wall Street Journal's Jonathan D. Rockoff, revealing when it will be safe to welcome workers back into the office. Read on, and to ensure your health and the health of others, don't miss these Sure Signs You've Already Had Coronavirus.
It Depends on How Many People Opt to Get Vaccinated
According to Dr. Fauci, the exact time when it will be safe to work in a group setting depends on how many people opt to get vaccinated. "If we can convince the overwhelming majority of the U.S. population to take the vaccine, when we get through April, May and June, we could likely get most everybody and anybody that wants can get vaccinated to be vaccinated," he explained. "The quicker we do that, the quicker we'll be able to tell the CEOs who are listening and viewing that they're going to be close to normal."
He continued to explain that the chance of infection will decrease significantly when herd immunity is achieved. "Once you get an umbrella of herd immunity, as we refer to it, where you have 75% or more of the population vaccinated in this country, the level of circulating virus in the community by definition will be so low that the threat of outbreaks in whatever facility, factory industry, or whatever it is that you're the CEO of, is going to be extremely low." 
RELATED: 7 Tips You Must Follow to Avoid COVID, Say Doctors
We Will Still Need to Wash Our Hands
At this time "we're not going to be able to immediately abandon public health measures" that Fauci suggests. However,  the level of infection will be at a lower level — and "you should be thinking about getting them back into the building as soon as you get a level of protection."
Fauci also suggests that CEOs establish a testing system where they can do surveillance testing similar to what colleges and universities have done this school year. "You could do that at the level of an industrial establishment," he said. "You don't need to have to be in the dark about what the level of infection is. You do surveillance testing. It often isn't as sensitive, but if you do it frequently enough, it compensates for the lack of the 99% sensitivity."
As for yourself, do everything you can to prevent getting—and spreading—COVID-19 in the first place: Wear a face mask, get tested if you think you have coronavirus, avoid crowds (and bars, and house parties), practice social distancing, only run essential errands, wash your hands regularly, disinfect frequently touched surfaces, and to get through this pandemic at your healthiest, don't miss these 35 Places You're Most Likely to Catch COVID.