This is the "Most Urgent" Thing You Can Do to Avoid COVID, Fauci Says
It will take a group effort, he maintains.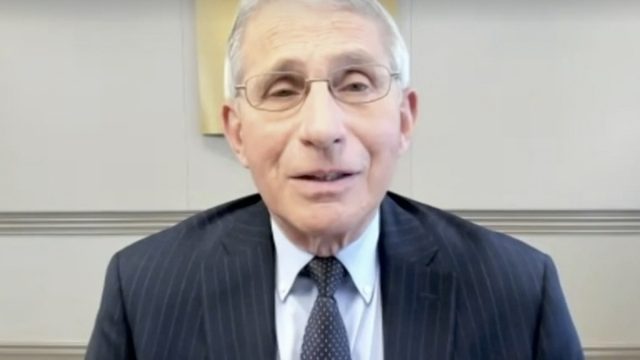 As the number of COVID-19 infections continues to dramatically increase across the country, with hospitals reaching and even surpassing capacity, protecting yourself from the potentially deadly virus has never been more important. And while taking physical prevention measures—such as masking up, socially distancing, practicing hand hygiene, and avoiding group gatherings — continues to be just as crucial, according to the nation's leading infectious disease expert, Dr. Anthony Fauci, there is one thing that all of us need to do if we want to defeat coronavirus once and for all. Read on to hear his warning, and to ensure your health and the health of others, don't miss these Sure Signs You've Already Had Coronavirus.
Dr. Fauci Says We Need to Pull "Together in the Same Direction"
During the Bloomberg American Health Summit on Wednesday, Dr. Fauci explained that the entire country needs to agree that we are in the midst of a health crisis. "When you have a public health crisis, what you need is everybody pulling together in the same direction," he said.
"I think everybody uniformly needs to admit that we have a real problem," he continued. "We've got to own the problem. If you don't own the problem, you're never going to fix the problem."
In many parts of the country there is "almost denial where people still don't think this is a big deal," he pointed out. "They think it's kind of fake news or a little bit of a hoax, or what have you."
However, "It's not, it's real," he continued. "The numbers are absolutely real. We're having record numbers of hospitalization, record numbers of cases. And most recently, deaths. We have a serious issue."
RELATED: 7 Tips You Must Follow to Avoid COVID, Say Doctors
Dr. Fauci Warns the Worst is Yet to Come
Fauci also expressed concern that despite the shocking statistics and record breaking number of infections, hospitalizations, and deaths, the worst is yet to come. 
"We're just coming out of the Thanksgiving holiday, which I'm sure is going to lead to some sort of a blip, if not a surge in cases, which you usually see two to three weeks after the event," he said. "And that leads right up into the beginning of the Christmas and Hanukkah holidays, which are going to be more travel and more congregating and social settings where people are indoors."
On Tuesday, during an interview with The Wall Street Journal's Jonathan D. Rockoff, Dr. Fauci revealed that if all goes well, some semblance of normalcy will return in the second part of 2021. 
The new normal will include "getting the CEOs to feel comfortable in getting people back in their establishments, having restaurants get in full capacity indoor, and having some indoor functions that we can feel safe"—such as theaters and places of entertainment and sports events.
But even with a vaccine, following Fauci's fundamentals will still be crucial. So do everything you can to prevent getting—and spreading—COVID-19 in the first place, no matter where you live: Wear a face mask, get tested if you think you have coronavirus, avoid crowds (and bars, and house parties), practice social distancing, only run essential errands, wash your hands regularly, disinfect frequently touched surfaces, and to get through this pandemic at your healthiest, don't miss these 35 Places You're Most Likely to Catch COVID.