Dr. Fauci Calls U.S. Response a "Free for All"
"It was like a free for all. There was some states that didn't even pay attention."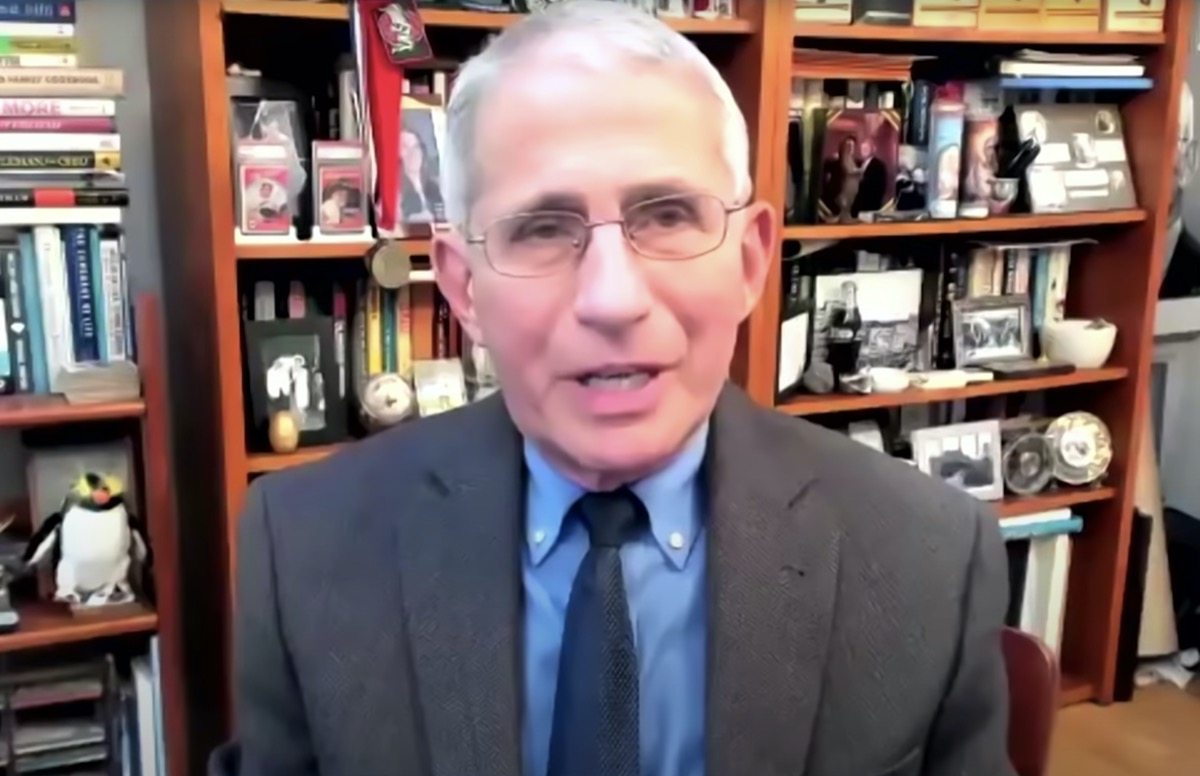 As coronavirus cases hit record highs (again), Dr. Anthony Fauci, the country's top infectious disease expert, spoke at the University of Melbourne's virtual Conversations on COVID-19: A Global View with Dr Anthony Fauci and Professor Sharon Lewin to sound the alarm. When asked why come countries have done better than others, Fauci revealed that one of the things that makes America great has also become a liability when it comes to COVID-19. Read on to hear his warning, and to ensure your health and the health of others, don't miss these Sure Signs You've Already Had Coronavirus.
What Did Dr. Fauci Say About the U.S. Response to COVID?
Fauci was asked if he saw "some patterns amongst the countries who've done better than others?"
"Well, I think, geographically and otherwise, the ability to contain within one's country when you have a country like Australia, which is a gigantic island, it's probably easier to contain in and out, whereas in the United States, that's not the case," he said. "You know, we have Northern and Southern borders in the Southern border, particularly is problematic. As Mexico has had a real difficult problem also with COVID-19. But the other thing that I think people need to appreciate about the United States is that by the very nature of how our country was formed by the founding fathers, it is the United States of America. And the States by this process called federalism, have the ability to do things independently, even though we have a central government. And if ever there was a situation where you wanted consistency throughout the country, where when you say this is what we're going to do, everybody does it."
He continued: "Although there's many positive aspects about the independence of the different states in doing things the way they want to do it, when you're dealing with a pandemic and you say, we want everybody to do A, B and C—and all of a sudden state number 43, does this and state number 27 does that? It becomes very difficult. We saw that very clearly when we were trying to open up the economy again or open up the country. We did, and I was very much involved with Dr. Deborah Birx in putting together these guidelines, which were a gateway—a phase one, phase two—to tell you how you can gradually safely and prudently open up the country. That would have been nice if all the states did that the same way. It was like a free for all. There was some states that didn't even pay attention. Some states jumped over one benchmark to the other and some states tried to do it well."
Ultimately, we spread COVID-19. "But yet when you looked at the TV screen, you'd see people crowded at bars with no masks, just essentially causing super spreading. Even though we had the guidelines of universal wearing of mask, keeping distance, avoiding crowded in congregated settings, doing things outdoors more than indoors and washing your hands. If everybody had done that uniformly, I don't think we would be in the position we're in right now."
RELATED: Dr. Fauci Says You Don't Have to Do This Anymore to Avoid COVID
Dr. Fauci Said Messaging is One Problem in America
"One of the real problems," he went on, "with the messaging that all of us—to get people uniformly to appreciate the potential seriousness of this, because of all the viruses that I've dealt with over the decades, I have never seen a situation with such a broad range of manifestations from 40% of the people having no symptoms to the majority of symptomatic people, having mild to moderate symptoms to 20 to 25% of people getting so severe disease that you have deaths, the likes of which in the United States, as of last night, there were 225,000 deaths with many more expected as we go into the winter. And yet there are some people, particularly young people who feel if I get infected, the likelihood is that I won't have any symptoms if, or if I do, there'll be very mild. That makes it very difficult to get a uniform consistent message about seriousness of this. That's the problem."6254a4d1642c605c54bf1cab17d50f1e
RELATED: The Unhealthiest Supplements You Shouldn't Take
How to Stay Safe During the Pandemic
As for yourself, do everything you can to prevent getting—and spreading—COVID-19 in the first place: Wear a face mask, get tested if you think you have coronavirus, avoid crowds (and bars, and house parties), practice social distancing, only run essential errands, wash your hands regularly, disinfect frequently touched surfaces, and to get through this pandemic at your healthiest, don't miss these 35 Places You're Most Likely to Catch COVID.
Alek Korab
Alek Korab is a Co-Founder and Managing Editor of the ETNT Health channel on Eat This, Not That!
Read more about Alek