The Shocking Ingredients Manufacturers are Sneaking Into Your Food
The FDA's new policy allows manufacturers to sneak (or remove) new ingredients into your food.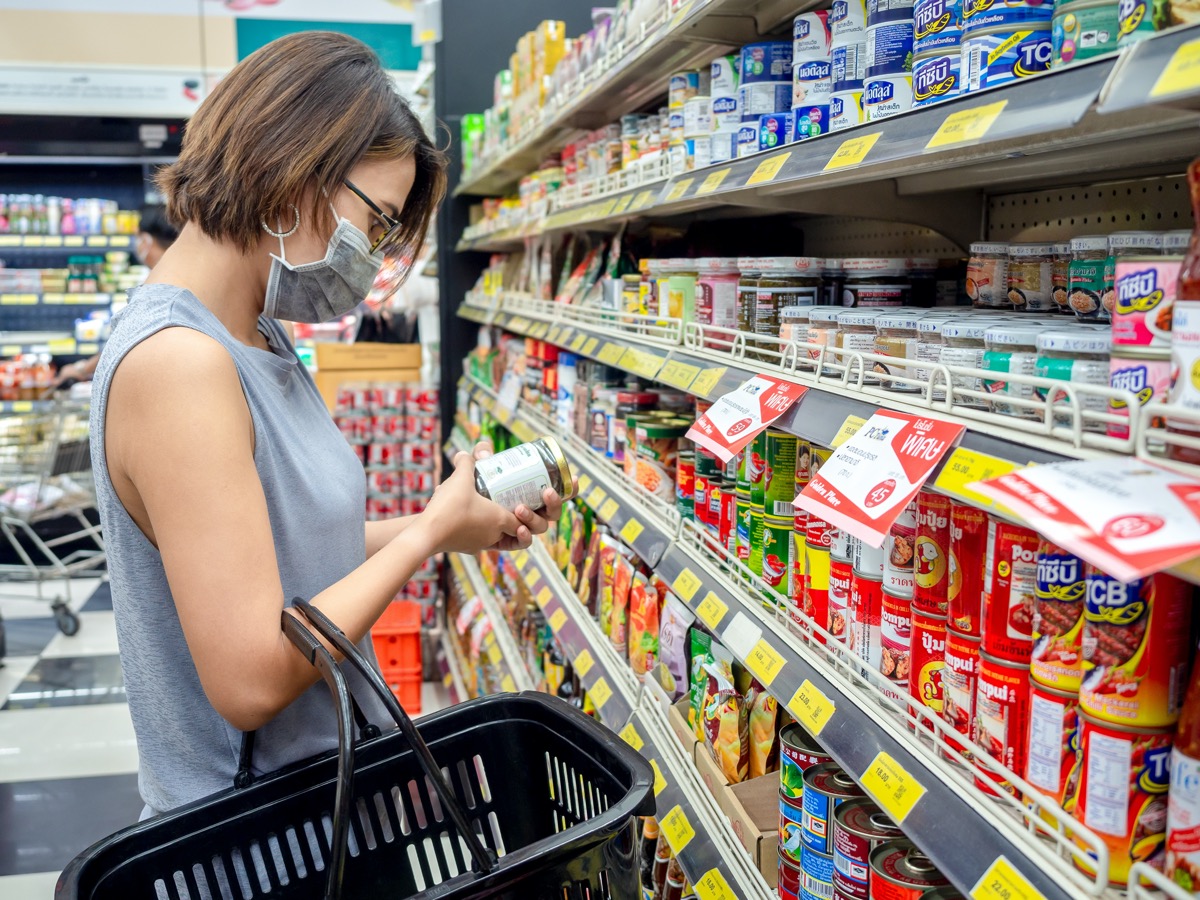 Your favorite food or beverage may contain a new ingredient during coronavirus—and you may never be able to find out what it is. Due to supply chain issues caused by COVID-19, the FDA announced a new policy that permits food manufacturers to make ingredient substitutions at their discretion. This guidance allows manufacturers to either add or remove ingredients from their product formulations without having to declare it on the label, which means you won't know exactly what you're eating.
Just like how grocery stores experienced a meat shortage after animal processing plants had to shut down, food manufacturers have also been struggling to source the ingredients they use in their products due to supply chain disruptions. In non-pandemic times, if a manufacturer isn't able to source a specific ingredient listed on the food's label, it would have to create a new label for that batch with the relevant ingredients, which could extend production time significantly.
Because the FDA understands the extent to which the ingredient supply chain has been disrupted due to COVID-19, they passed this policy to afford manufacturers the flexibility to make minor ingredient changes. Without this new guidance, your favorite products might not have been able to sit on store shelves.6254a4d1642c605c54bf1cab17d50f1e
STAY INFORMED: Sign up for our newsletter to get the latest food news delivered directly to your inbox.
While it may sound disconcerting that you won't know exactly what you're eating when you purchase your favorite snack, rest assured that the FDA has strict guidelines for what manufacturers can and cannot substitute. For example, the new ingredient cannot cause any adverse health effects (such as food allergens or gluten), it has to be less than 2 percent or less by weight of the finished food, and the substitution cannot have a significant impact on the nutrition facts.
To give you a better idea of what this looks like, the FDA listed specific examples. One example would be omitting green peppers from a vegetable quiche that contains multiple vegetables. Another example would be substituting sunflower oil for canola oil or changing the spice blend when the label already declared the generic ingredient "spices."
Despite allowing for only small changes to ingredient labels, this policy change has caused alarm among some consumer watchdogs. One of those is the food-allergy organization and blog SnackSafely. The CEO, Dave Bloom, writes that the guidance contains "numerous loopholes that are of concern to members of the food allergy community." For people with food allergies, this new policy makes it harder to be confident that their food won't make them sick.
Because the FDA specifically calls out that manufacturers cannot substitute ingredients that contain common allergens, the hope is that manufacturers follow this guidance and have their customers' health in mind. This policy won't last forever, either: "This policy is intended to remain in effect only for the duration of [COVID-19]," according to the FDA. For now, it might be worth worrying more about the 5 Side Effects of Eating Expired Foods.
Olivia Tarantino
Olivia Tarantino is the Managing Editor of Eat This, Not That!, specializing in nutrition, health, and food product coverage.
Read more about Olivia