The Flu is Killing People This Year. Here's the Most Common Symptoms
Doctors reveal what flu symptoms to watch out for this year.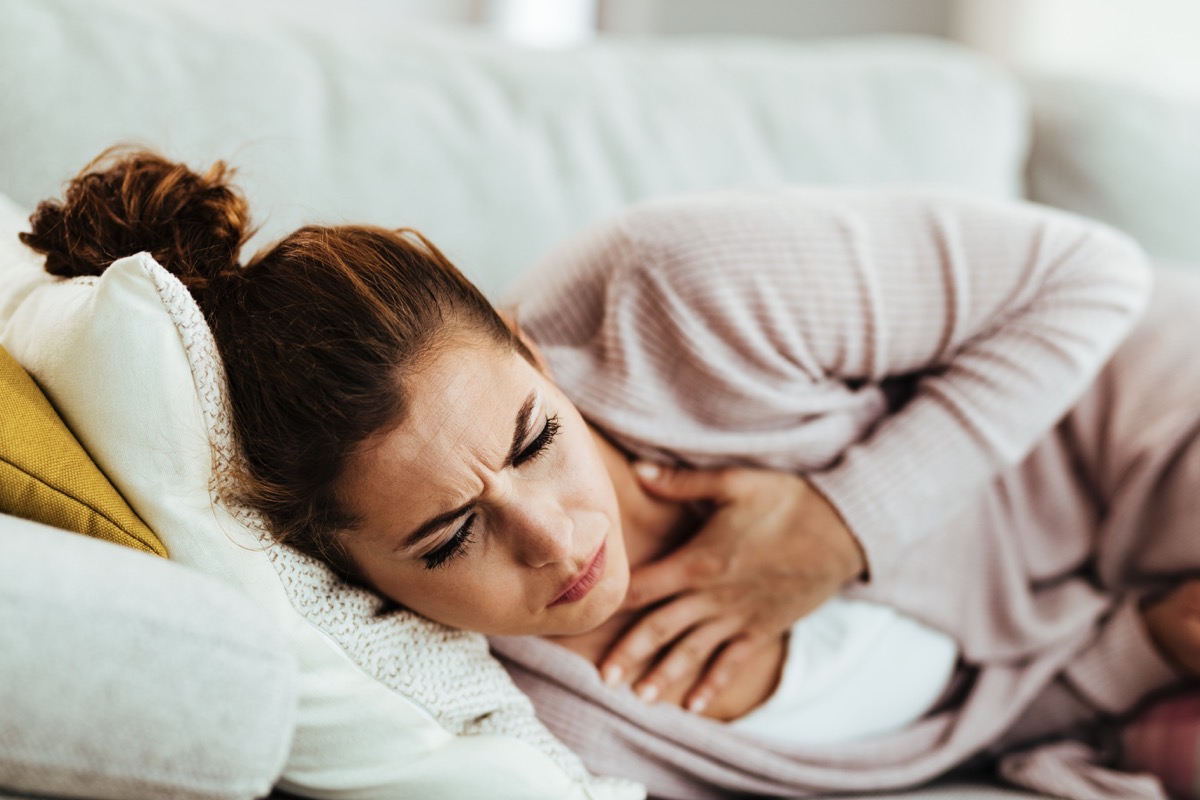 Flu season is here and healthcare workers are already feeling the strain. According to estimates from the Centers for Disease Control and Prevention, "so far this season, there have been at least 2.8 million illnesses, 23,000 hospitalizations, and 1,300 deaths from flu." In addition, hospitalization rates are up. CNBC reports. "Flu hospitalizations have surged to a decade high in the U.S. with the Southeast the hardest region right now. Five out every 100,000 people in the U.S. were hospitalized with the flu during the week ending Nov. 5, according to data from the Centers for Disease Control and Prevention. That's the highest hospitalization rate this early in the flu season since 2010, more than 10 years ago."
Brad Hutton, M.P.H.Public Health Consultant; Infectious Disease Epidemiologist with Hutton Health Consulting tells us, "Our healthcare system, especially hospitals and nursing homes, is experiencing pipeline workforce shortages that have been greatly worsened and accelerated by the pandemic. An early flu season, increased hospitalizations due to respiratory syncytial virus (RSV) that began in the spring, and continued COVID-19 disease are causing concerns of shortages of hospital beds in most regions of the U.S., especially in pediatric units which were already limited. On November 4th, the CDC issued a Health Advisory urging clinicians across the U.S. to promote COVID-19 and influenza vaccination and to use antivirals to help tamp down the surge." 
In addition to the flu shot, experts advise you to take safety precautions and stay healthy. " It is important to take preventative measures such as facemasks, frequent hand washing and staying at home when you are sick," Anna Van Tuyl, MD Interim Associate Chair and Director, Division of Critical Care Department of Emergency Medicine at Staten Island University Hospital tells us. "If you are of age, getting vaccinated and booster shots will help fight against the certain viruses to protect against severe hospitalization and illnesses."  Read on—and to ensure your health and the health of others, don't miss these Sure Signs You've Already Had COVID.
1
Will the Flu be More Deadly This Year?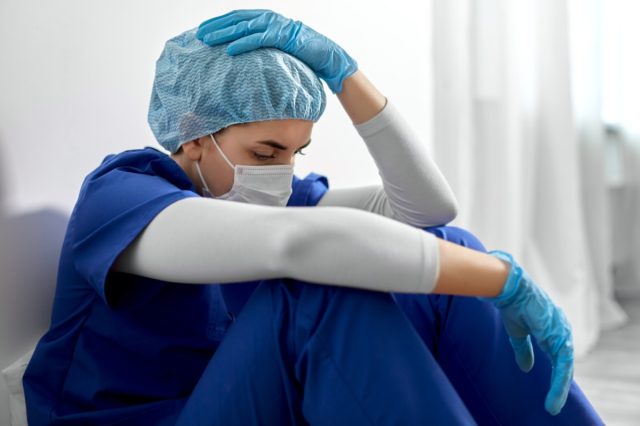 Charles Bailey, MD. Medical Director, Infection Prevention Providence St. Joseph Hospital and Providence Mission Hospital (Orange County, CA) says, "Hard to say.  Flu in the southern hemisphere (primarily Australia) has been more prevalent this year, especially compared to recent prior years when cases were at historic lows, presumably in part due to global COVID restrictions.  Whether it will be more deadly in addition to having a large number of cases remains to be seen but this might be the case as a result of less than normal flu "exposure" in recent years for the same reason (COVID) resulting in lower overall flu immunity compared to a usual year where some significant percentage of the population has been exposed recently to flu and had some degree of immunity."
Dr. Patricia Pinto-Garcia,  licensed board-certified pediatrician and Medical Editor, at GoodRx says, "While the flu is not expected to be deadlier this year when compared to the past, we have already begun to see an increase in cases over what is expected at this time of year. That may change predictions going forward. As we enter the 2022-2023 winter season, fewer people are wearing masks and people are once again gathering back in person. As a result, we will see an uptick in not just the flu but also COVID-19 and RSV. It is important to get your flu and COVID-19 shot to best protect against infection this winter."
2
This is Who is at Risk of Dying From the Flu
Dr. Bailey states, "As in most years, persons at the extremes of age (very young or very old) are at highest risk, along with those with impaired immunity or pre-existing lung and heart conditions.  Also, those who are unvaccinated are at higher risk for poor outcomes."
Dr. Pinto-Garcia adds, "There are a number of risk factors that may increase your risk of developing a severe illness or even dying from the flu. Flu symptoms vary from person-to-person. Some people may experience very mild symptoms while others can get severely ill, with symptoms developing into pneumonia or sepsis. Your vulnerability to severe flu and complications are dependent on a few factors. One factor is your age. Those older than 65 and younger than two years old  have a higher risk of complications. Pregnancy is also another risk factor. When you are pregnant, your immune system tends to be weaker so you're more likely to get sick. Receiving a flu shot while pregnant is important for that extra layer of protection.
People living in group settings like assisted living communities are more likely to come in contact with the flu. Lastly, those living with chronic health conditions tend to be at a greater risk of developing severe flu symptoms. Particularly people who live with asthma and other lung conditions like chronic obstructive pulmonary disease (COPD). Other conditions that can pose a risk factor include diabetes, obesity, and heart problems."
3
What to Know About the Flu and Vaccines
Dr. Bailey explains, "Vaccines in general do not prevent an immunized person from becoming infected but to one degree or another mitigate the severity of any symptoms from the infection and usually prevent serious outcomes.  For the most part, therefore, we measure vaccine effectiveness in terms of symptom prevention or the prevention of severe illness, hospitalization, or death.  In a usual flu season, vaccines are 50-60% effective in preventing symptomatic influenza-like illnesses (ILI); this ILI category may include illnesses other than flu (such as RSV, adenovirus, parainfluenza, and others for against which even the best flu vaccine would not be expected to have any efficacy (hence, in part, the relatively low vaccine effectiveness compared to numbers that have been touted in recent years for COVID vaccines)."
Dr. Pinto-Garcia tells us "The flu is actually several strains of the same virus. The strains that dominate vary from year to year. Scientists have to predict which strain is likely to dominate each year and the vaccine is made based on the trajectories from prior years. If the trajectories are off (which is bound to happen since viruses mutate all the time), the flu shot may be more or less effective from year to year. 
That also means that your immunity against flu doesn't last very long so you don't keep protection year to year. Both these things mean that the virus can still circulate between people. Add the fact that many people choose not to get a flu shot and you're left with a situation where the virus can still easily pass through a community. But it's important to keep in mind that even if the flu shot isn't 100% effective against preventing the flu, it still keeps people from getting seriously sick. So if you're vaccinated and get the flu, you'll get less sick and usually get better faster than people who didn't receive the vaccine."
4
This is When the Flu is the Most Contagious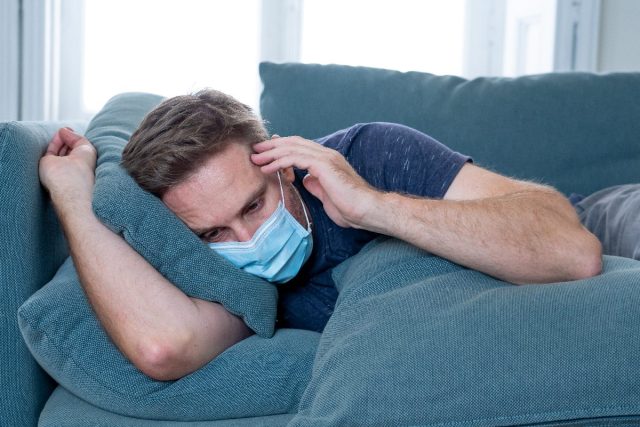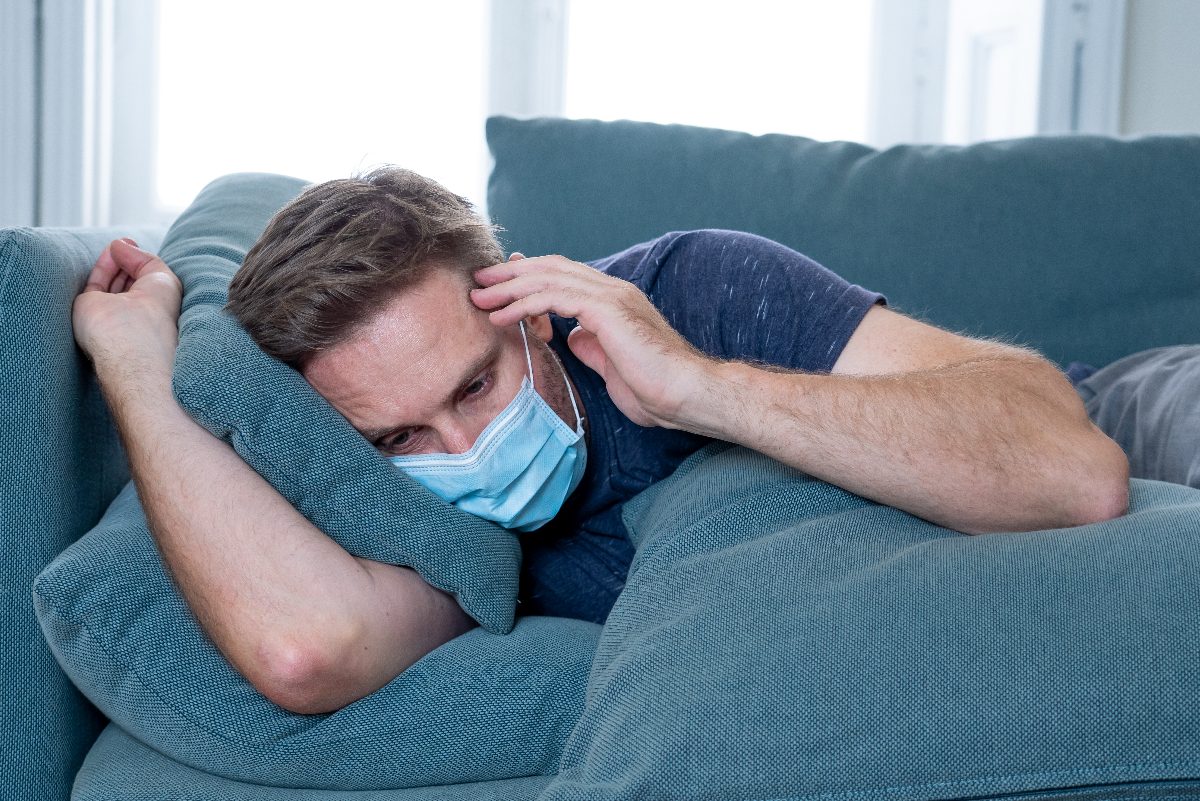 According to Dr. Bailey, "Probably for a day prior to onset of symptoms till several days after symptoms appear, but people may be contagious for a week or more after illness begins.  When do you stop being contagious? In general, someone is unlikely to be contagious a week after onset of symptoms or 24 hours after resolution of fever and respiratory symptoms (cough, shortness or breath); individuals who are immunosuppressed may be contagious for a longer period."6254a4d1642c605c54bf1cab17d50f1e
Dr. Pinto-Garcia explains, "The contagion window for the flu can be a bit tricky. You are most contagious for the first 3 to 4 days after you start feeling sick. However, you can start being contagious 24 hours before you even feel any symptoms, making the flu very easy to spread. And, you can still be contagious for up to a week after getting sick, possibly longer for those who have a weakened immune system. To prevent spreading the illness, a good rule of thumb is to stay at home until your fever has been gone, without the help of medication, for at least 24 hours."
5
Why Influenza Cases are Rising
Dr. Bailey tells us, "In part because there were fewer cases last year (due to COVID precautions) with less resultant current flu immunity this year. Also predicted by the southern hemisphere experience noted above."
Dr. Pinto-Garcia says, "The flu is most common during the winter months and spreads through the air we breathe either by droplets or aerosols. Passing the virus between two people can happen when someone coughs, sneezes or speaks. For the past few winters, people have been limiting indoor gatherings and generally wearing masks to protect against COVID-19. As those restrictions begin to loosen and people return to normal activity, the virus will spread more easily among groups. On top of this, flu cases have been fairly low in recent years because so many people have been taking the extra precautions to protect against COVID-19. As we stop taking those extra precautions, we will see the number of flu cases increase during 2022-2023."
6
Common Symptoms to Watch Out For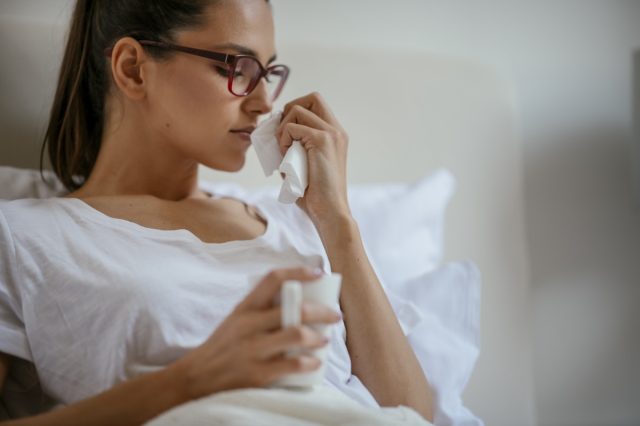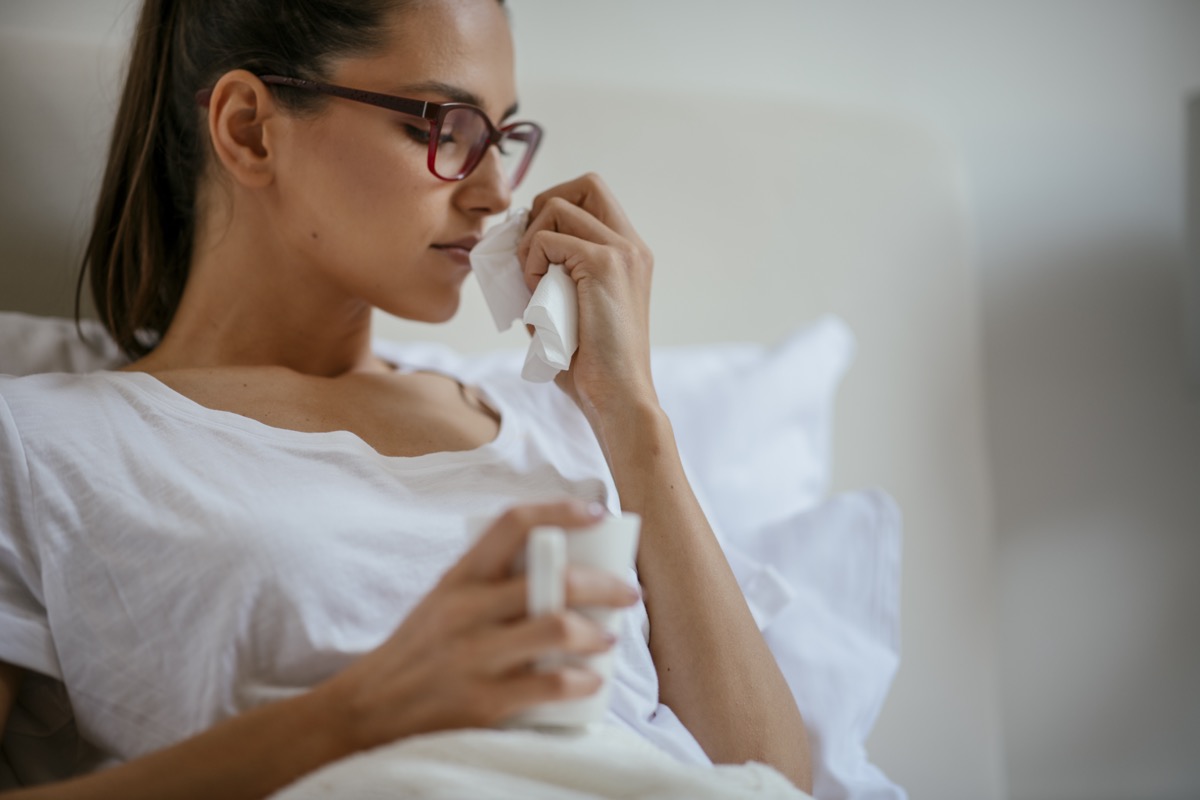 Dr. Bailey says, "Fever, cough, muscle or body aches (myalgias), sore throat, runny or stuffy nose, headache, and fatigue. GI symptoms are less common except in children: vomiting and diarrhea. Seek medical attention if experiencing shortness of breath, altered mental status, prolonged or excessive fever."
Dr. Pinto-Garcia shares, "Common flu symptoms include a fever that lasts 3-4 days, severe body aches, chills, fatigue, chest congestion, and headaches. Symptoms tend to come on quickly and feel more severe than a cold. Children in particular might also experience nausea, vomiting or diarrhea. 
Generally, the flu can be treated by staying at home, resting and drinking plenty of fluids. But medical attention might be required if you develop any severe signs of illness like difficulty breathing, a fever or cough that gets better to then get worse again, dehydration, and seizures. Tamiflu can help too but you need to start taking it within 48 hours of getting the flu. So if you think you could have the flu, see a healthcare provider as soon as possible to get a flu test."
Heather Newgen
Heather Newgen has two decades of experience reporting and writing about health, fitness, entertainment and travel. Heather currently freelances for several publications.
Read more about Heather