DiGiorno Will Give Away Free Pizza During the Super Bowl—If the Game Hits a Certain Score
It's a score that has only ever happened 40 times in football history.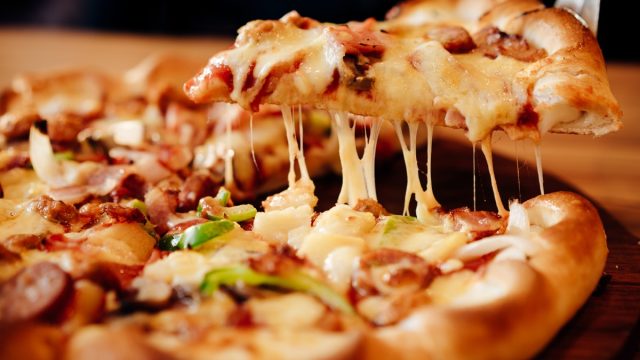 As is the case with just about any food, pizza is all the more delicious when it's free. Good thing, then, that America's most popular frozen pizza brand has a sweet deal in honor of the Super Bowl.
So, here's the score. In order to have the chance to win a free pizza pie from DiGiorno on Game Day, the score literally has to be 3–14 or 14–3. Why? Well, because of pi, which, in its most basic iteration, renders as 3.14. (Get it?)
Whether you get a pizza on DiGiorno is entirely dependent on the two teams on the field. When the score hits 3–14—an exact score that has only ever happened 40 times in the history of professional football—the frozen pizza company will tweet a link for fans to enter for a chance to win a coupon for a free Original Rising Crust Pizza, redeemable at any U.S. retailer where DiGiorno pizza is sold.
However, the minute that score changes, the deal ends, so fans will have to hop on Twitter and click on the link to redeem their free pizza stat, while supplies last. As if you won't already be cognizant of the score, consider this just one more incentive to keep your eyes glued to the screen.
RELATED: Buffalo Wild Wings Will Give Away Free Chicken Wings If the Super Bowl Goes Into Overtime
But not so fast. Lest you think the coupon is immediately redeemable, you won't be able to claim that free pizza pie until early March. (To double-down on the pun, redeem yours on March 14th—literally Pi Day.)
DiGiorno isn't the only company that will is teasing the idea of free goodies during the Super Bowl. If the game goes into overtime, every Buffalo Wild Wings restaurant in the U.S. and Canada will hand out free wings from 4 pm to 7:00 pm local time. This past Sunday, during the NFL Conference Championships, Postmates gave away $1 million worth of chicken orders to those who ordered through the app!
DiGiorno wanted to hand out free pizzas in light of the spirit of the game for one simple reason: It's around the time of year that its products sell like hotcakes. According to the company, Digiorno sells almost 30 percent more pizzas the week leading up to the Super Bowl than any other week out of the year. And that makes sense. When you're hosting a Super Bowl party, you'll need fuel for your guests to stay alert throughout the game. But if you're looking for a healthier option, try these 19 Healthier Super Bowl Recipes That Still Taste Indulgent.
Cheyenne Buckingham is the news editor of
Read more