20 Quick & Easy Smoothie Recipes
In a hurry to grab breakfast and go? These smoothies are wholesome, delicious, and whipped up in minutes!
Blending up a handful of greens may seem a lot like slurping up grass. However, there are plenty of smoothie recipes that seamlessly integrate produce to the point of invisibility. And when it comes to weight loss, the more greens you can stomach, the better!
That's exactly what the best-seller Zero Belly Smoothies is all about. Test panelists lost up to 16 pounds in two weeks, boosted their metabolism, and gained long-lost energy just from sipping on these plant-based beverages. Try these slimming smoothies below; and if you're all about vegetarian-friendly brews, don't miss these 30 Vegetarian Soups for Weight Loss.
Peanut Butter Banana Green Smoothie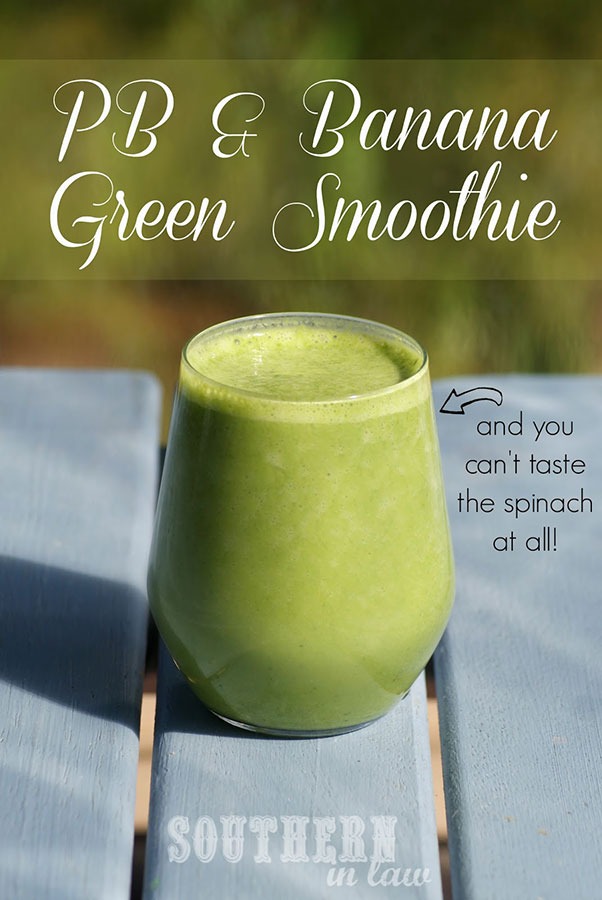 185 calories, 12.5 g fat (2.4 g saturated fat), 220 mg sodium, 15.6 g carbs (3.3 g fiber, 7.2 g sugar), 7 g protein
Any PB addict knows that peanut butter makes everything better. (We'd smear it on our lives if we could!) And Southern In Law's scrumptious, protein-packed recipe is no exception. For which jar to choose, use our exclusive guide: The 36 Top Peanut Butters—Ranked.
Mango Carrot Ginger Smoothie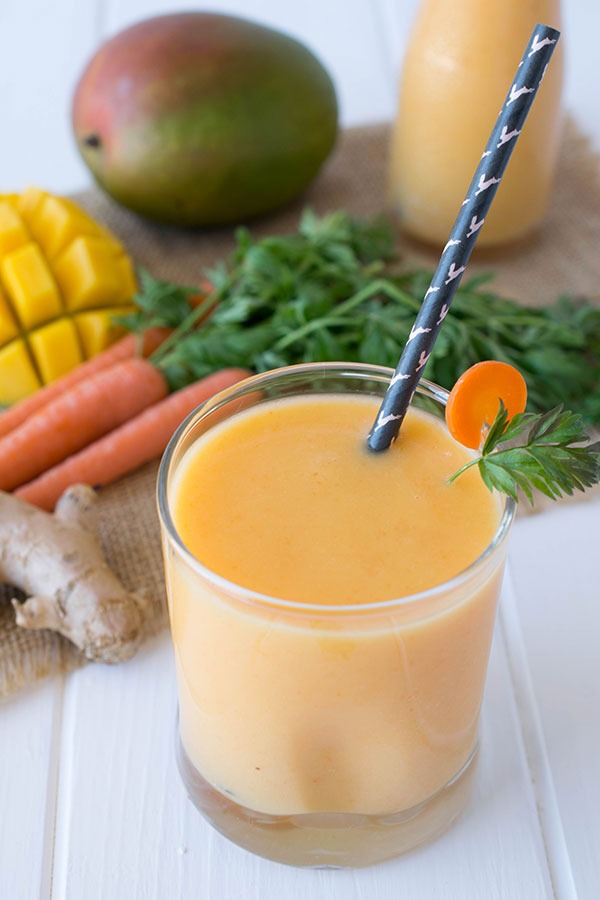 118 calories, 0 g fat (0 g saturated fat), 108 mg sodium, 24.6 g carbs (3.5 g fiber, 21.6 g sugar), 4.5 g protein
Even though you might not taste them in this drink by Culinary Ginger, carrots deserve way more credit than they get. Aside from their vision-protecting reputation, the (usually) orange vegetable boosts immunity, promotes vibrant skin, reduces cholesterol, boosts oral health, protects the heart, improves digestion, increases cardiovascular health, and detoxifies the body, thanks to a plethora of vitamins and minerals. All that in one glass? Talk about a kickstart to your day!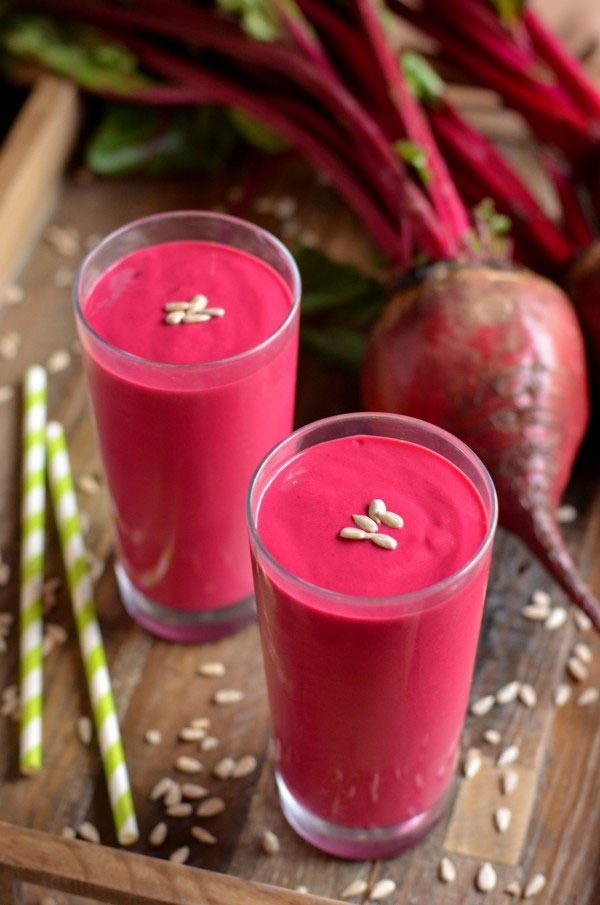 203 calories, 4.2 g fat (0 g saturated fat), 93 mg sodium, 36 g carbs (6.5 g fiber, 29 g sugar), 7.4 g protein
Can't eat nut butter? No problem. Sunbutter, or sunflower seed butter, packs in more gut-friendly fiber, muscle-soothing magnesium, and detoxing vitamin E than the nutty kind. Plus this recipe by Coffee and Quinoa contains flax seeds, which neutralizes acids in the body and aids digestion.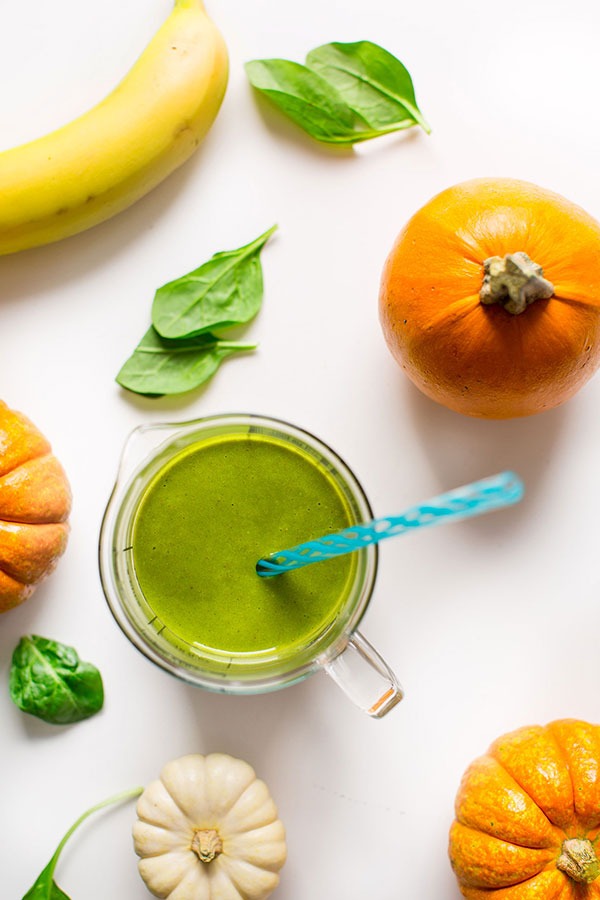 193 calories, 11.4 g fat (9.2 g saturated fat), 73 mg sodium, 23.9 g carbs (5 g fiber, 11.7 g sugar), 3.2 g protein
Although a slice of pie won't do any favors for your in-progress six pack, this drinkable version by Minimalist Baker has all the makings of a toned belly. With fixings such as fat-blasting coconut milk, satiating Greek yogurt, and blood sugar-stabilizing pumpkin, a slimmer you can be just a few sips away.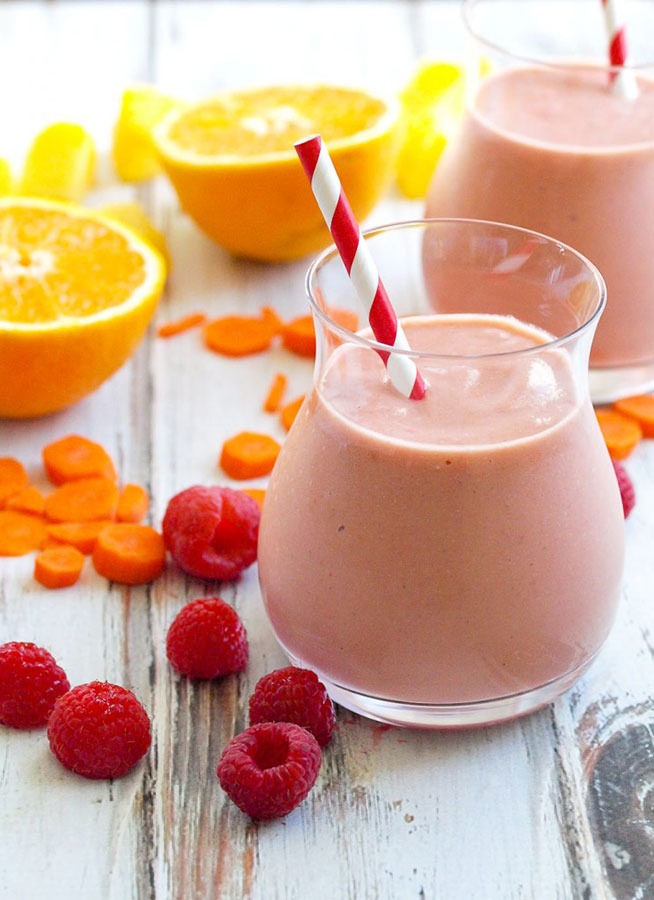 152 calories, 0 g fat (0 g saturated fat), 22 mg sodium, 38.2 g carbs (3.7 g fiber, 33 g sugar), 1.3 g protein
When you're stressed, your body releases cortisol, which can result in accumulated belly fat over time. However, Vitamin C counteracts body-goal-sabotaging cortisol. And fortunately enough, just one serving of this recipe by Happy Healthy Mama packs in 88 percent of your daily quota!
Blueberry Banana Smoothie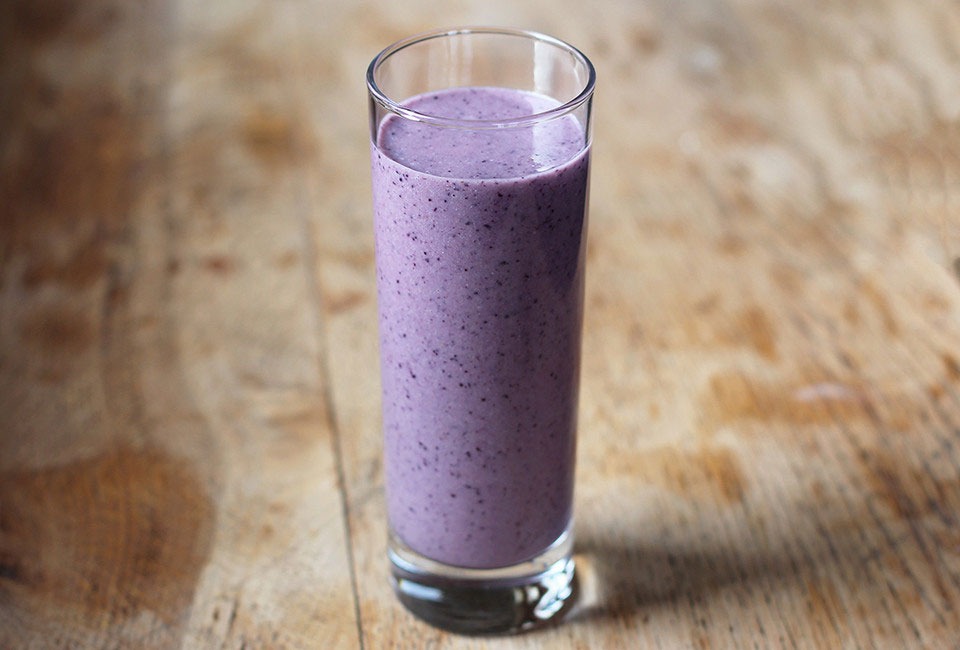 141 calories, 4.4 g fat (<1 g saturated fat), 16 mg sodium, 26 g carbs (3.7 g fiber, 13.3 g sugar), 3 g protein
Just going by that drool-worthy photo, would you ever guess that cauliflower is hidden in this slim smoothie? Well it is, and this cruciferous veggie just happens to be one of the most body-transforming foods, thanks to its low calorie and high nutrient content. Brimming with vitamins C and B, as well as fiber, the cauliflower is a wonderful detoxifier and body regulator. This recipe by Harriet Emily gets an A+ for incorporating the subtly-flavored veg.
Super Green Breakfast Smoothie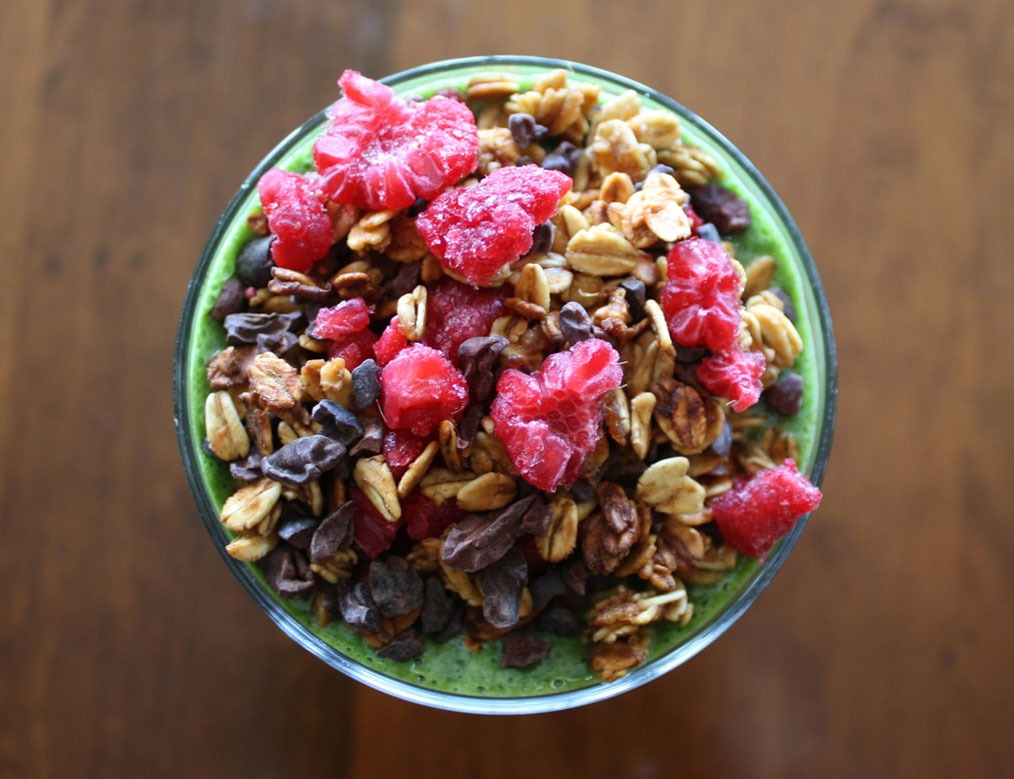 94 calories, 0 g fat (0 g saturated fat), 42 mg sodium, 23 carbs (4 g fiber, 9.3 g sugar), 3 g protein
When it comes to smoothies, ingredient options are endless. We love that this one from Kate's Plates contains inflammation-fighting and vision-protecting grapes, tummy-calming ginger, and cinnamon, which helps stabilize blood sugar levels, preventing a regretful case of the impulsive eats.
Hidden Vegetable Chocolate Smoothie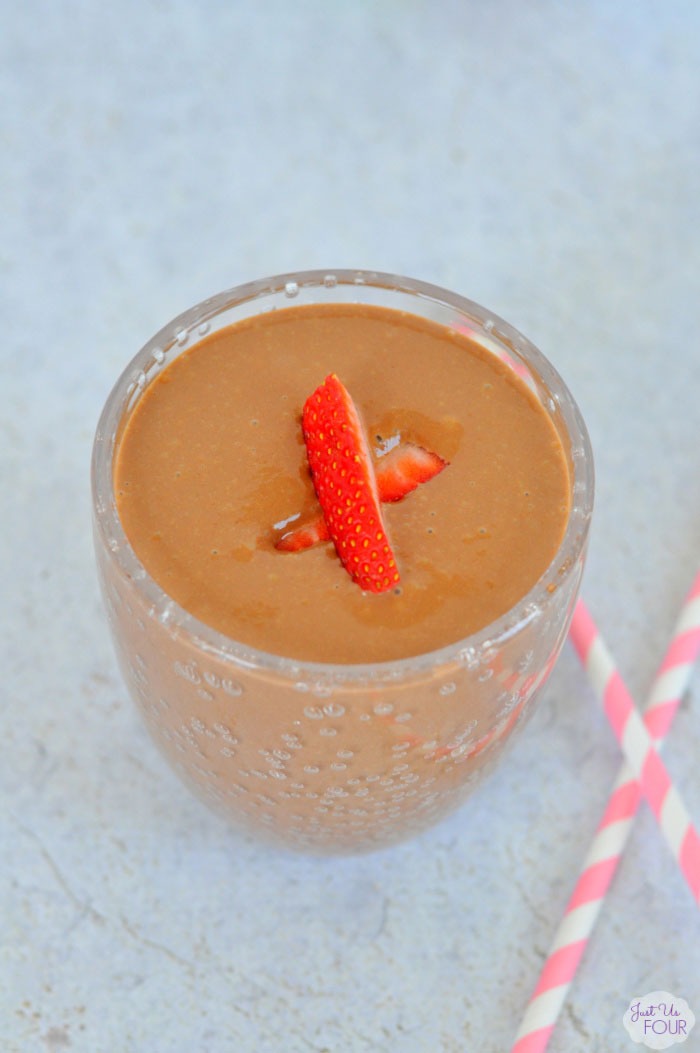 189 calories, 6 g fat (3.7 g saturated fat), 97 mg sodium, 32 g carbs (3.6 g fiber, 24 g sugar), 6.5 g protein (calculated without added salt)
You can slurp your way to bliss with this chocolatey smoothie, naive to the fact that you're taking in a serving or two of veggies. Not only is butternut squash packed with potassium and fiber, it's also rich in carotenoids that fight heart disease, asthma, and arthritis—all while promoting healthy vision and skin. What's more? My Suburban Kitchen's smoothie is sweetened with honey, which fights allergies, improves sleep, boosts energy, soothes cold sores, and even increases sex drive!
Sweet Potato Pie Smoothie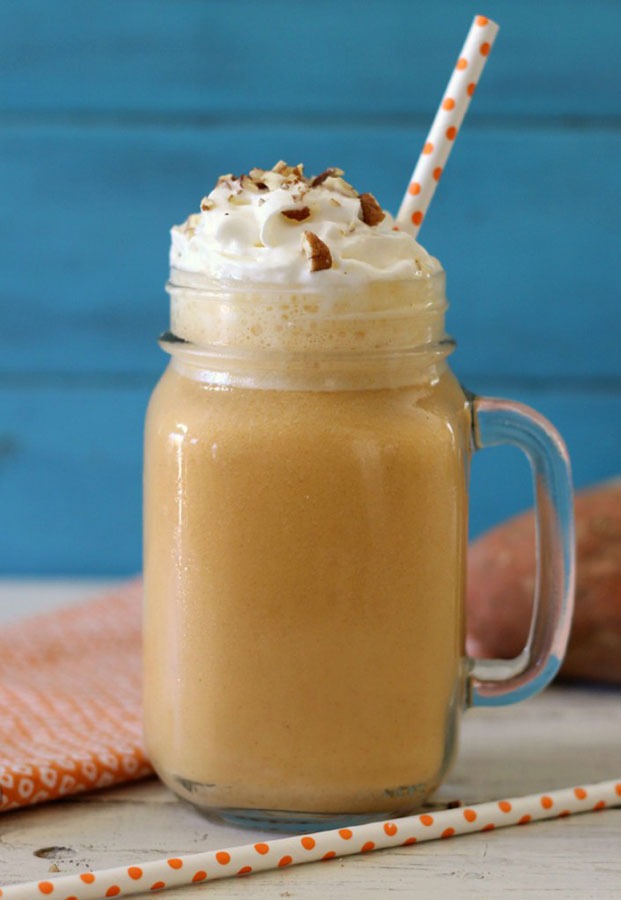 156 calories, 2.5 g fat (1 g saturated fat), 104 mg sodium, 23 g carbs (2 g fiber, 13 g sugar), 11 g protein
No, you're not imagining things—another pie smoothie is on this list. Peanut Butter and Peppers combines sweet potato, cinnamon, nutmeg, vanilla extract, Greek yogurt, and maple syrup One hundred and fifty-six calories never tasted so darn good.6254a4d1642c605c54bf1cab17d50f1e
Refreshing Watermelon Pineapple Smoothie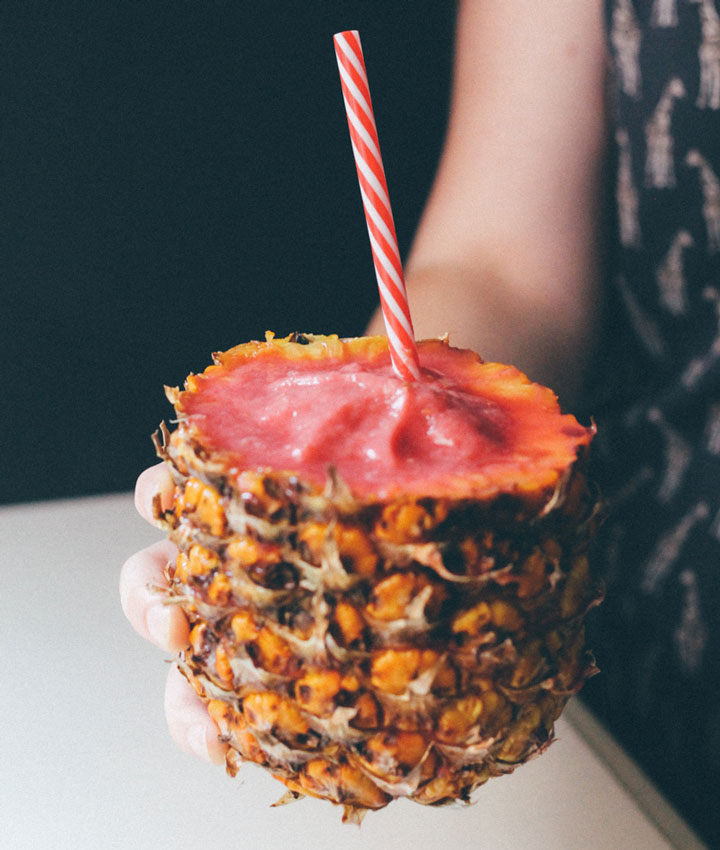 143 calories, 1.4 g fat (0 g saturated fat), N/A mg sodium, 34.3 carbs (6.5 g fiber, 23.4 g sugar), 2.5 g protein
With just four energizing ingredients—pineapple, raspberries, watermelon, and vanilla almond milk—Ambitious Kitchen's fruity refresher is easy as pie. And perhaps even tastier. Blend the fruits and milk in your favorite blender and pour into the sturdy pineapple skin for a mug that's more Instagrammable than a Mason jar!
Raspberry Avocado Kale Smoothie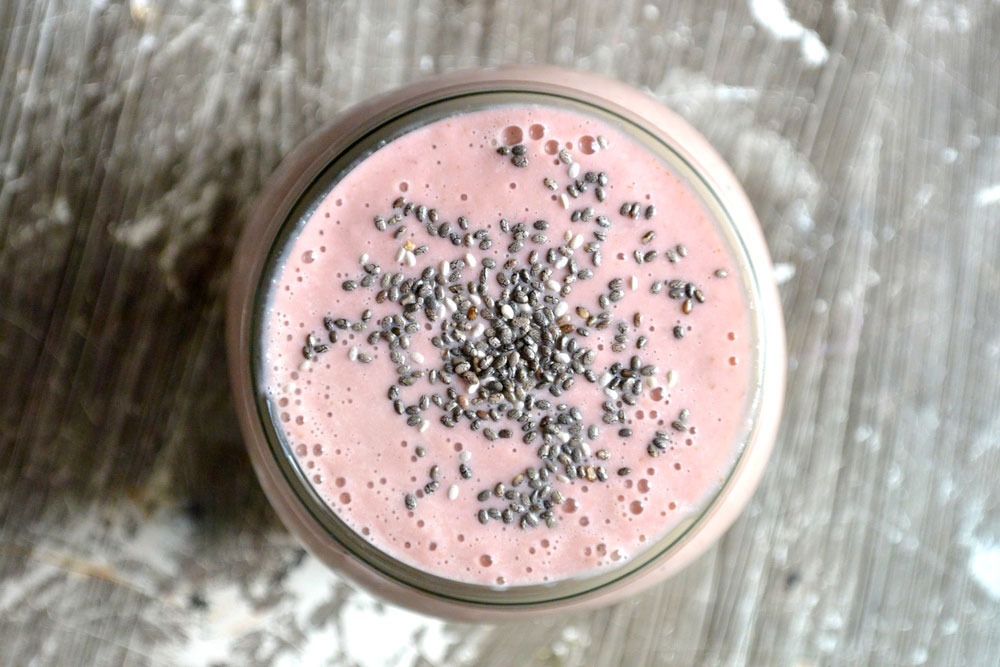 235 calories, 17.4 g fat (3 g saturated fat), 14 mg sodium, 23.1 g carbs (8.1 g fiber, 7 g sugar), 6.3 g protein
Kale, avocado, chia seeds, and matcha? In case you've never heard of the potent powder, matcha is a form of green tea that contains as much as 137 times more EGCG—an antioxidant that has been shown to decrease waist circumference and lower cholesterol. In fact, one study found men who drank green tea containing 136 mg of EGCG lost twice as much weight and four times as much belly fat over 3 months than a placebo group! We couldn't get more excited to try this beverage by Luna Wellbeing.
Cranberry Mango Layered Smoothie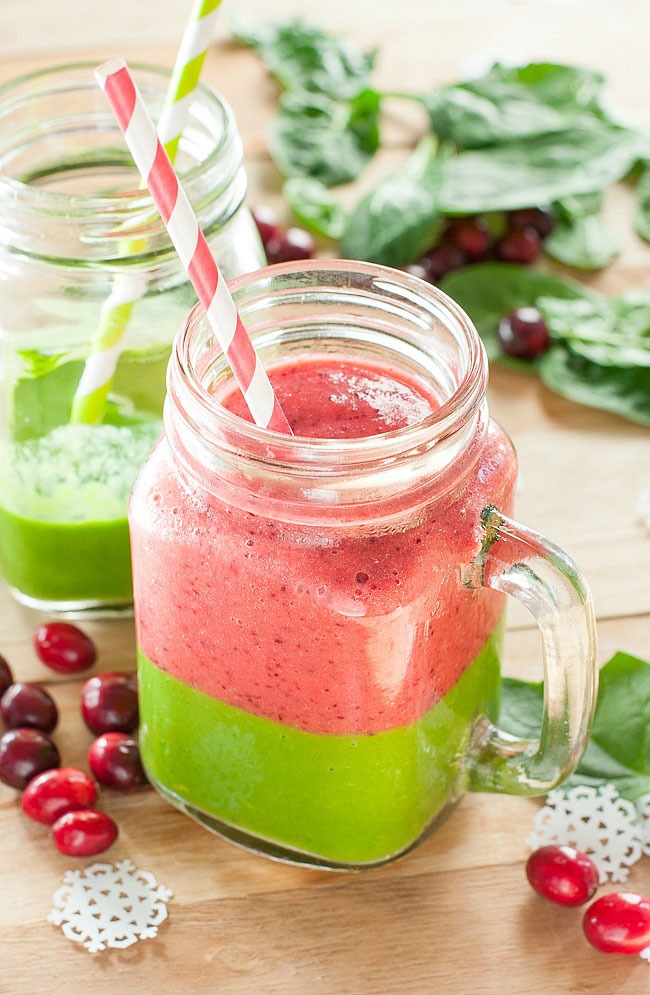 185 calories, 2.2 g fat (0 g saturated fat), 68 mg sodium, 41.2 g carbs (7 g fiber, 33 g sugar), 3 g protein
This stellar smoothie by Peas and Crayons blends mango, raspberries, spinach, and cranberries, resulting in a potent superfood punch. While cranberries' claim to fame is in their ability to prevent and calm UTIs, these tart berries were consumed by Native Americans for their healthful nutrients and phytochemicals long before they were bottled and sold. In fact, the tiny crimson beads improve oral health, reduce the risk for cardiovascular disease, increase immunity, and slash your cancer risk.
Berry Pomegranate Smoothie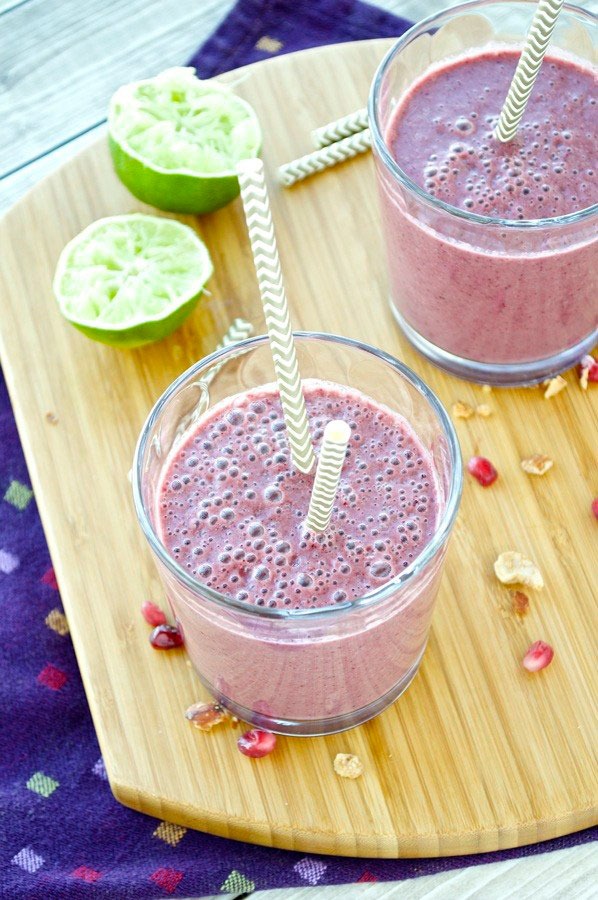 110 calories, 2.5 g fat (0 g saturated fat), 71 mg sodium, 21.5 g carbs (2.6 g fiber, 14.8 g sugar), 2 g protein
Romaine, celery, and cucumber are all hidden in this refreshing glass thought up by Fashionable Foods. If you're looking to detox, these hydrating veggies will help flush you out and clear your digestive tract while the succulent, fruity flavors will help curb that nagging sweet tooth.
Kiwi Coconut Smoothie Shooters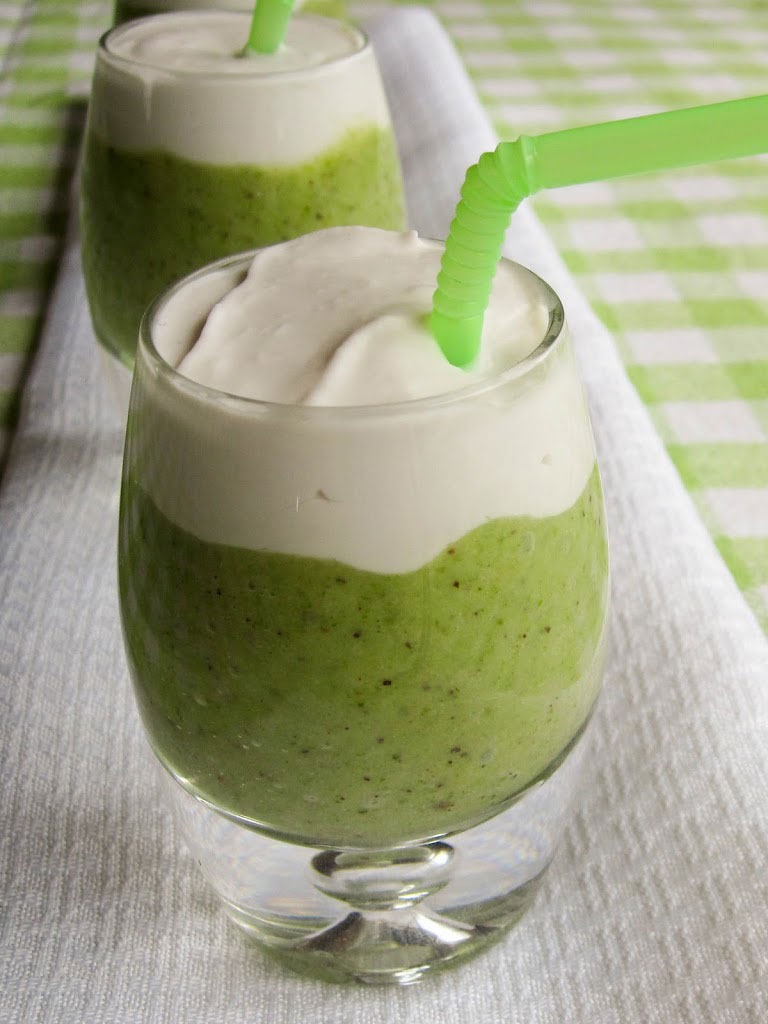 298 calories, 16.9 g fat (14.6 g saturated fat), 31 mg sodium, 34.3 g carbs (5.3 g fiber, 23 g sugar), 6 g protein
Before you let the saturated fat count deter you, this smoothie contains coconut milk. And studies show that the body prefers to metabolize the fat found in coconuts over other fats. In other words, the macronutrient will be burned for energy as opposed to stored in cells around your midsection. What's more? According to a study published in the Journal of Toxicology and Environmental Health, a single injection of capric acid (which abounds in coconut oil) resulted in "initially rapid, then a gradual decrease in food consumption and a parallel loss of body weight" in male rats. If weight loss is your goal, you might want to blend this Food & Whine smoothie pronto.
Chocolate Zucchini Smoothie
145 calories, 7.2 g fat (1.3 g saturated fat), 112 mg sodium, 18.4 g carbs (3.1 g fiber, 10.2 g sugar), 5 g protein
Homemade Nutrition knows that zucchini could be tossed into a chocolate smoothie without rendering a funky flavor. Peanut butter, bananas, cocoa powder, vanilla, maple syrup, and the super-slimming squash combine to nourish you with a solid dose of protein and fiber in every sip.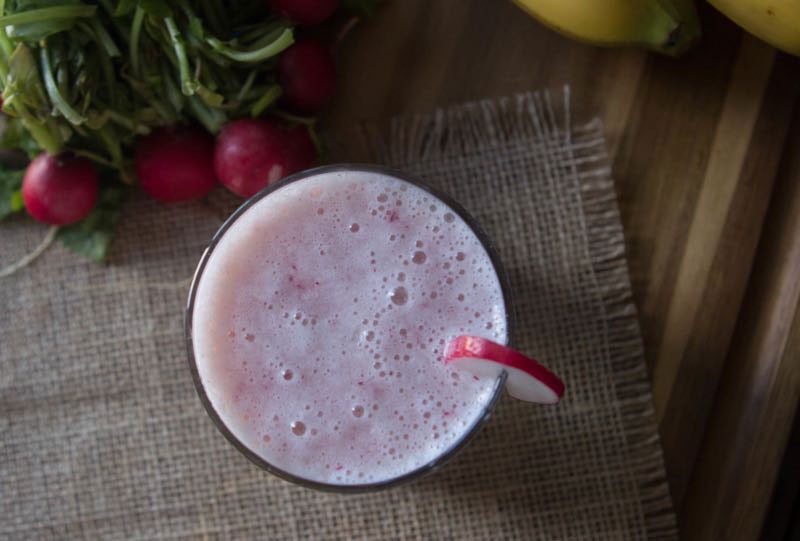 119 calories, <1 g fat (0 g saturated fat), 42 mg sodium, 30 g carbs (4.5 g fiber, 16 g sugar), 2 g protein
Paleo-ize your smoothie with just four simple ingredients. To mask the radish taste, Toadally Primal Smoothies uses an overripe banana while you still reap radish's benefits, which include flu-fighting vitamin C and fat-blasting choline.
Berry and Cauliflower Smoothie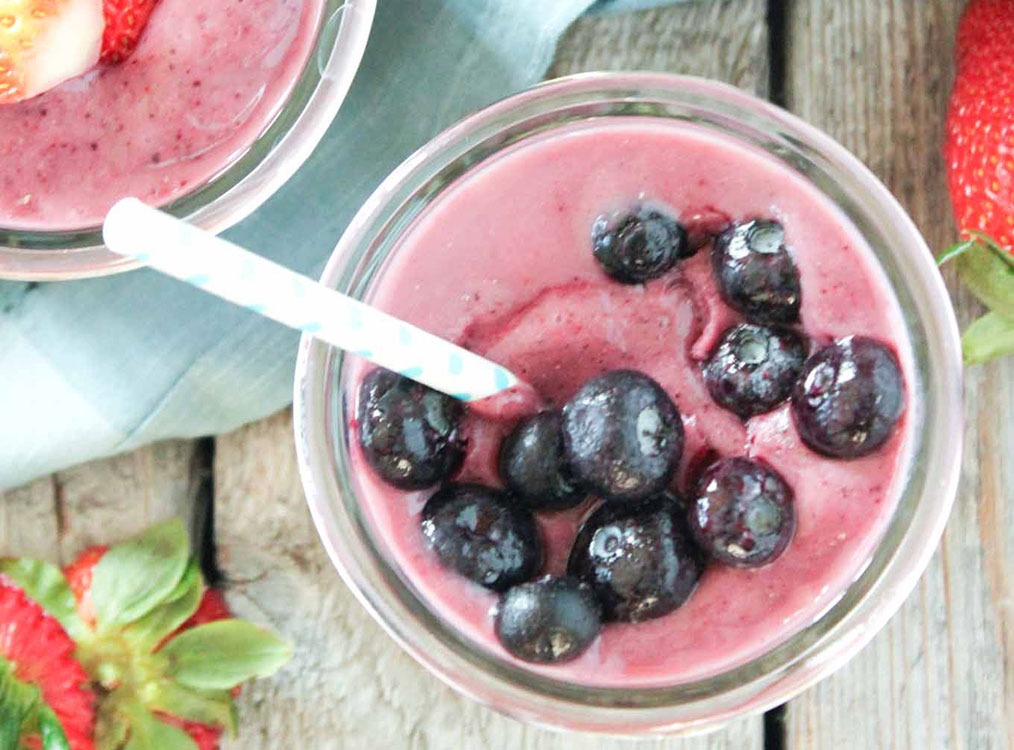 216 calories, 13.1 g fat (2.7 g saturated fat), 15 mg sodium, 26.6 g carbs (8.2 g fiber, 12.7 g sugar), 3 g protein
Cauliflower isn't the only hidden weight-loss gem here: there's avocado and green tea, too. A study in the journal Diabetes Care found that a diet rich in monounsaturated fat, the kind found in avocados, improves the lipid profile and regulates blood sugar. I don't think we need any more convincing to drink up this Simple Roots Wellness recipe.
Cashew Butter Green Smoothie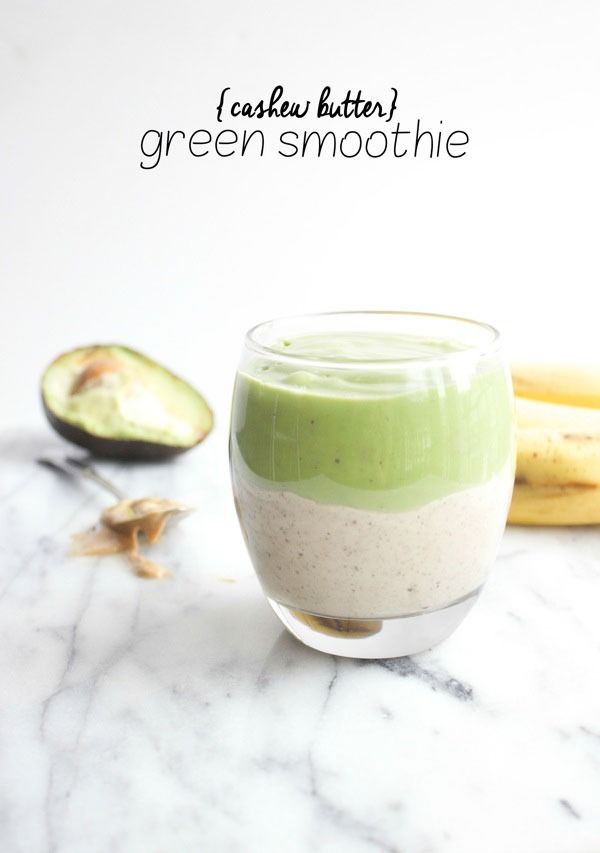 380 calories, 27 g fat (5 g saturated fat), 86 mg sodium, 27 g carbs (10 g fiber, 7.3 g sugar), 12 g protein
The list would hardly be complete without a cashew butter smoothie. Packed with minerals like calcium, copper, magnesium, phosphorus, and vitamin H (better know as biotin), the creamy stuff fights constipation, insomnia, headaches, muscle cramps, and dry, brittle hair. Whip up The Almond Eater's satiating smoothie to reap the benefits.
Layered Banana Split Protein Smoothie
229 calories, 4.3 g fat (0 g saturated fat), N/A mg sodium, 40.2 g carbs (6.9 g fiber, 22.6 g sugar), 14.4 g protein
Instead of hitting up the ice cream shop for a diet-derailing dessert, opt for whipping up Ambitious Kitchen's slimming layered smoothie. It's stuffed with vanilla protein powder and healthy fat-filled chia seeds, rounding out this beverage into a balanced breakfast.
Vegan Almond Butter Banana Oatmeal Smoothie
278 calories, 10.9 g fat (N/A g saturated fat), N/A mg sodium, 41.4 g carbs (7.2 g fiber, 16.1 g sugar), 7.3 g protein
Another winner by Ambitious Kitchen, this creamy recipe combines almond butter and slow-digesting oats. Speaking of a yummy a.m. meal, you must try some of our 50 Best Overnight Oats Recipes For Weight Loss.