Expect This Major Change to Your Grocery Store Aisles
Preventive measures to protect shoppers from COVID-19 continue to be instituted.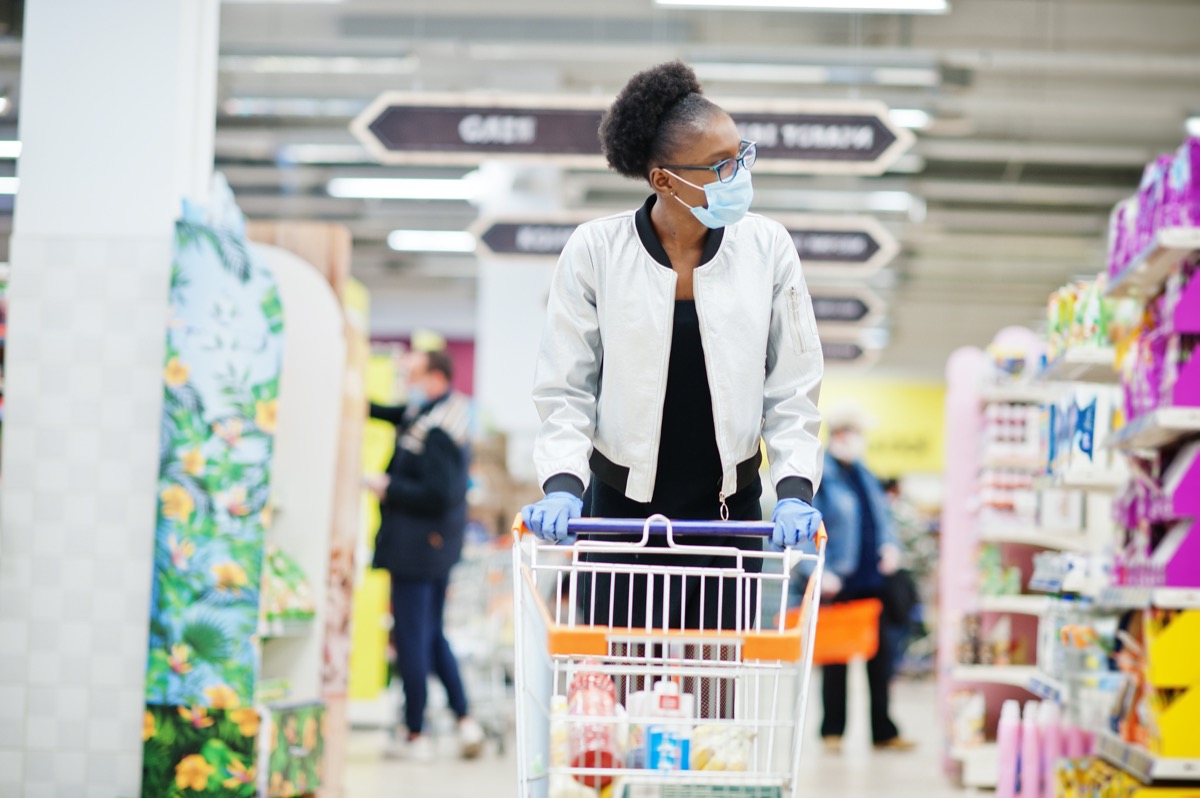 Grocery stores are implementing a number of new systems, tactics, and ways of interacting designed to keep customers and staff members safe from the coronavirus pandemic. While plexiglass is now nearly ubiquitous at grocers' checkout stands across the nation, there is another new change looming that may change the way you shop: wider grocery store aisles.
Medical and public health experts have analyzed a ton of research and data since the COVID-19 started to spread roughly six months ago and as a result, scientific knowledge is informing new policies. What we know is that social distancing and mask-wearing are both effective tools in abating the spread of the virus. But if grocery store aisles are tight, it's very difficult to create the appropriate space.
In an interview with the Chicago Sun-Times, SupermarketGuru.com founder Phil Lempert noted how the days of  "people used to love going to the stores and seeing their friends," is largely over, before noting expected changes in how customers shop for grocers. Among the many change grocery stores are considering that Lempert outlines are this: Aisles will be made wider so shoppers don't feel crammed in.
One thing we've learned about the coronavirus pandemic is that the vast majority of transmission comes from superspreading events that occur indoors in crowded, high-trafficked, and poorly ventilated areas. Many grocery stores are poorly ventilated and highly trafficked, which is why many associates have fallen ill or, tragically, succumbed to the virus. So making shopping aisles wider allows or better social distancing and lesser incidents of transmission.6254a4d1642c605c54bf1cab17d50f1e
Some grocery stores are already better suited for wider aisles than others. Anyone that has spent time in both an enormous suburban supermarket and a tightly packed urban grocery store knows that there will be varying degrees to which certain locations can apply new spatial standards. But the fact that grocery stores are actively engaged and seeking new safety measures to keep patrons and staff members safe from this potentially deadly contagion is nothing but a good thing.