Grocery Stores May Enact This New Holiday Shopping Rule
The unique safety precaution may change the way you shop for groceries!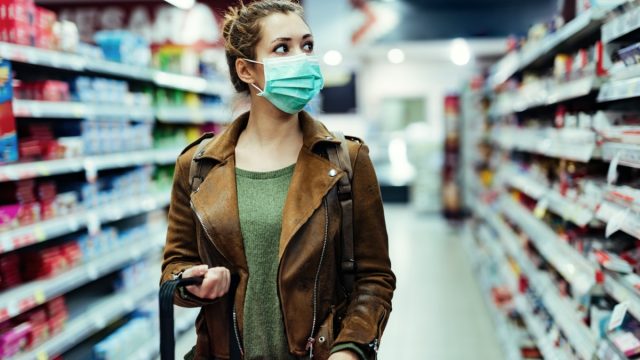 Retailers are limiting toilet paper purchases and updating some safety measures as another wave of bulk buying groceries gains momentum. Costco is tightening up its face mask policy, and Walmart is once again metering customers into its stores to help promote social distancing. To keep customers safely stocked up, another grocer is implementing a tactic you may not have read about before.
Rainbow Grocery is making room for as many customers as possible this holiday season by offering after-hours grocery store reservations. The San Francisco store rolled out the option for 35 customers to sign up for a 30-minute shopping trip after regular hours. Time slots for several nights around Thanksgiving are posted on the store's website, and they're filling up fast after a successful test run, according to the San Francisco Chronicle.
Related: 8 Grocery Items That May Soon Be in Short Supply
Cash payments won't be accepted during these special hours, and some departments may not be available for customer service. Customers check-in with an employee, and the cap of 35 people is about half of what COVID-19 restrictions allow. These measures not only makes social distancing easier but also the entire experience faster.
"All of us are at different levels of fatigue and stress, and as a community, we should support each other," Cody Frost, the store's general manager, told the local newspaper. "Shop local, and try to get as much as you can in one trip instead of making several smaller trips."
After hours or not, on your next trip to the grocery store, be aware that many shoppers are now choosing quality over quantity.
Amanda is a staff writer for
Eat This, Not That!
.
Read more