Experts Want Grocery Stores to Close Doors, Go Curbside Pickup Only
The Department of Labor is suggesting it's one of the best ways to protect employees.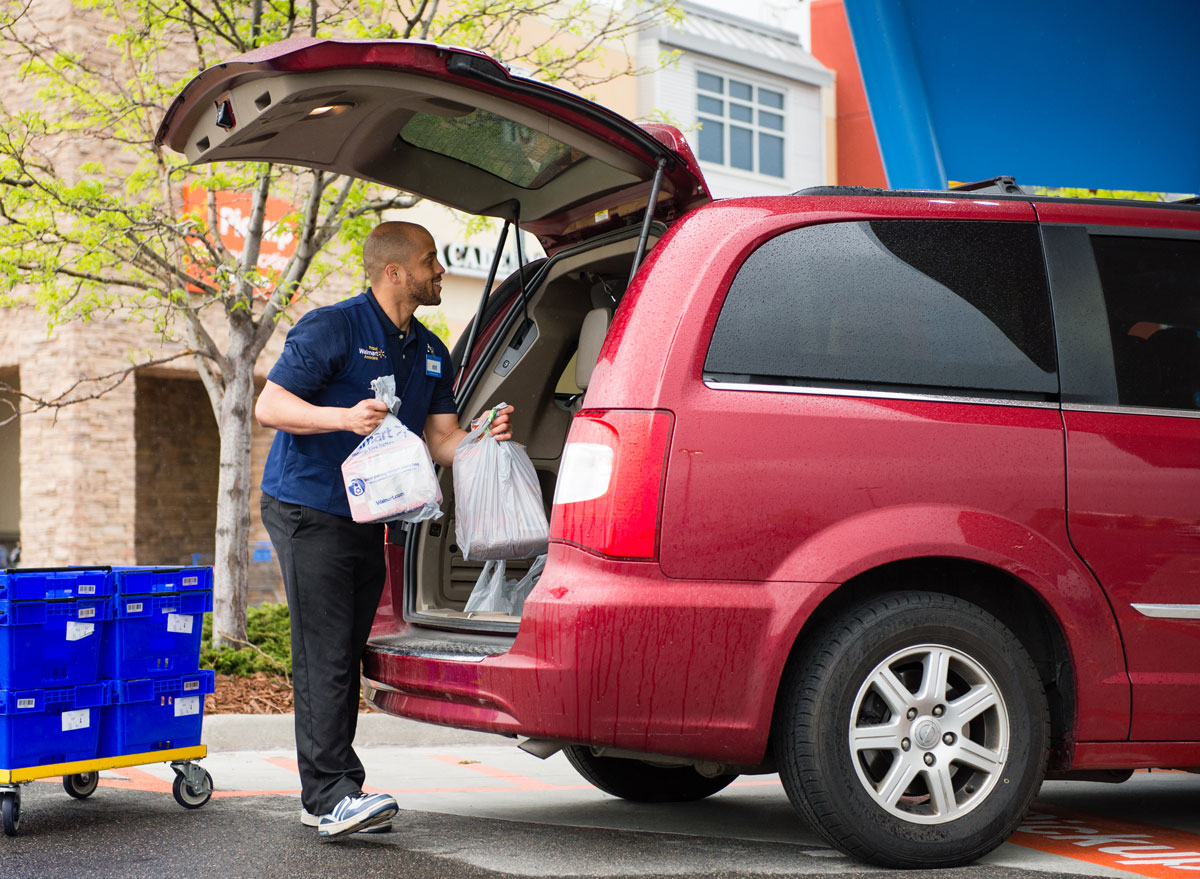 The Department of Labor is now offering new guidelines on how grocery store chains can keep their employees safe from the deadly COVID-19 contagion. Over the past few weeks, dozens of grocery store employees have died as a result of COVID-19, which has even led to a wrongful death lawsuit filed against Walmart.
To protect workers, the U.S. Department of Labor's Occupational Safety and Health Administration (OSHA) recently issued an alert listing safety tips employers can follow to help retail workers prevent any exposure to coronavirus.
According to OSHA, safety measures employers can implement to protect employees working in pharmacies, supermarkets, big box stores, and other retail establishments include "using a drive-through window or offering curbside pick-up," in addition to safe social distancing, mask-wearing, and routine cleaning and disinfecting.
STAY INFORMED: Sign up for our newsletter to get the latest coronavirus foods news delivered straight to your inbox.
Of course, grocery stores have already been implementing masks, gloves, sneeze guards, and routine cleanings. So, this presents the question: Should grocery stores pivot to curbside pick-ups and not allow any shoppers to enter their stores in order to protect their employees and shoppers?
It's a loaded question.
A new survey by Harris Interactive/Toluna has found that, despite the public health risk presented by the COVID-19 pandemic, 70 percent of Americans still prefer to grocery shop by visiting a supermarket rather than placing an order online.
Despite the risks, shoppers clearly still want to go to the grocery store to get the essential groceries and supplies they need. This is most likely because they may feel they will have a better shot of finding in-demand supplies (such as toilet paper and frozen foods), and won't have to worry about securing a timely delivery window or paying delivery fees. (Although, it's important to note that downloads of shopping apps that are offering curbside pick-ups and delivery have increased during the coronavirus pandemic, and providers are doing the best they can to mitigate these issues.)
Still, grocery stores and consumers alike are challenged on how best to balance the necessary ritual of shopping for food with managing the very real public health risk at hand. For essential grocery store staffers who are literally on the front lines, the act of showing up to work every day is a brave and scary one. It is a fraught experience for both sides, but is banning in-store shopping and instituting curbside pick-ups the answer?6254a4d1642c605c54bf1cab17d50f1e
Honestly, we will have to wait and see if any major chains do implement curbside only restrictions, and how those play out.
READ MORE 9 Worst Grocery Store Chains to Shop at During the Pandemic