The Surprising New Way You'll Make Reservations When Restaurants Reopen
Here's how you can expect to secure a table at some of your favorite dining spots.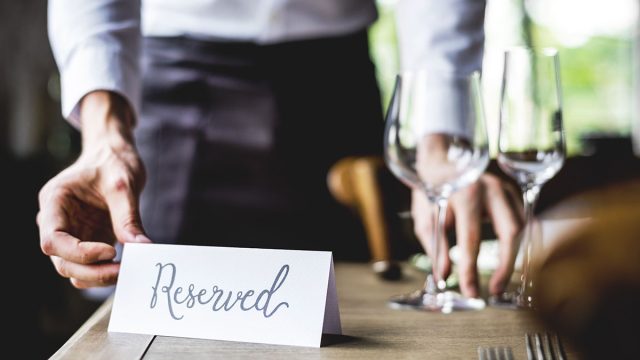 Making a reservation at a popular restaurant was competitive before the pandemic, but now that most facilities will only be operating at half capacity, snagging a reservation may become even more challenging. In fact, places that you formerly never needed to make a reservation at will likely now require them.
If you live in a larger metropolitan area, you may have used apps like OpenTable or Resy to help score a table at a local restaurant a few days (or even a couple of hours) in advance. However, have you ever once made a reservation at your favorite bar? These apps are now expanding their features so that you can secure a spot at that wine bar you used to frequent on Saturday evenings, because spontaneous outings may lead to denied entry. The same can be said for sit-down restaurants.
"With restaurants serving less people and experiencing more cost, these [reservation] services will have to earn their keep by helping manage traffic flow or restaurateurs will take to doing it themselves, as many already have," Gary Stibel, analyst at New England Consulting Group told Nation's Restaurant News.
STAY INFORMED: Sign up for our newsletter to get the latest coronavirus foods news delivered straight to your inbox.
Resy recently added a mobile waitlist and capacity monitor to help restaurants follow the CDC's new guidelines. The new waitlist feature allows guests to virtually add themselves to the line, as long as they're located within a close enough proximity. This way there won't be any crowding by the host stand or by the bar, which is one of the worst things you can do at a restaurant as cities begin to reopen.
Resy's capacity monitor will enable restaurants to set their respective capacity limit, whether that be 50% or even just 25% of their usual crowd. As for the mobile waitlist, OpenTable and even Yelp already employed this tactic in 2017 and 2018, respectively.
"We think more full-service restaurants will move from a traditional reservation concept to a more casual waitlist concept because it's both easier to manage, which cuts cost and also utilizes tables better, leading to increased revenue," Guang Yang, Director of Product Management at Yelp said to NRN.
We are far away from normalcy, however, it's comforting to know that the apps we've always used to book a reservation at our favorite spots have a game plan to make dining in safe. Speaking of staying safe while eating out, make sure to read up on Precautions You Must Take Before Going to a Restaurant.
Cheyenne Buckingham is the news editor of <Eat This, Not That!, specializing in food and drink coverage, and breaking down the science behind the latest health studies and information.
Read more