Instagram Adds "Order Now" Button on Restaurant Accounts
The social media app has partnered up with ChowNow to boost food orders for struggling businesses.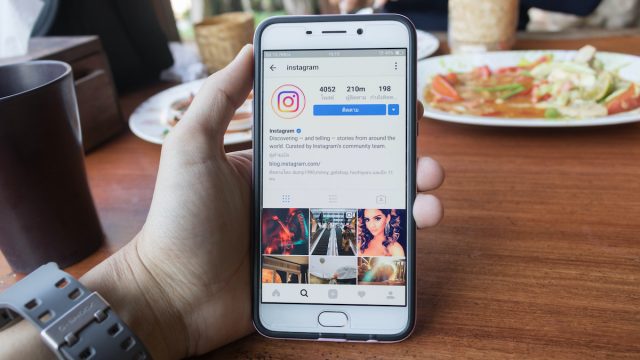 Instagram has just launched a potentially game-changing new feature that will allow users to order food though the app.
Specifically, the social media app has partnered up with online food ordering service ChowNow to make an "Order Now" button appear on the Profiles and Instagram Stories of restaurant accounts in an effort to support small local spots during the COVID-19 pandemic.
What's even cooler: These "Order Food" buttons and Instagram Story stickers are being provided free of charge, without any backend commission, to any restaurant who partners with ChowNow.
"Restaurants who partner with ChowNow can now encourage people to order food by adding "Order Food" buttons to their Instagram profile and via stickers in their Stories," explains ChowNow's CEO and co-founder Chris Webb in a press release. "The buttons and the stickers will link directly to ChowNow to complete the order flow. People will also be able to re-share the stickers in their own Stories, helping drive awareness of the new offering."
STAY INFORMED: Sign up for our newsletter to get the latest coronavirus foods news delivered straight to your inbox.
Perhaps no industry has suffered as much during this time as the food service and restaurant business. Roughly 15 million local restaurant workers are suddenly unemployed now that stay at home orders have effectively made dining out an impossibility in nearly every state in the nation.
"During this unprecedented pandemic, ChowNow has mobilized all its resources to help local restaurants survive and ultimately thrive, launching new products and services in record time," says Webb. "This Instagram feature is yet another valuable tool we're offering our restaurant partners—at no cost to the restaurants—to help them drive more revenue and boost order volume without suffering the outrageous commissions and fees imposed by other delivery apps."
And, as far as restaurant owners are concerned, they're all for this new Instagram initiative.
"With ChowNow seamlessly linking to our Instagram accounts—and not charging any commissions on orders—we're able to promote all the new things we're offering while ensuring that more dollars go directly back to our restaurants and beloved staff," said Jeremy Fox, Chef/Owner of Birdie G's and Tallula's in Los Angeles, CA in response to the announcement.
Look out for the "Order Now" button popping on your own Instagram Feed, and place food deliveries as much as you can!
READ MORE: Staggering Map Shows Just How Many Restaurant Workers Have Lost Jobs in Coronavirus Lockdown