Here are Your Chances of Catching COVID Twice
The second bout can be more severe. But is it common?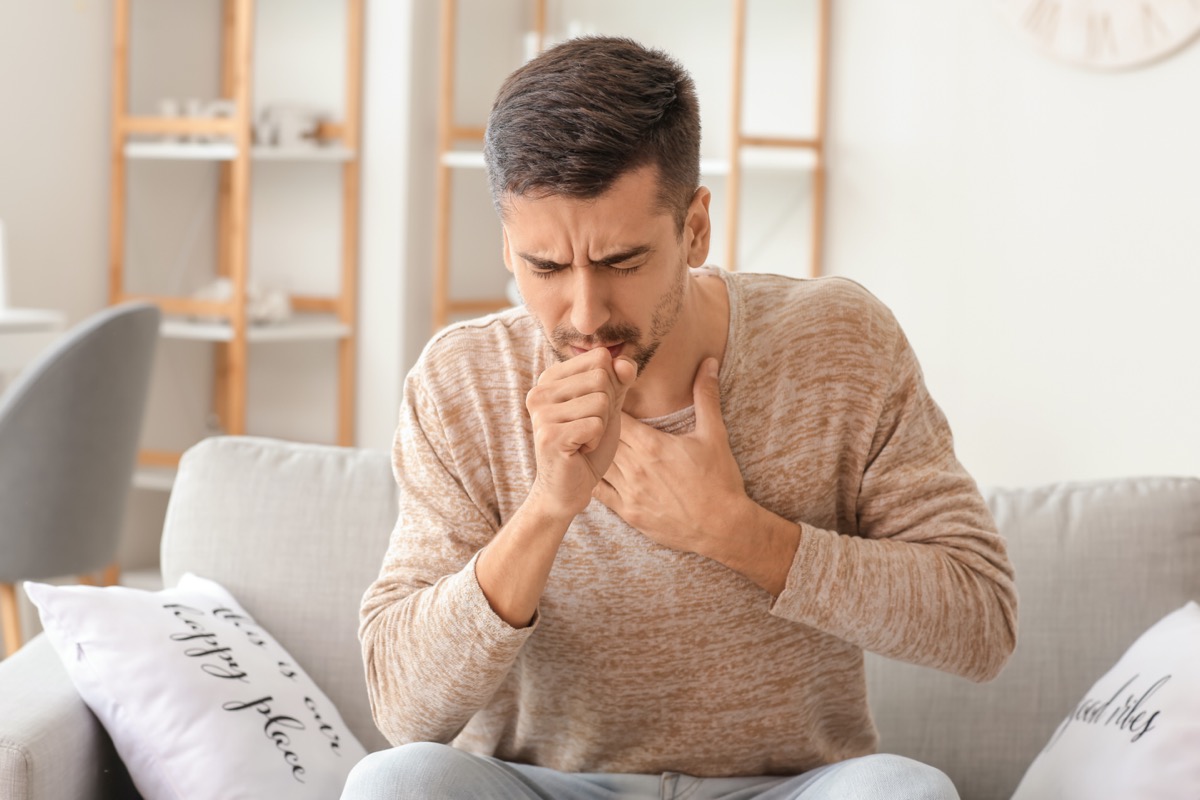 Scientists recently confirmed the first case of COVID-19 reinfection in the U.S.: When a  Nevada man tested positive for coronavirus twice in three months, testing showed he had been infected with two different strains of the virus. So how common is the phenomenon, and how worried should you be? Read on, and to ensure your health and the health of others, don't miss these Sure Signs You've Already Had Coronavirus.
How likely are you to be reinfected with coronavirus? It is extremely rare
As of right now, it seems that coronavirus reinfection is extremely rare. Of 38 million cases reported worldwide since the pandemic began in late 2019, only five reinfections have been confirmed, The New York Times reported on Oct. 13.
Described in the journal The Lancet, that first U.S. case involved a 25-year-old man in Reno, Nevada, who tested positive for COVID-19 in April and recovered from mild coronavirus symptoms—including headache, cough, sore throat, nausea and diarrhea—in about 10 days. In late May, he fell ill again. This time, his illness was more severe, requiring hospitalization and supplementary oxygen, even though he had developed antibodies for coronavirus after his first bout. He has since recovered.
"That's very concerning," Dr. William Schaffner, an infectious disease expert at Vanderbilt University Medical Center, told NBC News. "If this sort of reinfection is common, then we have to worry about how strong the protection will be that we get vaccines."
Second infections may be more severe. Why?
This week, the journal Clinical Infectious Diseases reported on the first known death from coronavirus reinfection: an 89-year-old woman in the Netherlands who was undergoing chemotherapy for cancer. The woman became ill earlier this year, recovered, then tested positive for coronavirus again about two months later. She died of that illness after two weeks.
Scientists aren't sure why reinfection happens, and why second infections might be more severe. Could it have something to do with viral strength, viral load, the patient's overall health, or a mix? At the same time, it's unclear how long the body produces disease-fighting antibodies after the average person becomes infected; the latest estimate is around three months, although this is far from definitive. 6254a4d1642c605c54bf1cab17d50f1e
So far, the data show that COVID-19 reinfections are not frequent. "If this was a very common event, we would have seen thousands of cases," Dr. Akiko Iwasaki, an immunologist at Yale University, told the Times.
But the true number of COVID reinfections may be difficult to determine, because second infections, like the first, might produce no symptoms.
No immunity from protective measures
Experts say the cases, isolated though they may be, are a reminder that COVID-fighting best practices still apply even after you've contracted the virus. "It's important to note that there are people who do get reinfected, and in some of those cases you get worse disease," said Iwasaki. "You still need to keep wearing masks and practice social distancing even if you have recovered once from this infection."
As for yourself, do everything you can to prevent getting—and spreading—COVID-19 in the first place: Wear your face mask, get tested if you think you have coronavirus, avoid crowds (and bars, and house parties), practice social distancing, only run essential errands, wash your hands regularly, disinfect frequently touched surfaces, and to get through this pandemic at your healthiest, don't miss these 35 Places You're Most Likely to Catch COVID.