KFC Is Bringing Back This Adored Holiday Item
You can make your whole house smell like fried chicken.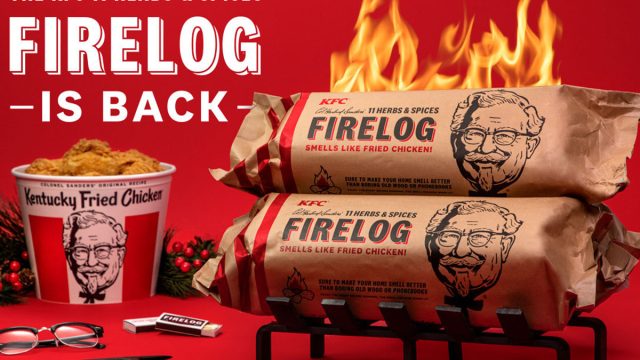 When you think of the holidays, scents of peppermint, fresh pine, and cinnamon likely come to mind. However, KFC is adding another fragrance to that cheerful mix—fried chicken.
For the third year in a row, the fried chicken chain is shaking up the quintessential "chestnuts roasting over an open fire" smell with its fried chicken-scented 11 Herbs & Spices Firelog. The distinctive product is once again created in partnership with Enviro-Log, which makes eco-friendly firewood substitutes. It's currently on sale at select Walmart Stores, but only until supplies last. (Related: 8 Grocery Items That May Soon Be in Short Supply)
The firelogs sold out last year at Walmart within 24 hours, so brace for high demand. A pack of firelogs is only going for $15.88 this year, down from $18.99 in 2019. You can head to Walmart to pick up your logs in person or order online and have them delivered straight to your door. (Speaking of Walmart, be sure to check out how Walmart Is Bracing For a Different Holiday Shopping Season This Year.)
"Although this year may look different, we hope that by expanding our exclusive partnership with Enviro-Log and Walmart, people can once again grab a fried-chicken scented firelog, order a bucket of chicken from KFC, and savor the tastes, smells, and warmth of what has become our favorite holiday tradition," Andrea Zahumensky, KFC U.S. CMO, said in a statement.
While these firelogs may smell exactly like a bucket of fried chicken, don't be deceived—they're 100% not edible.
To stay on top of holiday product drops, be sure to sign up for our newsletter.
Cheyenne Buckingham is the news editor of
Read more