KFC Offering Free Delivery to Combat Coronavirus Concerns
The fried chicken fast food giant is now offering free delivery through April 26th.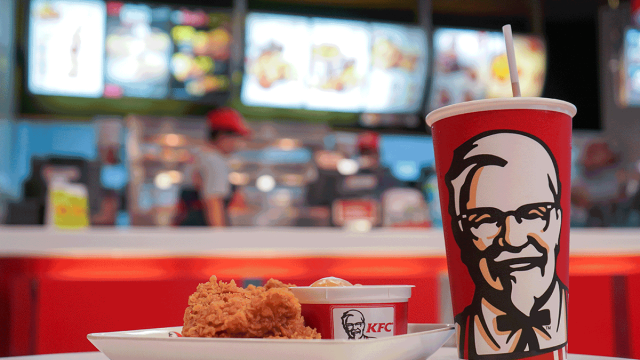 KFC is on the front foot in serving customers craving fried chicken in this unsettling time of the coronavirus pandemic.
Starting March 14th, and in partnership with delivery service Grubhub/Seamless, KFC is offering free delivery through April 26th. Customers can also order meals through KFC.com and get their meals delivered without paying an additional fee.
This aggressive and pro-social move by KFC amid coronavirus concerns stands in contrast to the news last week that the fried chicken fast food changed their overall marketing strategy amidst the global pandemic.
"Finger lickin' good" has forever been the slogan associated with KFC, but amidst criticism, KFC pulled commercial videos and suspended that campaign. Washing hands and limiting the touching of one's face are among the best tactics to avoid the virus.
Fears of the coronavirus pandemic has led to widespread policies designed to increase social distancing, the pandemic-stemming practice of limiting close interaction with others as a means to lessen the spread of COVID-19. As a result, many restaurants are closing completely or limiting their services to delivery only.
On Sunday, New York City Mayor Bill de Blasio announced that all restaurants can only deliver food while also announcing the closing of the New York City school system.
The foodservice industry is certain to be hit very hard by the effects of the coronavirus pandemic as most Americans are choosing to stock up on groceries (and toliet paper!) and hunkering down to cook the vast majority of their meals at home.
Skeptics may deride free delivery as a simple public relations trick to get ahead of the coronavirus news cycle, but there are many Americans that even just a few dollars of savings represents a meaningful amount and can help feed even just one more mouth.
Those who want to order from KFC.com can still pick up at the local store counter.