Lisa Rinna's Slimming Spring Side Dishes
If you think every celebrity with a great body has a live-in cook, you couldn't be more wrong.
In fact, many famous faces whip up the majority of their meals themselves so they can have better control over the ingredients and calories that wind up on their plate. But that doesn't mean that doing so comes easily—stars struggle just like everyone else to put healthy meals on the table, and that's where Kathy Kaehler comes in. Kaehler, a celebrity personal trainer and the creator of the healthy meal prep program Sunday Set-Up, teaches celebrities like Lisa Rinna of The Real Housewives of Beverly Hills how to plan, shop for and prepare healthy meals for the week ahead—and the results speak for themselves. The 51-year old former Days of Our Lives star looks better than plenty of women half her age.
Rinna, who adopted a gluten-free diet in 2010 initially had trouble finding simple, healthy foods that fit into her busy lifestyle, but Kaehler was able to show her the way. Here, we reveal two of the recipes Kaehler shared with Rinna during their Sunday Set-Up meeting. "These dishes are beyond simple and fit the needs for all types of eaters," says Kaehler. "So easy and done in minutes. Plus, the flavors are to die for."
The coolest part? After the bread cooks, it actually ends up being hollow, which makes them perfect muffin-shaped vessels for the White Corn Relish. Enjoy the duo with your favorite chicken, fish or veggie entree to start slimming down Lisa Rinna-style.
Serves 4
INGREDIENTS
2 fresh organic white corn cobs
2 organic limes, zest and juice 2 Tbsp. extra virgin olive oil 2 green onion, finely chopped 1 Tbs. chopped jalapeno pepper 1/2 cup chopped cilantro
1/4 tsp. sea salt
1/4 tsp. black pepper
DIRECTIONS
Step 1: Shuck the corn and cut off kernels and place in a mixing bowl.
Step 2: Add the zest and juice of the limes, olive oil, green onions, jalapeno and stir to coat.
Step 3: Add the cilantro, sea salt and pepper, and give it another stir. Let it sit for at least 30 minutes to marinate.
Yields 12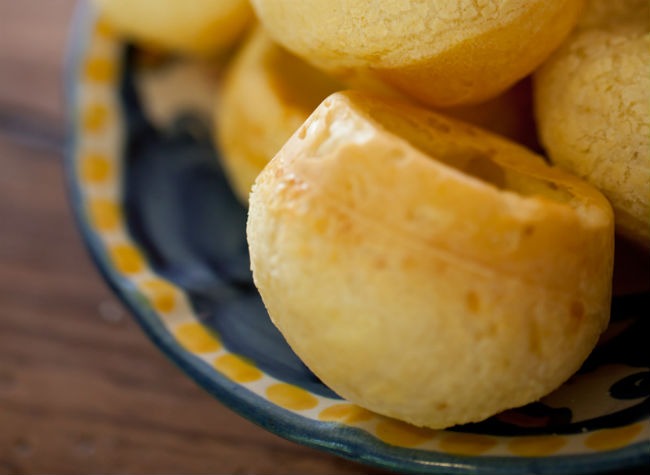 INGREDIENTS
1 organic egg, room temperature 1/3 cup olive oil
2/3 cup low fat organic milk
1 1/2 cups tapioca flour
1/2 cup organic grated cheese (white or sharp cheddar)
1 teaspoon of salt
Additional spices and herbs (like cayenne, cumin or paprika), to taste
DIRECTIONS
Step 1: Preheat oven to 350 degrees F.
Step 2: Oil muffin tins.
Step 3: Blend all ingredient in a blender and pour mixture into a muffin tray. Tins should only be half full. Step 4: Bake for about 15 minutes or until lightly golden brown.
Image: s_bukley / Shutterstock.com
Dana has written for Women's Health, Prevention, Reader's Digest, and countless other publications.
Read more