I'm an ER Doctor and We Need to Lock Down Now
"Of all the times to lock down, this is the time."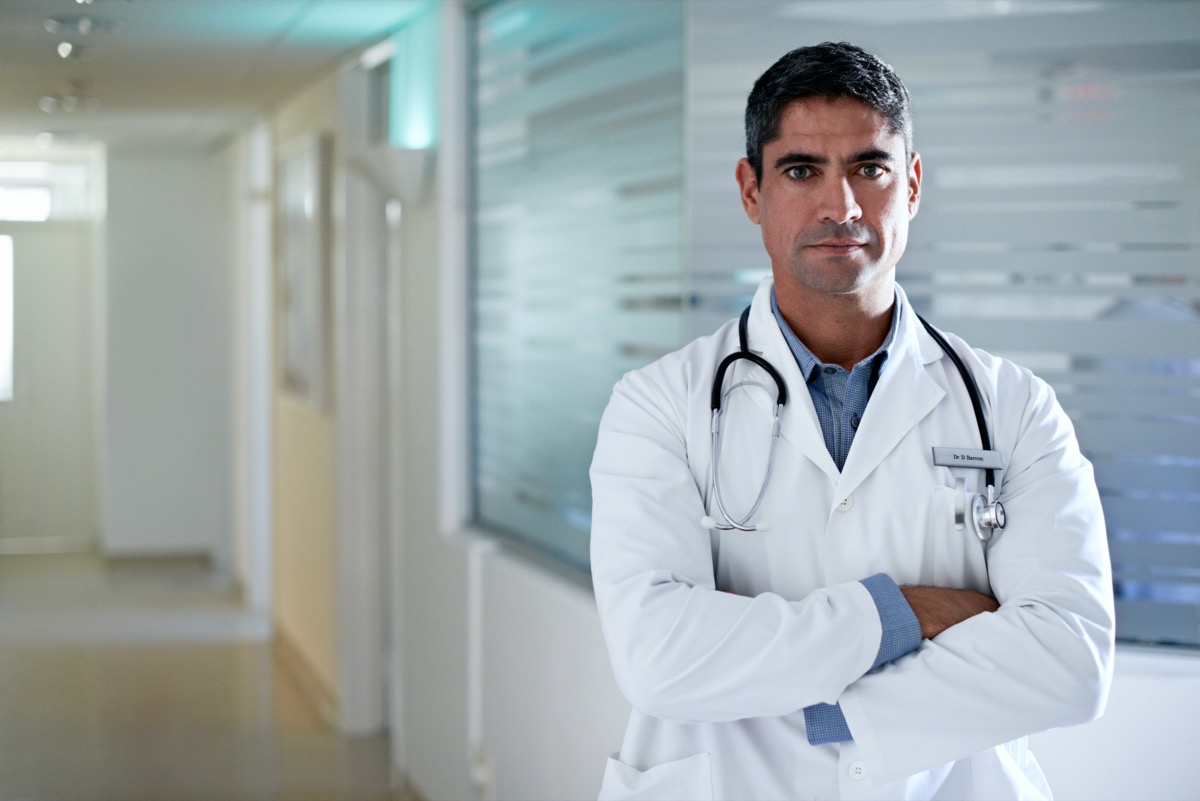 This week, the United States broke two extremely grim records, with daily hospitalizations and deaths hitting their all-time high. And, experts are warning that the worst is yet to come, as the impact of Thanksgiving-related traveling and gatherings won't be represented in the numbers for another week. Healthcare workers around the country are bracing themselves for the worst of the pandemic thus far. Many are worried that soon there will not even be enough resources to treat patients. This is why Dr. Darren Mareiniss, MD, FACEP, Emergency Medicine Physician at Einstein Medical Center in Philadelphia and expert in pandemic preparedness, believes we need to take serious action by locking the country down now. Read on, and to ensure your health and the health of others, don't miss these Sure Signs You've Already Had Coronavirus.
"We Cannot Tolerate More Disease"
"It is straight up unsustainable. We cannot tolerate more disease," Dr. Mareiniss, who is treating COVID patients daily in the ER, tells Eat This, Not That! Health. "If we don't lock down now, we will run out of all our medical resources — including hospital beds and ventilators." 
If that happens, things will start looking like they did in the spring, when the country didn't have enough ventilators for those gravely ill with the virus. "We will have to start allocating resources based on needs," he says.
He also points out that in addition to the influx of COVID patients, the winter season is a notoriously busy time in the ER. "Every winter we have a surge of patients because of viral illnesses, influenza, and other ailments and injuries. Add COVID to that, and it's the worst of everything."
Despite the fact that hospital systems are "bursting at the seams" — a headline on almost every major newspaper and online publication — "nobody seems to care because they don't see what is happening inside the hospitals," says Dr. Marieiness. "At what point do we take this seriously? People are ignoring the train on the tracks ready to hit them."
Unfortunately, he doesn't see the situation improving anytime soon, unless drastic action is taken by the government. "The next two months are going to be very bad. All the way through March. It is going to be worse than in the spring," he says. "Of all the times to lock down, this is the time."
"I realize that there is a lot of frustration and pandemic fatigue, but for the good and health of this county we must lock down now," he asserts. "We must flatten the curve. If we don't, we will run out of healthcare resources and people will die. And they will be avoidable deaths." 
But why a lockdown, one of the strictest and most controversial mitigations in play? "Clearly what we are doing now isn't working," he says. "In order to stop the spread, you need to physically separate people. When there is a lockdown, people do not have the option of going to a bar, restaurant, mall, their friend's houses, or schools — all places where transmission can occur. It is this community spread that is resulting in the surge of infections, hospitalizations, and then deaths."
RELATED: COVID Symptoms Usually Appear in This Order, Study Finds6254a4d1642c605c54bf1cab17d50f1e
How to Survive This Pandemic
CDC Director Robert Redfield has a different idea for how to stop the spread, plumping for mitigation measures like "social distancing, hand-washing and being smart about crowds—doing things more outside than inside. These are critical mitigation steps which, to many people, seem simple, and they don't really think it could have, you know, much of an impact. But the reality is they're very, very powerful tools. They have an enormous impact. And right now it is so important that we recommit ourselves to this mitigation." For now, follow those fundamental mitigation measures, and to ensure your health and the health of others, don't miss these 35 Places You're Most Likely to Catch COVID.
Leah Groth
Leah Groth has decades of experience covering all things health, wellness and fitness related.
Read more about Leah
More content from
ETNT Health