Lowe's and Home Depot Announce Policies Addressing Coronavirus Crisis
Home improvement retailing giants take steps to protect consumers and staff.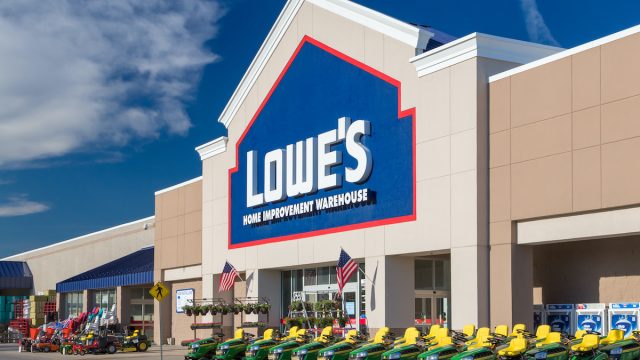 The nation's leading home improvement retail chains both announced aggressive plans to address challenges presented by the coronavirus pandemic. Lowes and Home Depot are following in the footsteps of  Walmart as massive retail corporations become more eager to create the safest possible shopping environment during the outbreak of COVID-19.
The estate of a Walmart associate who passed from the coronavirus filed a wrongful death lawsuit earlier this week that has raised business concerns for many retail corporations. Clerks for grocery and home improvement stores are in many ways on the front lines of this public health crisis, which has led to a number of store associates succumbing to the deadly contagion.
Home Depot announced the plans to address the coronavirus outbreak thusly:
Stores close daily at 6 p.m. to allow staff to clean and restock shelves.
Stores are limiting the number of customers inside at any given time; eliminating major spring promotions; have placed distancing markers at counters; posted signage throughout the stores; and are making frequent announcements asking customers to maintain safe distances.
Stores have thermometers and ask staff to check their temperatures before reporting to work.
Cleaning, disinfecting procedures in place.
And competitor Lowes was not outdone, announcing similar yet slightly different guidelines:
Temporarily closing all stores at 7 p.m. daily to provide time for restocking and to clean and sanitize our stores.
Adding dedicated "social distancing ambassadors" who are responsible for monitoring customer flow in garden centers and front-end areas and to enforce customer limits to allow proper social distancing.
Changing store layouts to open up more aisle space for staff and customers.
A limit on the number of customers inside the store. Each store manager can monitor foot traffic and limit the number of people coming into the store.
Installed customized plexiglass shields at all points of sale to protect cashiers and employees at the return desk.
Streamlined curbside pickup process, so customers can be served without having to come inside the store.
Lowes and Home Depot following Walmart's new guidelines certainly signals a larger trend in retail corporations modifying their business policies so as to keep staff and consumers safe in this time of a global pandemic.
READ:  Walmart Faces First Wrongful Death Lawsuit from Coronavirus