McDonald's Drive-Thrus are Now Faster Because of This
The fast-food chain is getting quicker at taking your order you when you roll up in your car, a new report finds.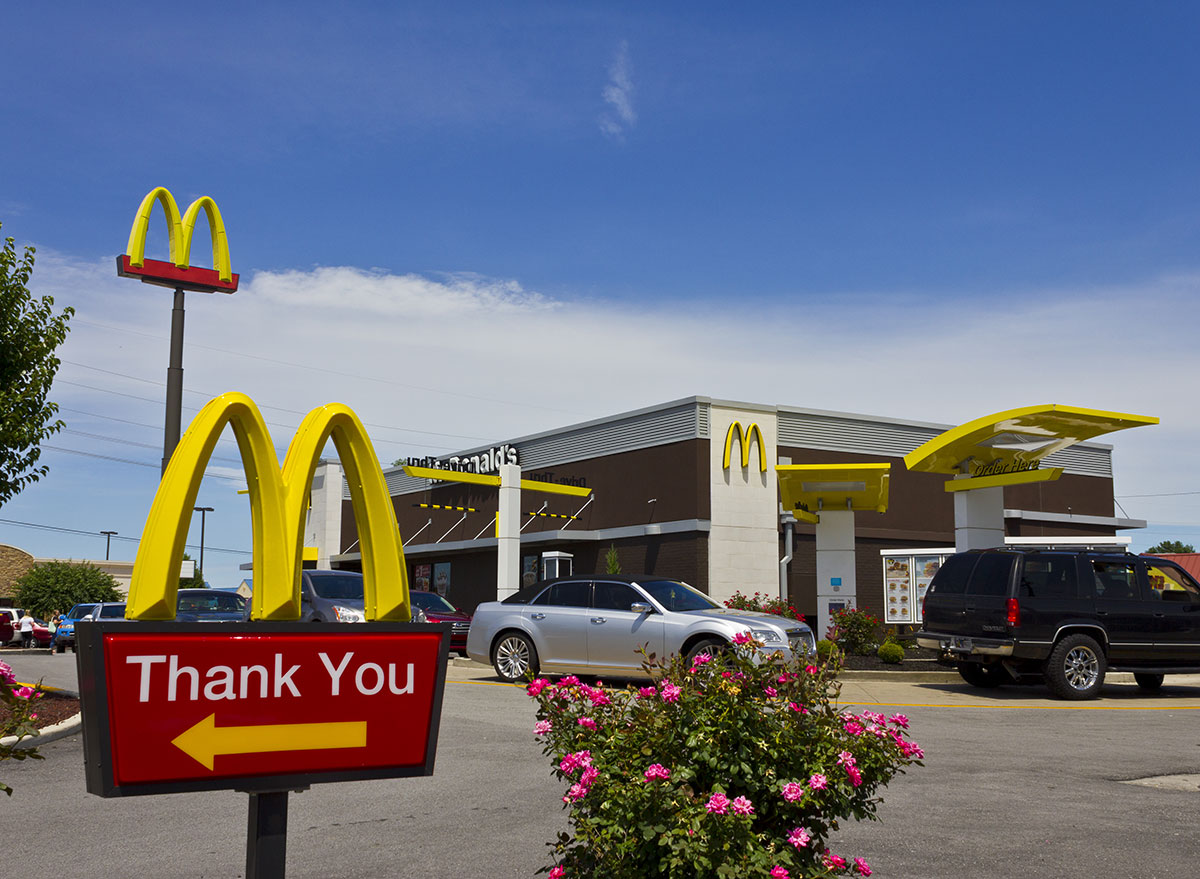 Going through the drive-thru at McDonald's is about 30 seconds faster this year compared to 2019, according to a QSR Drive-Thru Study that was just released by customer experience company, SeeLevel HX. The annual report looks at the speed and quality of the drive-thrus at 10 major fast-food restaurants, including Chick-Fil-A, Taco Bell, Wendy's, and of course, Mickey D's.
This year, the average time to get through McDonald's drive-thru clocked in at around 349.3 seconds, which is enough to get more customers their food without slowing down operations during busy breakfast, lunch, and dinner rushes. And, as it turns out, the faster wait times are all thanks to McDonald's limited menu, according to Nation's Restaurant News. (McDonald's was also closing locations too, as we covered in 9 Restaurant Chains That Closed Hundreds of Locations This Summer.)
When the coronavirus pandemic started back in March, the fast-food chain announced they would be cutting some items from their menu due to scarce supplies, staff, and in an effort to increase efficiency. By axing salads, chicken tenders, and all-day breakfast, McDonald's ultimately saved customers and employees a lot of time. In fact, according to the study, the chain ranks the 6th fastest (Hardee's, for instance, took the third fastest spot, while Chick-Fil-A came in dead last).
In addition to McDonald's reduced food options, another element that has helped the restaurant shave time off drive-thru orders is its new menu boards, called Dynamic Yield menu boards. These show customers "food based on the time of day, weather, current restaurant traffic, and trending menu items," according to a press release.6254a4d1642c605c54bf1cab17d50f1e
However, with quicker service comes the news that all-day breakfast may never return to the golden arches. Over the summer, McDonald's did bring back a few items—like the Bacon McDouble, hot tea, two Quarter Pounder options, and other options—but breakfast for dinner (or a late-night snack) didn't make a comeback, and the brand has been contemplating keeping the menu limited.
"We removed All Day Breakfast from the menu to simplify operations in our kitchens, which we saw provided better speed of service and order accuracy," McDonald's told NRN. "Any final decision will be made in partnership with our franchisees, based on customer demand, and designed to drive the business while minimizing operational disruptions."
So, even though you may be able to dine-in at your favorite McDonald's location again, if it's after a certain time, you'll have to opt for a Big Mac or chicken nuggets instead of a McGriddle or an Egg McMuffin (both are healthy options, according to our analysis of  McDonald's Entire Breakfast Menu — Ranked for Nutrition!). Or, you can opt to speed through the drive-thru knowing it will take only 350 seconds.
For more McDonald's news, sign up for our daily newsletter!
Amanda McDonald
Amanda has a master's degree in journalism from Northwestern University and a bachelor's degree in digital journalism from Loyola University Chicago.
Read more about Amanda
More content from
Restaurants