The Most Dangerous Place to Sit in a Restaurant After Coronavirus
Sitting here will put your health in jeopardy.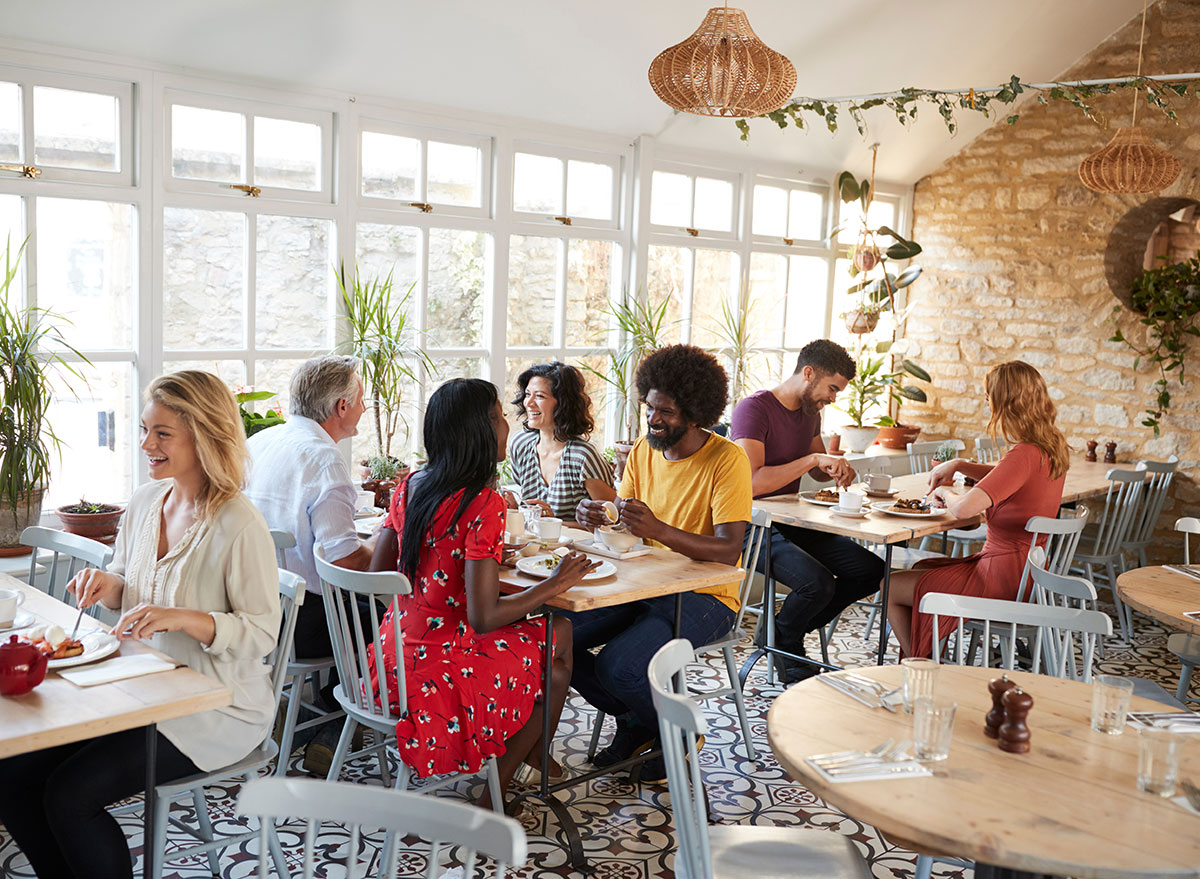 It's what we've all been waiting for! States are finally lifting stay-at-home orders and dine-in restrictions for restaurants. But that doesn't mean that your dining out experience post-COVID is going to look like what you've always been used to—and it certainly doesn't mean you no longer have to take precautionary measures to protect your health.
In fact, you should be more cautious than ever when you switch from takeout to dining in. Why? Despite restaurants following state-recommended guidelines that are meant to protect you from contracting COVID-19, there is one measure that is not at the top of mind for restaurant owners—and it's one of the most underrated ways you may contract coronavirus when dining at a restaurant.
That problem? Air conditioning.6254a4d1642c605c54bf1cab17d50f1e
STAY INFORMED: Sign up for our newsletter to get the latest coronavirus foods news delivered straight to your inbox.
Studies have analyzed hundreds of coronavirus super-spreading cases to find the root causes of how the virus spreads. One specific case study found that airflow in a restaurant environment can spread the virus across many tables—and that's due to air conditioning and airflow vents.
As we know, the virus spreads from person to person, mainly through respiratory droplets produced when an infected person coughs, sneezes, or breathes. That's exactly why one of the first measures state governments took to protect their citizens was to shut down restaurant dining rooms. Because people are in close quarters in restaurants, it makes it easy for the virus to spread from person to person.
This case study of one coronavirus spreading found that airflow direction is paramount when it comes to passing the virus. An infected person sat at a dinner table with nine friends for a little over an hour. During this time period, the asymptomatic carrier released low-levels of the virus into the air simply by breathing. Not only did half of the carrier's table contract the virus, but 75 percent of the diners on the table downwind also became infected. Two of the seven people on the upwind table were also infected, which experts believe was due to turbulent airflow.
Here's where airflow really comes into play: no one at the tables outside of the airflow path became infected.
When you're ready to dine in a restaurant again after restrictions are lifted, you'll want to ask the hostess if the restaurant has made adjustments to protect patrons from this dangerous problem. When in doubt, opt to go to restaurants that have outside dining. Protect your health and know about The # 1 Worst Thing You Can Do at a Restaurant before your next dinner.
Eat This, Not That!
Inspired by The New York Times best-selling book series, Eat This, Not That! is a brand that's comprised of an award-winning team of journalists and board-certified experts, doctors, nutritionists, chefs, personal trainers, and dietitians who work together to bring you accurate, timely, informative, and actionable content on food, nutrition, dieting, weight loss, health, wellness, and more.
Read more about Eat This