Most People Catch COVID This Way Now, Experts Say
Learn why doctors are worried about this winter and how people are catching COVID.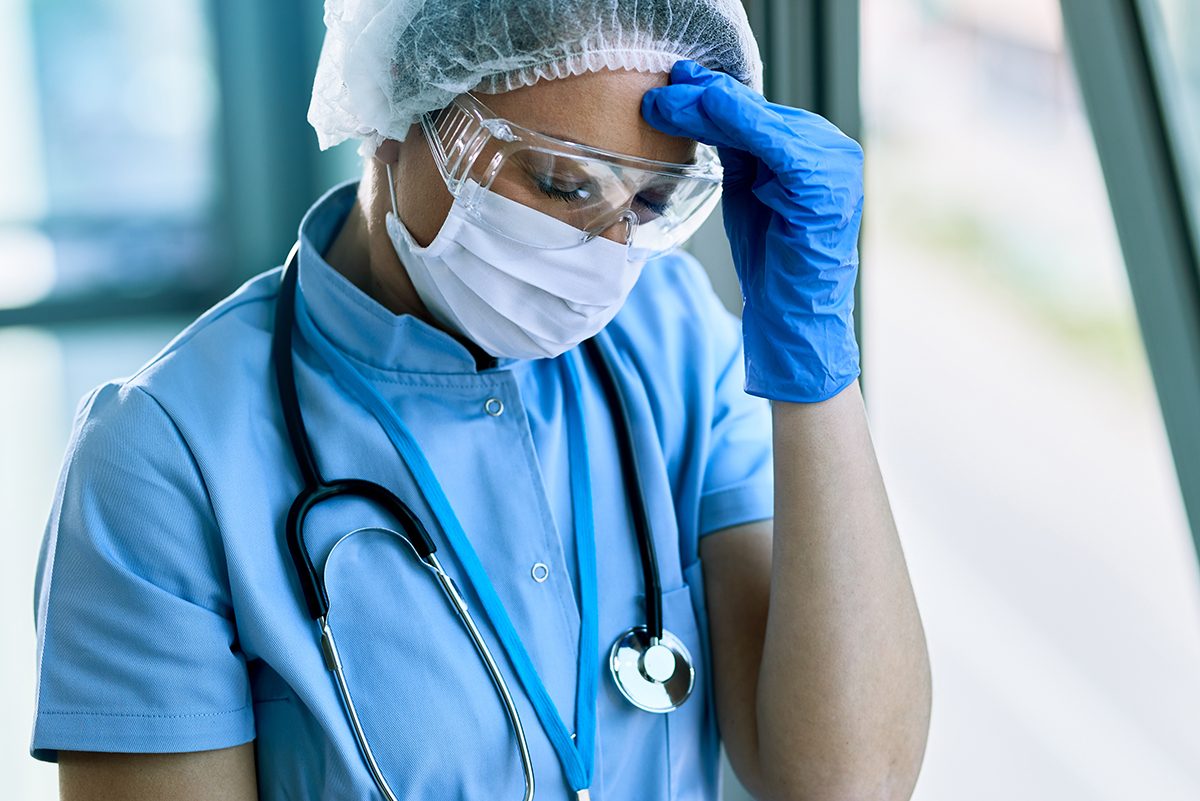 COVID cases have been declining in recent months and although many people have moved on from the pandemic, the virus is starting to dominate headlines again because of what experts fear might happen in the next few months. Gabrielle Einstein Morrow MD Medical Director, Emergency Department Dignity Health Glendale Memorial Hospital and TeamHealth tells us, "Experts are calling this winter season a twindemic: a rise in COVID cases and a rise in influenza cases. After two years at home, many people and kids are back at work, school and socializing. This will lead to higher disease rates, which will lead to increased hospitalizations and deaths."
However, not all think there will be an uptick in cases because of influenza. Eli E. Hendel, MD, a triple board-certified pulmonologist, sleep medicine specialist, and internist, the chief of medicine at Dignity Health Glendale Memorial Hospital and his own private practice explains to Eat This, Not That! Health, "There has been a winter surge in the past two years. One of the popular theories is that there is the additive effect of influenza. Influenza which hits the upper airways, COVID goes straight to the alveoli where the ACE receptors are and causes low oxygen while people are without symptoms."
Dr. Hendel adds, "A more persuasive theory is the lack of sunlight in winter days. The data of Europe is that there are higher cases in higher latitude ( above the equator ) where there is less sunlight. This is more correlated than temperature or humidity. This can also explain the relationship with Vitamin D which is activated by the sun. There are many current studies looking at this." With restrictions lifted and many people not wearing masks or social distancing, experts believe we're in for a rough winter. Doctors share with us their concerns and how people are catching COVID right now. Read on—and to ensure your health and the health of others, don't miss these Sure Signs You've Already Had COVID.6254a4d1642c605c54bf1cab17d50f1e
1
We Are Still in a Pandemic
Dr. Hendel says, "This is the latest data: in the past month the average daily new cases 36,986, the average deaths 321 , the average new hospitalizations 3,201. The percentage of the population who received the first booster is 35%. If you define Epidemic as an outbreak greater than that expected in the natural environment and Pandemic as that epidemic that crosses national boundaries , we are still in this situation.
Most rather use the basis for determination as comparison with 2020 and in that sense the pandemic is indeed over. There is 'pandemic fatigue', new world concerns, economics, social instability that makes people not think of COVID as a threat. Pres. Biden declared the pandemic as being over for the same reason as Pres. Trump was hesitant to declare a state of emergency. Public health was not a priority. Both faced an election year."
2
How People are Getting COVID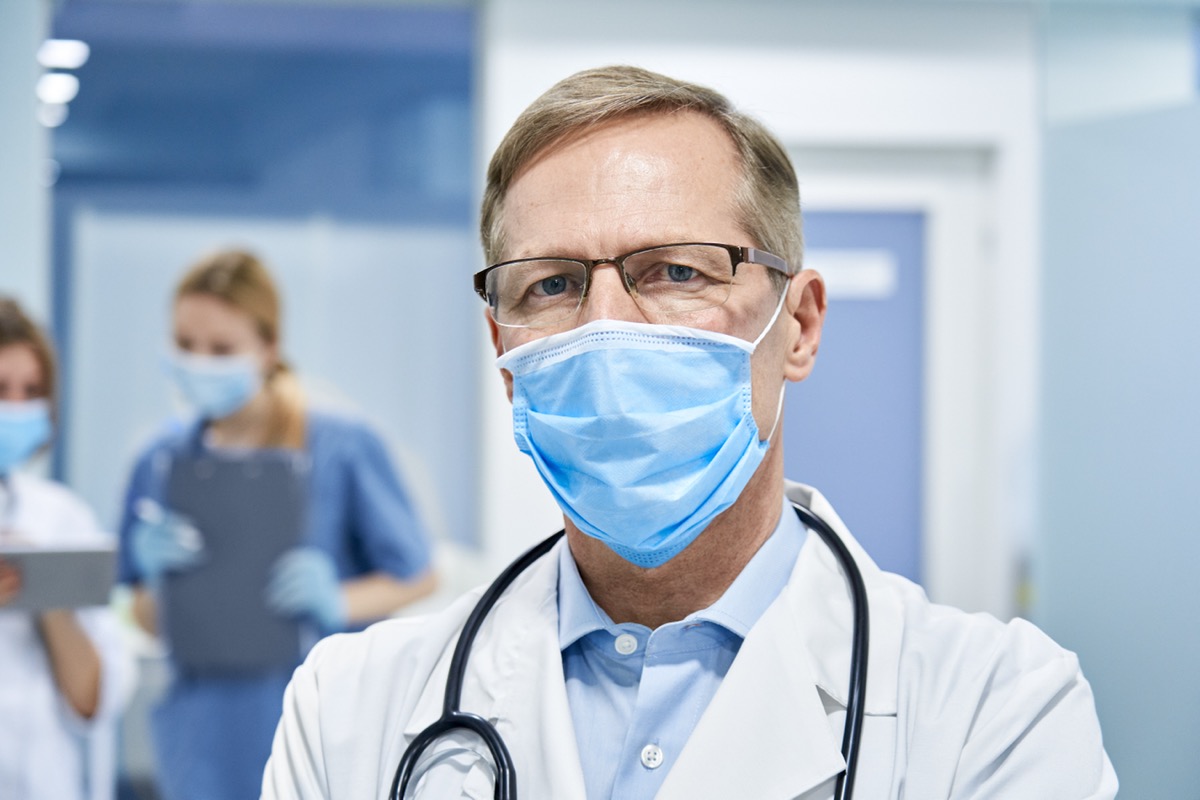 According to Tameem Alhayya MD, Chief of Department of Medicine and Family Practice at Beverly Hospital and Co-Founder and CEO of Sunrise Medical Associates, LLC, many people are getting COVID from others spreading the virus. "COVID-19 is transmitted from person-to-person through the respiratory tract. It occurs mainly through close-range of contact via respiratory particles."
Gabrielle Einstein Morrow MD Medical Director, Emergency Department Dignity Health Glendale Memorial Hospital and TeamHealth reveals, "We see so many cases from social gatherings, from family parties to bars. This makes sense when you remember that COVID is passed through respiratory droplets. When do respiratory droplets spread? When people are sneezing and coughing – and when they are yelling and laughing at a party."
3
Limit Touching Surfaces
Dr. Hendel states, "Viruses do not possess the capacity to survive on their own like a cell, It needs to penetrate a host cell to replicate and spread to another cell. Fomites are known to be the contaminated surfaces. The risk of infection is low. The virus is packed inside an envelope of lipids. This envelope is labile and degrades quickly on contact with cleaning agents and environmental conditions and the virus will not survive. The way this fomite can infect people is by getting airborne. Studies have determined how long the virus is present on surfaces but this does not mean that the virus is infectious. For that it needs to enter a human host cell. The length of time virus has been found in surfaces few minutes on porous surfaces and days to weeks on non porous surfaces.
COVID 19 stays in air droplets from 1 to 3 hours , it likes smooth surfaces like glass ( 5 days) , wood (4 days) , plastic ( 3 days) , cardboard ( 24 hours ) Not much in clothing and not on food. For that matter HIV has been demonstrated on dried blood on surfaces but is a very weak virus. Influenza survives on mucus cells that are left on surfaces, it is a more resilient virus. There have been no data reporting of either HIV or influenza from fomites."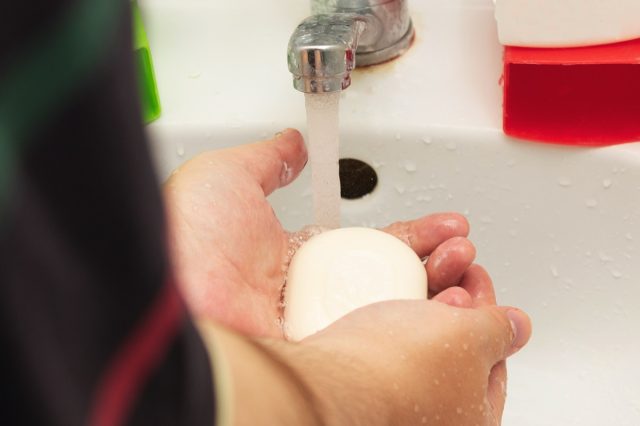 Dr. Alhayya explains, "It is unknown how long COVID-19 virus can persist on surfaces, however other coronaviruses (similar viruses) have survived on surfaces for up to 6-9 days without disinfection. However, disinfectants (such as ethanol) inactivate coronaviruses within one minute. Hence, the importance of continuing to practice hand washing hygiene and disinfecting frequently touched surfaces , especially if known contact with COVID-19 infected persons."
The Centers for Disease Control and Prevention states, "Washing hands can keep you healthy and prevent the spread of respiratory and diarrheal infections. Germs can spread from person to person or from surfaces to people when you:
–Touch your eyes, nose, and mouth with unwashed hands
–Prepare or eat food and drinks with unwashed hands
–Touch surfaces or objects that have germs on them
–Blow your nose, cough, or sneeze into your hands and then touch other people's hands or common objects."
5
Taking Safety Precautions is Highly Recommended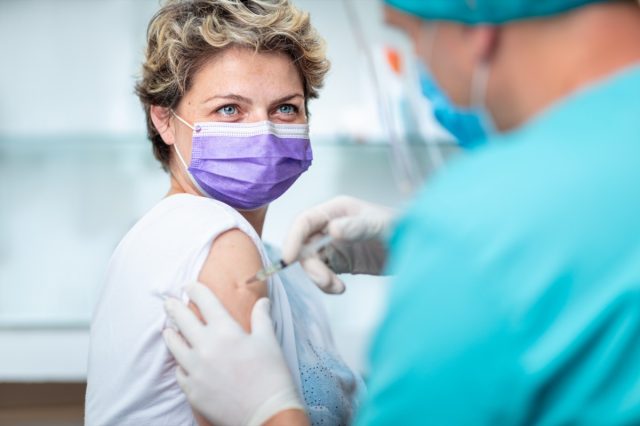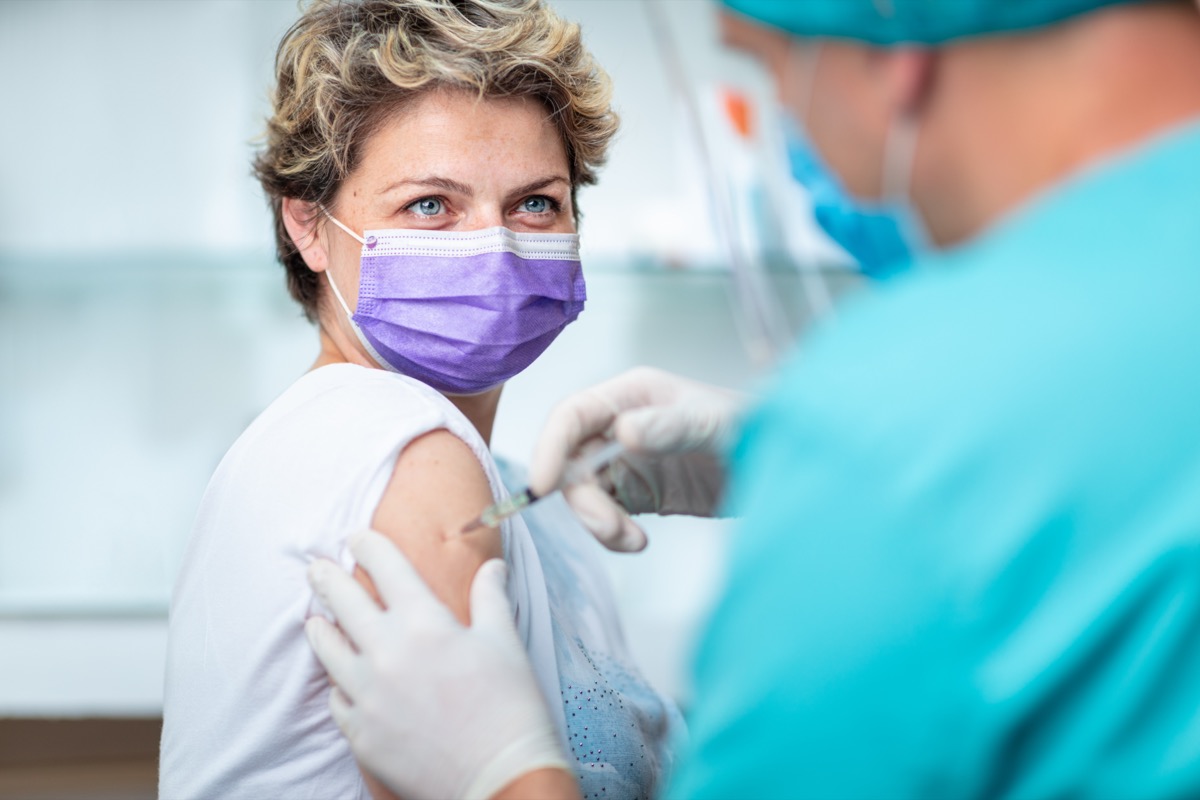 Michael D. Wang, Geriatric Medicine, Medical Staff at Beverly Hospital, Vice President, Clinical Affairs at Welcome Health Medical Group, a group specializing in senior care and home-based primary care says, "COVID19 has been around for over two tough rough years. While we as a society have made big sacrifices and major gains on fighting this disease, COVID is still circulating, still a threat, and still able to cause severe illness, even death. This virus is unfortunately still killing people every day in Los Angeles County, California where I work, and of course, around the world. The fortunate thing is: in 2022, we have many tools available to fight. The more we do to protect ourselves as individuals and as a community, the less likely this becomes."
Experts are still encouraging people to wear N95 masks, social distance, get vaccinated, stay home if you're sick, practice good hygiene, stay hydrated and make sure you're not deficient in essential vitamins like C, D and zinc. In addition, the CDC recommends moving indoor activities to outside. "You are less likely to be infected with COVID-19 during outdoor activities because virus particles do not build up in the air outdoors as much as they do indoors. As the COVID-19 Community Level rises, consider increasing the number of group activities you move outside." And to protect your life and the lives of others, don't visit any of these 35 Places You're Most Likely to Catch COVID.
Heather Newgen
Heather Newgen has two decades of experience reporting and writing about health, fitness, entertainment and travel. Heather currently freelances for several publications.
Read more about Heather