The Most Popular Home-Cooked Meal in America Right Now
Here's what everyone is making at home... and why you may find some groceries tougher to find.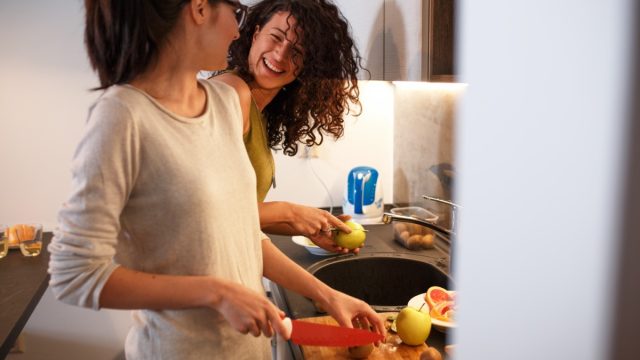 It's been a few months since making bread became the unofficial baking project of quarantine and flour was hard to find on grocery store shelves. But what have most people been cooking at home when restaurants were shut down and carryout options became scarce? New data has revealed exactly which dishes families around the country have been whipping up in their own kitchens.
Home Run Inn Pizza's 2020 Family Dining Report asked 1,067 families about their dining preferences this year, since how and where we dine has been so severely impacted by the COVID-19 pandemic. The pizzeria found that 65% of people are cooking at home and eating together as a family four or more days per week. And the majority, or 68%, are making meat-based dishes more than anything else. (Related: The One Vitamin Doctors Are Urging Everyone to Take Right Now.)
Pasta and/or noodle dishes were the second most popular at-home dish (66%), followed by slow-cooker, one-pot meals, and/or soups (49%). Surprisingly, only 41% of families are making pizza at home, and even less are home-preparing seafood (27%).
Interestingly, families have also been making a whole lot more breakfast foods at home this year, with 47% making eggs, bacon, pancakes, and the like with those they live with.
No matter the dish, 49% of people say they have run into issues finding their family's favorite food products at the grocery store. This isn't a surprise, as this past spring, popular items like flour, canned goods, and more were nowhere to be found at your local supermarket. Unfortunately, that trend seems to be coming back during this second wave of cases spiking. Here are 5 Food Shortages You Should Prepare For.
For more food news, make sure to sign up for our newsletter.
Amanda is a staff writer for
Eat This, Not That!
.
Read more