This Governor Just Ordered "Life or Death" Lockdown
"On Monday New Mexico will hit reset," said Governor Michelle Lujan Grisham of New Mexico.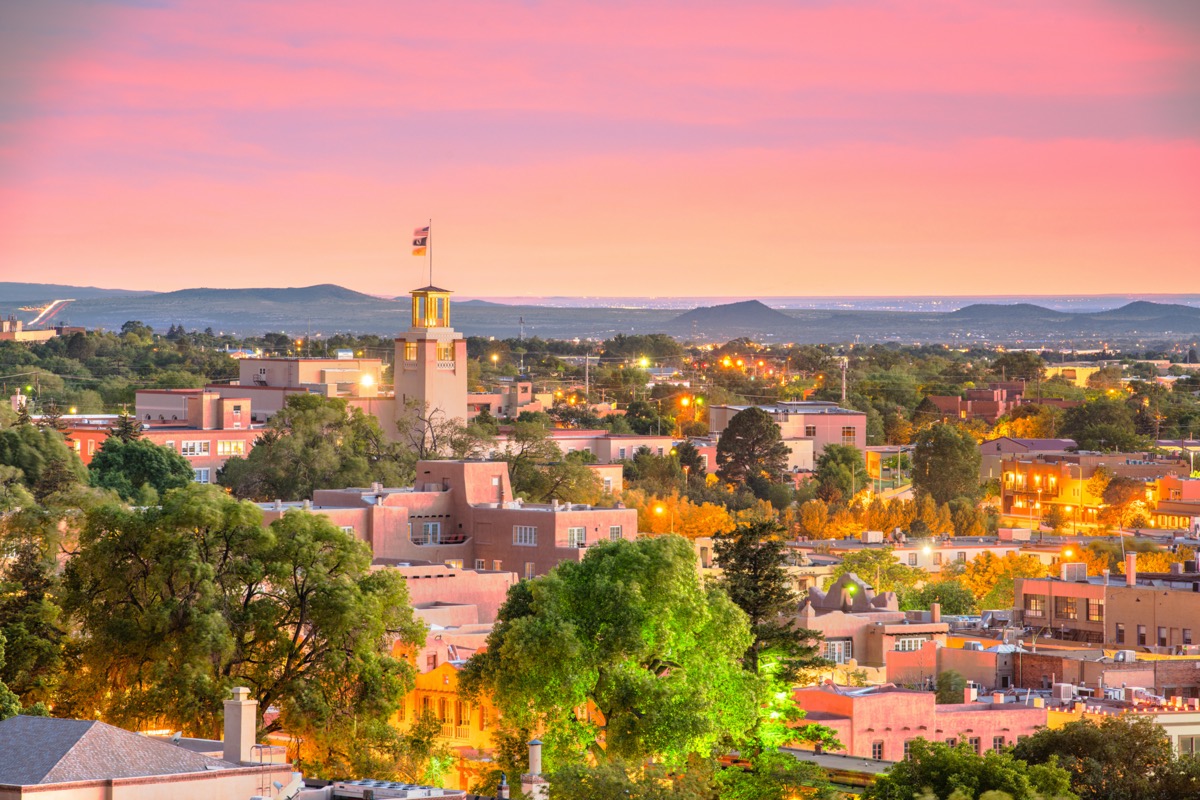 With coronavirus cases and hospitalizations climbing well above even some experts' predictions—America just hit 184,000 coronavirus cases in one day, with no end in sight—one state has announced stay-at-home measures to help stop the spread. "New Mexico is at the breaking point. We face a life-or-death situation, & we must & will act to preserve the lives of New Mexicans," tweeted Governor Michelle Lujan Grisham. "On Monday New Mexico will hit reset, re-enacting the most heightened level of statewide public health restrictions to slow the spread & save lives." Read on to hear her full warning, and to ensure your health and the health of others, don't miss these Sure Signs You've Already Had Coronavirus.
The Governor says "more aggressive restrictions are not only warranted but essential"
Here is the statement from the Governor's Office in full, with everything citizens can and cannot do:
"Gov. Michelle Lujan Grisham and state health officials on Friday announced the state of New Mexico will temporarily re-enact a statewide order closing in-person services for all non-essential activities in order to blunt the unprecedented spike of COVID-19 illnesses and to attempt to relieve dramatically escalating strain on hospitals and health care providers across the state.6254a4d1642c605c54bf1cab17d50f1e
The heightened restrictions statewide, enacted through an amended emergency public health order issued by the state Department of Health, will be in effect for two weeks.
The restrictions are effective Monday, Nov. 16, through Monday, Nov. 30. The amended emergency public health order is attached to this news release.
New Mexicans are instructed to stay at home except for only those trips that are essential to health, safety and welfare – such as for food and water, emergency medical care, to obtain a flu shot or to obtain a test for COVID-19.
Essential businesses – such as grocery stores, pharmacies, shelters, child care facilities, gas stations, infrastructure operations and others – must minimize operations and in-person staffing to the greatest extent possible but may remain open for limited essential in-person activities. A complete list of categories of businesses defined as essential is included in the public health order and at the bottom of this news release.
Food and drink establishments may provide curbside pickup and delivery services; on-site dining is prohibited.
A retail space identified as an essential business in the public health order – such as a grocery store, a hardware store, an automobile or bike repair facility, laundromats, liquor stores and large "big box" retailers — may not exceed either 25 percent of maximum occupancy or 75 customers at any one time, whichever is smaller. These essential retail spaces must close by 10 p.m. nightly and may reopen at 4 a.m.
The worsening state of emergency throughout New Mexico necessitates severe public health restrictions as the state records unsustainable rates of new infections of COVID-19 and hospitals throughout the state approach or exceed capacity for bed availability and staffing resources. New Mexico's rolling 7-day average of new COVID-19 cases is 1,012, nearly 10 times greater than the state's target for a safe 'reopening' process. The total COVID-19 hospitalizations in the state have risen at least 214 percent over the most recent four weeks. The state has recorded 182 COVID-19 deaths over the past two weeks, a record over the course of the pandemic, and a 143 percent increase over the prior two-week period.
According to the state Department of Health, 17 percent of New Mexicans who have been hospitalized for COVID-19 have died, or almost one in five. There are at least 471 individuals hospitalized for COVID-19 in the state as of Thursday, Nov. 12; the number may be higher pending patient test results and state reporting."
"The rate of spread and the emergency within our state hospitals are clear indicators that we cannot sustain the current situation without significant interventions to modify individual behavior," said Gov. Lujan Grisham. "We had hoped targeted crackdowns, limited hours of operation and amplified messaging and enforcement would make the difference and slow the spread and relieve our hospitals. The public health data make clear, however, that more aggressive restrictions are not only warranted but essential if we are to prevent mass casualties. Without the compliance and cooperation of New Mexicans statewide, we do not need to imagine the bleak public health calamity we will face – the images from El Paso the last few weeks, from New York City earlier this year, and from Europe at the outset of the pandemic will be our fate in New Mexico."
"But we can prevent this," her statement continued. "These warnings are intended to inform, not alarm. There are simple steps each of us can and must take. Stay at home. Wear your mask if you must go out. Do not gather with non-household members. Wash or sanitize your hands frequently. Make plans for a different kind of Thanksgiving – one without non-household members. Please, take every necessary precaution to protect yourself, your family, your community and your state. If we do that, we will be able to resume more day-to-day activities soon, and more importantly we will save the lives of hundreds of New Mexicans."
How to Avoid Dying During the Pandemic
"We've had every opportunity to preempt this by taking precautions to slow the spread. But cases and deaths have continued to rise and hospitalizations are at record highs." the Governor added. "These steps are difficult but necessary to blunt the spike of serious COVID-19 infections statewide." She ended with: "State enforcement can only go so far – it doesn't work without compliance, without individual accountability to your community. This is the most dangerous point of the pandemic so far. Please, act like it. Take it seriously. Do your part."
As for yourself, do everything you can to prevent getting—and spreading—COVID-19 in the first place: Wear your face mask, get tested if you think you have coronavirus, avoid crowds (and bars, and house parties), practice social distancing, only run essential errands, wash your hands regularly, disinfect frequently touched surfaces, stay outdoors more than indoors, and to get through this pandemic at your healthiest, don't miss these 35 Places You're Most Likely to Catch COVID.
Alek Korab
Alek Korab is a Co-Founder and Managing Editor of the ETNT Health channel on Eat This, Not That!
Read more
More content from
ETNT Health