Experts Issue "Alarming" Warning Over New NYC COVID Variant
And, what you can do to stop it from spreading.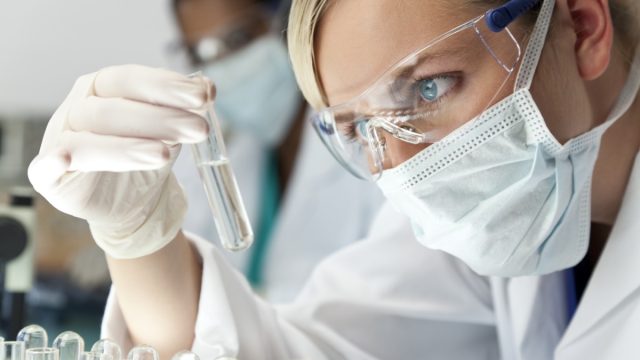 In December, health officials in the United Kingdom first expressed concern about their discovery of a more transmissible variant of COVID-19. In the months that have followed a number of other mutations have been identified, including one in South Africa, another in Brazil, and even one originating in California. Now, two separate research teams believe they have identified a new, very concerning strain in New York City and other places in the Northeast. Read on to find out why they are so worried about this new variant—and to ensure your health and the health of others, don't miss these Sure Signs You've Already Had Coronavirus. 
The New York COVID-19 Variant is "Alarming," Say Experts
According to the researchers, this new variant, named B.1.526, carries mutations that fight against the body's natural immune response, and may also be more resistant to monoclonal antibody treatments.
Per the preprint report, it shares mutations with previously reported variants—including B.1.351, first identified in South Africa. Similarly, it seems to evade the body's response to vaccines and is increasing in prevalence. "We observed a steady increase in the detection rate from late December to mid-February, with an alarming rise to 12.7% in the past two weeks," one of the teams from Columbia University Medical Center wrote in their report. 
Dr. David Ho, Director of the Aaron Diamond AIDS Research Center at Columbia, who led the study team, told CNN that the variant is "home grown, presumably in New York."
"It is this novel variant that is surging, alarmingly, in our patient population over the past few weeks," the Columbia researchers state in their report. 
"We find the rate of detection of this new variant is going up over the past few weeks. A concern is that it might be beginning to overtake other strains, just like the UK and South African variants. However, we don't have enough data to firm up this point now," Ho added to CNN. "Everything we know about this key mutation suggests that it appears to escape from antibody pressure."
Another team from the California Institute of Technology has also identified the rise of B.1.526 in New York, sharing their findings in a pre-print, non peer-reviewed report. "It appears that the frequency of lineage B.1.526 has increased rapidly in New York," they wrote. 
RELATED: Dr. Fauci Just Said When We'd Get Back to Normal
Dr. Fauci Says Get Vaccinated to Stay Safe From the New Variant (and All Variants)
During an appearance on Today, Dr. Anthony Fauci, the chief medical advisor to the President and the director of the National Institute of Allergy and Infectious Diseases, also confirmed its existence, after Savannah Guthrie asked him if it was concerning to him. He also revealed the one thing everyone can do to prevent the mutations from occurring and spreading. 
"We're always concerned about variants," he responded, proceeding to explain "the two ways that we have within our power to prevent the evolution of these variants." The first? "You're not going to get a variance if the virus is not spreading around the community," he pointed out. "Viruses don't mutate unless you give them the chance to replicate and the way you prevent that is to do the public health measures that we talk about all the time." So get vaccinated when you can—and to protect your life and the lives of others, don't visit any of these 35 Places You're Most Likely to Catch COVID.