Popular Grocery Store ALDI Is Planning a Major Expansion This Year
There will now be at least one location in 38 different states!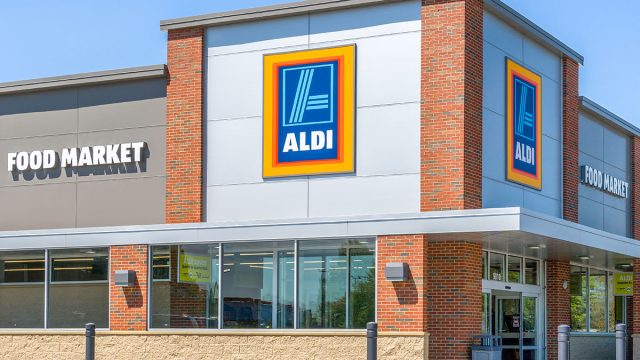 Aldi was named the fastest-growing grocery store chain in the country late last year. Now, in 2021, the company plans to ramp up its expansion efforts by opening 100 stores across 38 U.S. states.
Although they will open all over the country, Aldi is specifically zeroing in on Arizona, California, Florida, and a handful of states in the Northeast—the process of which began in 2020. And thanks to a new distribution center in Loxley, Alabama, the rate at which current (and new stores) in the region restock inventory will likely be more efficient than ever. Not to mention, the introduction of the regional distribution center will only help bolster the company's aggressive expansion efforts in the Gulf Coast.
The popular grocery chain hopes to open as many as 35 locations in this southern region by 2022, starting with two stores in Tallahassee, Florida. There will also be several ALDI locations coming to Louisiana for the first time, as specified in a statement. (Related: Grocery Shortages To Expect in 2021, According to Experts.)
Something else to look forward to? The chain is adding curbside pickup to over half of its 2,000 locations, so customers can get their low-cost groceries quickly without going into the store. Their products are also available to be delivered from almost all stores when you order through Instacart.
"We're incredibly proud to continue growing in all aspects of our business, from opening new stores to enhancing our eCommerce offerings, especially in light of the challenges businesses have faced in the last year," CEO Jason Hart said in the press release.
If a new Aldi location is coming to your neighborhood this year, here are 15 of the best foods you can get there. And to get all the latest news about Aldi and other grocery stores delivered right to your email inbox every day, sign up for our newsletter!
Amanda is a staff writer for
Eat This, Not That!
.
Read more