This American Town Is Getting Its First Grocery Store in 14 Years
The news is a good reminder of how fortunate many of us really are.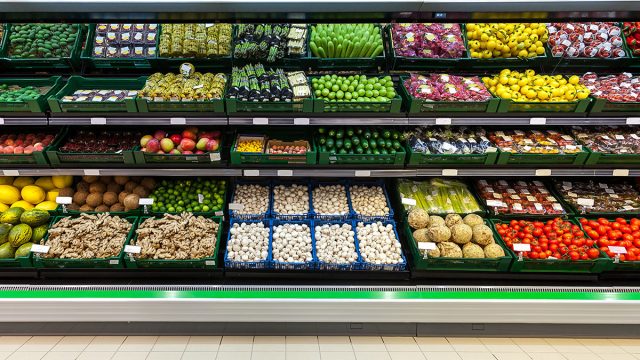 Costco, Sam's Club, Whole Foods, Aldi… for many Americans, grocery shopping is a relatively easy routine. However, one Midwestern community is offering a good reminder of what a privilege it is to have easy access to quality food. For the first time in a decade and a half, a grocery store is coming to their area.
Cincinnati's Local 12 WKRC-TV news reports that the neighborhood of Avondale, Ohio in the Cincinnati area saw their Aldi store close in late 2008. Since then, many Avondale residents have had to travel by car or public transport to get to the grocery store—and for anyone who's tried to haul groceries home on a city bus, you know that chore's no fun.
RELATED: This Is the Best Supermarket in America, New Survey Says
That's why it sounds like Avondale residents are thrilled that The Country Meat Company at Findlay Market is expected to open in Avondale's town center in 2022. With a reported 6,000-square-food facility, the new grocery store will house "a butcher and deli stand, produce, grains, dry goods and grab-and-go section, plus beer, wine, juice, coffee and a dine-in area," according to WKRC-TV. The Country Meat Company is said to be a family-owned operation run by Chanel and Tennel Bryant.
When a TV reporter asked resident Tawana Pitts whether she's likely to visit the County Meat Company, she answered enthusiastically: "Where else am I going to go? I live across the street, so it's very convenient." Her daughter, Aiiyah, added: "I'm excited so me and my mom don't have to ride the bus."
As a 60 Minutes report revealed in April, public health and housing authorities recognize that when quality grocery retailers enter "food desert" communities like Avondale, they bring nutrition as well as convenience. In some areas, this can help to alleviate community-wide health challenges such as diabetes and much more.
For more grocery news, sign up for our newsletter, and keep reading:
Krissy is a senior news editor at <em>Eat This, Not That!</em>, managing morning and weekend news related to nutrition, wellness, restaurants and groceries (with a focus on beverages), and more.
Read more