One of America's Fastest-Growing Pizza Chains Plans To Open 460 New Locations
The Chipotle of pizza faced pandemic challenges, but now they're more fired up than ever.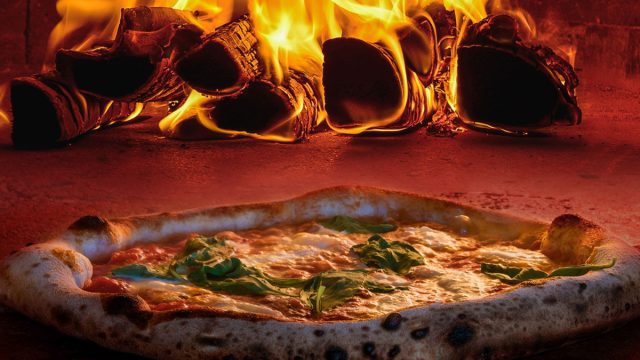 Pizza has been one of the most beloved foods to order for decades. The past year's spike in pandemic takeout and delivery proves that's not about to change anytime soon, and one revolutionary pizza chain is setting their stake in the ground to deliver on consumers' love of good pizza, but in a restaurant concept that comes with a modern twist. Here's where they're moving into next.
Blaze Pizza is a Southern California-based pizza chain that opened in 2011 with the idea to become the Chipotle of pizza: customers can call out their pizza toppings as they go, and the pizzas are then baked in a real fire oven and served within minutes. It makes sense that customers love the customized feel that comes from great variety—a choice of five sauces, eight cheeses, and over two dozen possible toppings, including vegan chorizo, "ghost pepper chicken meatballs," more classic meats like bacon and crumbled meatballs, and veggies like artichokes, spinach, and even roasted garlic.
RELATED: The Saddest Restaurant Closures in Your State
Blaze Pizza's CFO, Brad Reynolds, told QSR this week that while the brand currently has 340 locations in 40 states and six countries, they're looking to greater than double their size by 2025. Blaze restaurants currently occupy parts of California, Texas, Florida, Las Vegas, Chicago, Philly, New York, Washington, D.C., and other U.S. areas—with locations also in Canada, Mexico, Cuba, Puerto Rico, and more.
Now the company, in collaboration with two franchisees, have announced their plans to move 16 more restaurants into Tennessee, Florida, and the Austin, Texas area, with their eyes on Alabama, Mississippi, and the Florida panhandle in the next four years. After that, reports suggest they'll go aggressive to take the brand even wider, with the goal to reach 800 locations by 2025.
This is even though 80% of Blaze Pizza's business was in-restaurant before the pandemic, and, due to no-dining restrictions during COVID, their annual revenue dropped 22% between 2019 and 2020.
Still, Reynolds says that among the company and their franchisees, there's a strong spirit of determination. "The excitement is there. The passion is there," Reynolds said. "Our brand is really well-loved out in not just the pizza marketplace but fast casual, broadly speaking. We have a really great concept and a great product and people love that, and our franchisees do, as well."
Sounds good to us. Sign up for the Eat This, Not That! newsletter for the biggest news about your favorite restaurants. Also read This Fast-Casual Chain Is Likely the Source of a New Norovirus Outbreak, and check out:
Krissy is a senior news editor at <em>Eat This, Not That!</em>, managing morning and weekend news related to nutrition, wellness, restaurants and groceries (with a focus on beverages), and more.
Read more