This City Just Reissued Its Mask Mandate For Everyone
Cases are rising in Erie County, New York, home to Buffalo.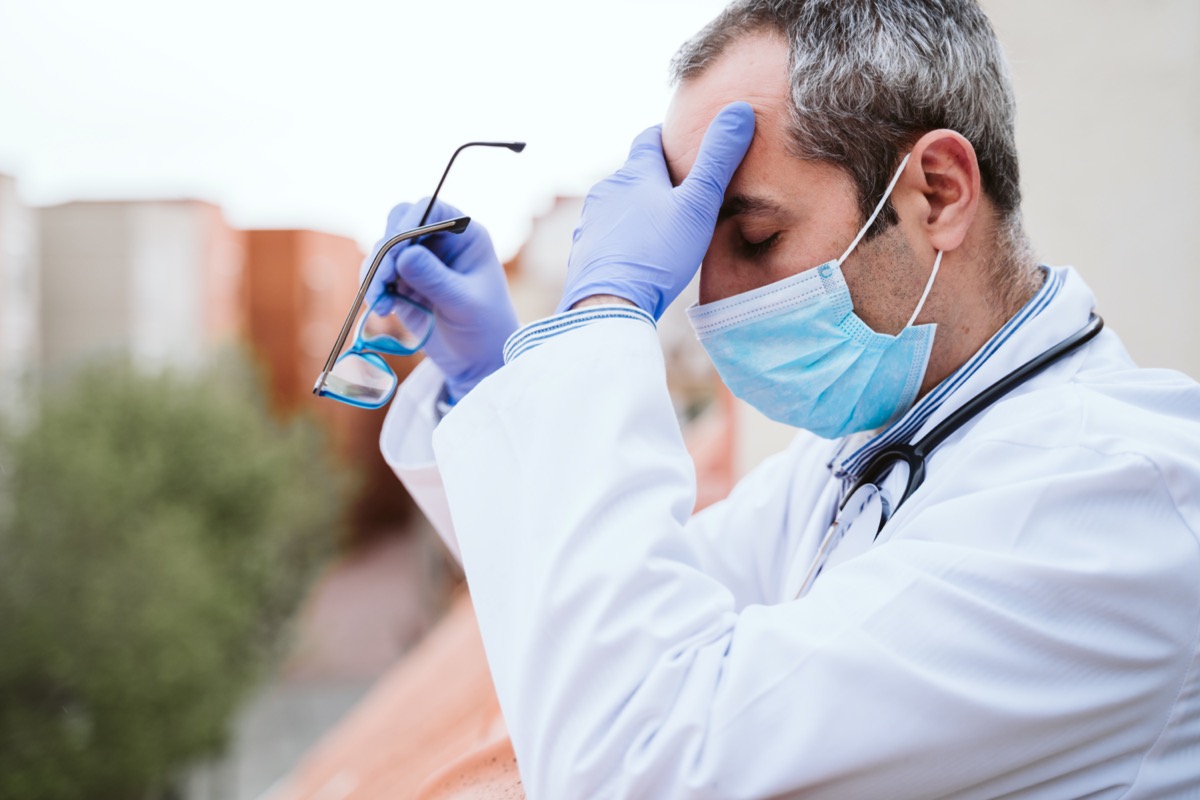 Just as one city—Washington D.C.—said it would roll back its face mask mandate, another reinstituted its own. Erie County, New York—home of Buffalo—did so to protect its citizens from a winter COVID wave that came early, as cases rose and hospitals were threatened to be overwhelmed. "We really need to keep the hospitals from being inundated," Mark Poloncarz, the Erie County executive, said on Monday in a news conference. "These numbers are not good." Read on to see what this mandate may mean for you, no matter where you live—and to ensure your health and the health of others, don't miss these Sure Signs You've Already Had COVID.
1
Doctors Begged for the Mask Mandate, as Hospitals Filled Up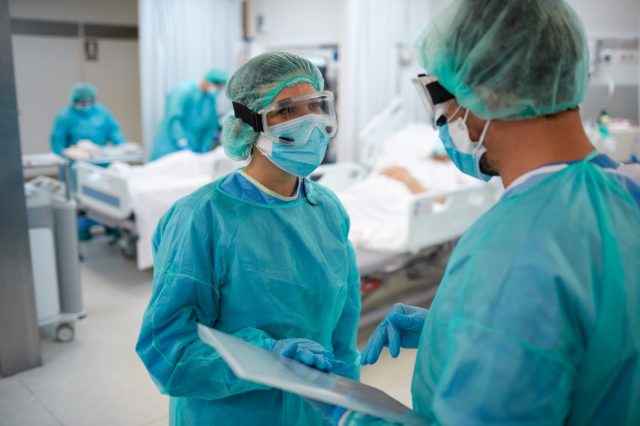 Masks must be worn in all public, indoor facilities, not including those that require a 100 percent COVID-19 vaccination rate. "The medical profession was pleading with us to do something," Poloncarz said Monday. The stats speak for themselves: "748 new COVID-19 cases confirmed for November 22 by ECDOH. 4,428 total cases over the past 7 days. 464 total new cases per 100,000 Erie County residents over the past 7 days. Total cases through November 22: 120,969. Our positivity rate calculation for yesterday's data = 11.1%," according to the Erie County of Public Health.  "We really need to keep the hospitals from being inundated," Poloncarz said. "We could hit 300 patients by Dec. 1. That's very scary."
2
More Restrictions May Come to Erie County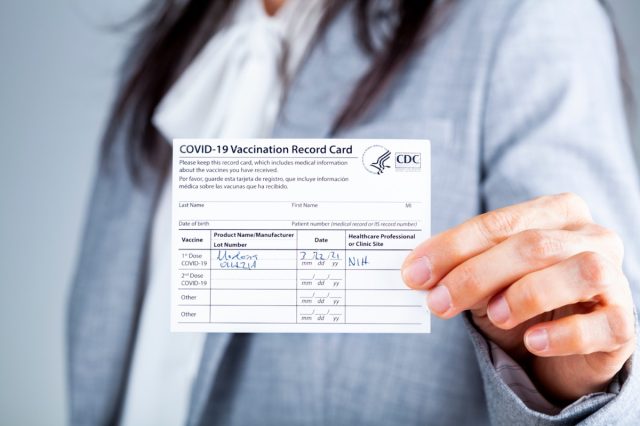 "None of us wanted to do phase one…but we feel we must," Poloncarz said. "Phase two calls for vaccinations, phase three would mean capacity restrictions and phase four would mean shutdowns," reports WIVB. "The Bayou Restaurant owner Michael Rottger says he can deal with the mask mandate, but any more mandates could be taking it too far." "We don't have the power, the man power to have someone sit at the front door and ask people where's your vaccine card. We can barely get staffing here as it is," he said. "I honestly think that they are overstepping a little bit by going to these mandates."
3
These Areas Have Mask Mandates Currently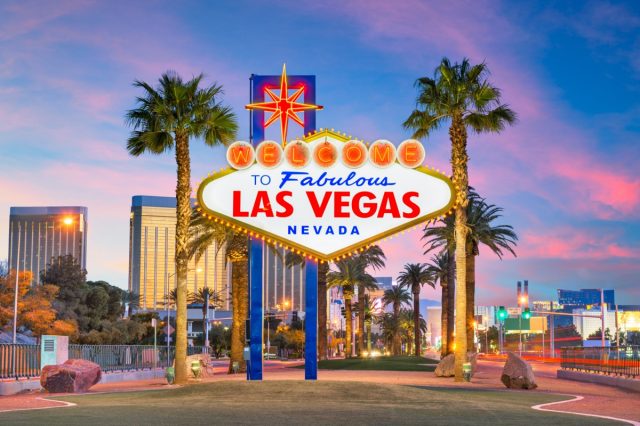 "Six states — Hawaii, Illinois, Nevada, New Mexico, Oregon and Washington — require most people to wear masks in indoor public places, whether or not they have been vaccinated against COVID-19. Puerto Rico has a similar order in place," according to AARP. "Oregon also requires face-covering in public settings outdoors. Washington state does so for outside events attended by 500 or more people. California, Connecticut and New York have indoor mask mandates that extend only to the unvaccinated." They add: "Several large cities and counties have reinstated local mask orders, but a number of states, including Arkansas, Florida, Iowa, Montana, Tennessee and Texas, have moved via legislation or executive action to prevent local governments and school districts from doing so."
4
Masks Work, Period, Say Health Experts—and Can Reduce Your Chances of COVID by 80%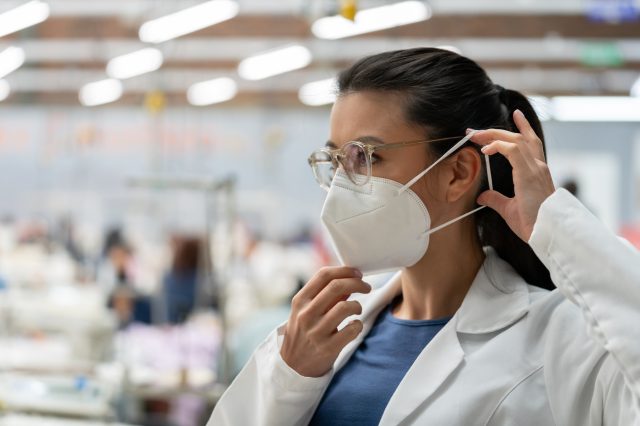 Although debate rates over mandates, masks work to protect people from COVID, leading health experts agree. "Masks can help reduce your chance of #COVID19 infection by more than 80%. Masks also help protect from other illnesses like common cold and flu. Wearing a mask- along w/ getting vaccinated- are important steps to stay healthy," said CDC Chief Rochelle Walensky. Dr. Anthony Fauci, the chief medical advisor to the President and the director of the National Institute of Allergy and Infectious Diseases, said on NPR this week that removing mask mandates in areas of high spread "adds an extra degree of risk." "When you have a dynamic like that … you really gotta be careful," he said. "Masks are not going to be forever for sure. The more people that get vaccinated, the more people that get boosted, the lower the level of infection in the community will be, and then you start thinking about pulling back on masks." "But you don't want to do it prematurely," he added. "As much as you'd like to do it, you've got to be careful."
5
How to Stay Safe Out There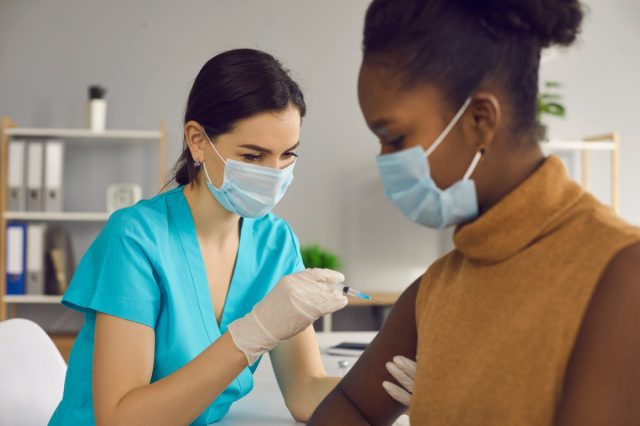 "We know the tools to stop the spread of COVID: Get vaccinated, get the booster if you are already vaccinated, and please stay home if you're feeling sick," said New York's Governor Kathy Hochul, echoing health experts. "The vaccine and booster is safe, free and widely available. Don't put it off any longer." So get vaccinated, and to protect your life and the lives of others, don't visit any of these 35 Places You're Most Likely to Catch COVID.6254a4d1642c605c54bf1cab17d50f1e
Alek Korab
Alek Korab is a Co-Founder and Managing Editor of the ETNT Health channel on Eat This, Not That!
Read more about Alek