This Fast-Food Chain Is Adding Bacon to Its Best-Selling Chicken Sandwich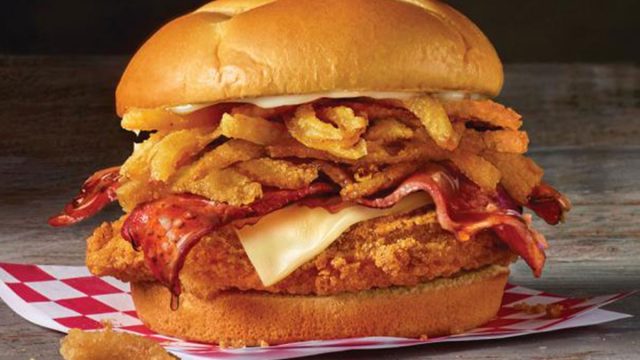 What do you get when you take a good thing and make it even better? The new Checkers & Rally's chicken sandwich, of course. The chain just announced it's adding a special kind of bacon to one of its best-selling items: the Mother Cruncher Chicken Sandwich.
The drive-thru burger giant released the beloved sandwich last summer, and it quickly gained popularity because of its "mega crunch" breading and creamy signature Squawk Sauce, which were the two standout elements on this particular contender in the chicken sandwich wars. (RELATED: 7 New Fast-Food Chicken Sandwiches Everyone Is Talking About)
And the newest iteration of the chicken sandwich is possibly even more promising flavor-wise. The Candied Bacon Mother Cruncher features salty and sweet brown-sugar-candied bacon, Swiss cheese, crispy onion triangles, and creamy mayo atop the popular crunchy, all-white meat filet.
"We are all about creating wins for guests, and this new premium LTO does just that," Dwayne Chambers, CMO of Checkers & Rally's, said. "The Mother Cruncher Chicken Sandwich has been a huge hit, so we asked ourselves, 'How can we make this even more exciting?' The answer was candied bacon—an ingredient that is trending in popularity across casual dining chains but seldom seen at quick-service restaurants. The Candied Bacon Mother Cruncher was tested with focus groups, who raved about the sandwich, and we can't wait for our guests to try it."
Sadly, the new sandwich will grace Checkers & Rally's menu for a limited time only. You have until May 16 to try one at any of the chain's 900 nationwide locations. For more, check out the 9 Best Limited-Time Fast Foods on Menus Right Now. And don't forget to sign up for our newsletter to get all of the latest restaurant news delivered straight to your inbox.
Mura is a Deputy Editor leading ETNT's coverage of America's favorite fast foods and restaurant chains.
Read more