Chris Hemsworth Shares His "Ultimate Family Workout" in Hilarious New Video
The "Avengers: Endgame" star is staying fit with some unusual exercises this summer.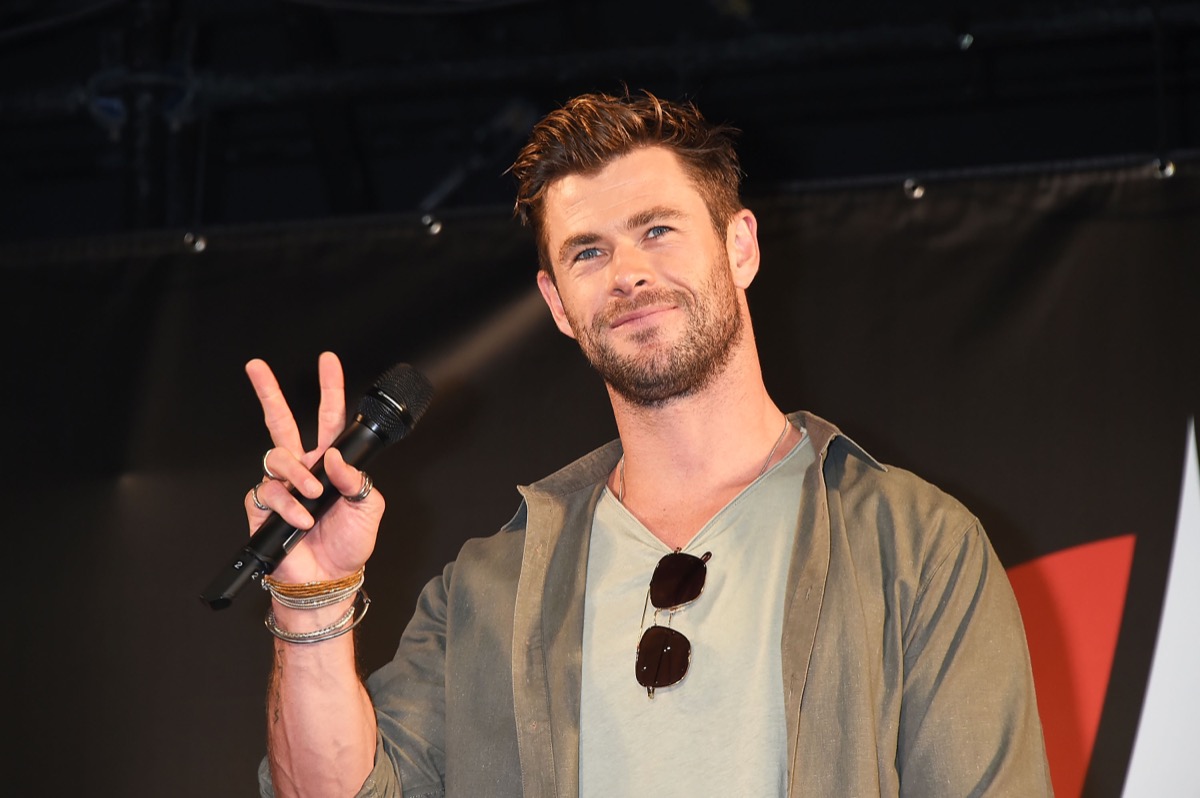 Chris Hemsworth is famous for his fit form, whether he's bearing his six-pack on the cover of magazines or showing off his impressive moves and muscles as Thor on the big screen. However, even when he's not filming, the actor still manages to make sure he's getting in plenty of exercise—even when he has to look to some unconventional means to go about getting in a workout.
On July 29, the Avengers: Endgame star posted a video of himself doing a new exercise routine on Instagram, much to the delight of his fans and celebrity friends alike.
Related: This Is Chris Hemsworth's Exact Diet and Exercise Plan to Get Into  Thor Shape
In the video, Hemsworth can be seen running alongside his 9-year-old daughter, India, holding her hand as she effortlessly navigates the hills of a skate park.
In a follow-up clip in the same post, Hemsworth's wife, actor Elsa Pataky, can be seen leading India's horse, running ahead of the animal as it navigates an outdoor course with India on its back.
"My wife and I designed the ultimate family workout. All you need is a child, a skateboard, a horse and a Can Do attitude. Good luck," Hemsworth captioned the videos, in which he tagged both Pataky and his own fitness and nutrition app, Centr.
Apparently, the exercise routine is one some of Hemsworth's famous friends are all too familiar with. "I know this workout!" commented actor Ryan Reynolds.
This isn't the first time Hemsworth has gotten his little ones involved in his exercise routine. In April, Hemsworth posted a video to his Instagram in which he can be seen training one of his sons in some boxing moves, looking impressed as the little one delivers some heavy hits to the actor's hands.
"Introducing the next heavy weight champion of the universe ??," Hemsworth captioned the adorable video.
Hemsworth, who relocated his family to his native Australia in 2015 after living in Los Angeles for many years, has cited being able to spend so much time with his family as the major impetus for the move.
"I just want to stop for a while. I need to be home for a minute. Just enjoy it. It all flies by," he told The Sunday Telegraph (via the Daily Mail).
For more on how famously buff stars stay in amazing shape, This Is the Exact Breakfast, Lunch, and Dinner Gold Medalist Caeleb Dressel Eats to Stay Fit.
Sarah Crow
Sarah Crow is a senior editor at Eat This, Not That!, where she focuses on celebrity news and health coverage.
Read more about Sarah