Coca-Cola Was Just Banned in This One Southern County
As a source says, Coke "is too 'woke'" for residents of the area.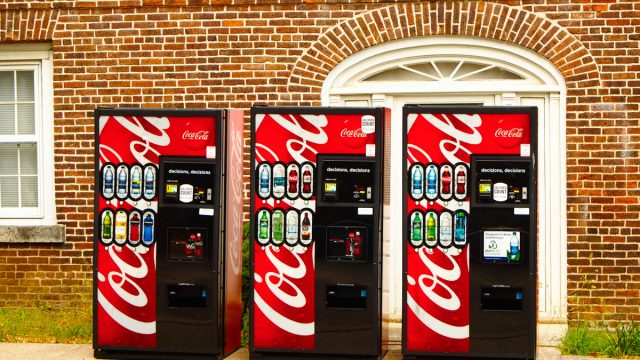 If it were a really hot summer day in the South, you'd seek out a nice, cold drink, right? That just got a little tougher in one North Carolina community, after county leaders decided to ban all Coca-Cola vending machines over what they refer to as Coke's "left-wing" values.
Big brands face routine controversies, and the Coca-Cola Co. has had plenty on its plate lately. In particular, the beverage giant has been an unexpected player in the 2020 U.S. Presidential election's fallout, as the Atlanta-based brand issued a public statement addressing their view of what conservative Georgians call the "Election Integrity Act." If passed, the bill would complicate the logistics that enable some Georgians to vote. Some Democratic figures in government have stated that the bill is unjust and even racist.
RELATED: This Is the Best Supermarket in America, New Survey Says
Coca-Cola CEO James Quincey has publicly agreed with these opinions—and recently, the brand issued a statement from Quincey in which he said: "The Coca-Cola Company does not support this legislation, as it makes it harder for people to vote, not easier."
That's reportedly why a group of commissioners in northern North Carolina's Surry County just voted 3-2 to ban all Coca-Cola machines from the county, according to local Winston-Salem TV news station WXII.
Eddie Harris, the longest-serving commissioner of Surry County, which is home to 72,000 residents, commented that the results of the vote were due to Coke CEO's comments and the company's stance on Georgia voter politics.
"The left-wing in America, they defund, they boycott, they cancel, they tear down statues—all sorts of egregious actions," Harris said, according to WXII. "The expectation from them is that the opposing political side will cower in the corner and we're supposed to accept that, and it's supposed to be OK. And it's not OK."
While it does not appear that Coca-Cola has responded, one Coke bottling plant in that part of North Carolina stated that their organization employs 37 Surry County residents, and they're "honored" and "passionate" about serving consumers in that area and hope to meet with the group of Surry County commissioners.
For now, reports suggest that all Coca-Cola vending machines currently remain within the buildings they previously occupied. There's been no word on whether the local bottling plant—or any other suppliers—are refilling machine inventory.
Feeling parched? Keep reading:
Krissy is a senior news editor at <em>Eat This, Not That!</em>, managing morning and weekend news related to nutrition, wellness, restaurants and groceries (with a focus on beverages), and more.
Read more