Coca-Cola is Completely Changing Its Iconic Bottle
Plus, a brand-new size is hitting store shelves later this month!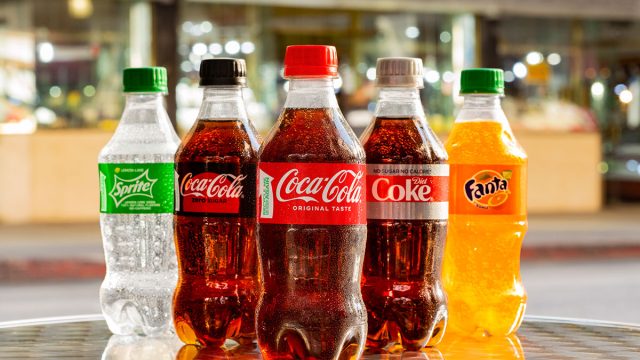 Coca-Cola is introducing a bottle made of 100% recycled plastic material, a move which will significantly reduce the soda giant's use of new plastic in North America.
Bottles made from 100% recycled plastic will debut this month in California, Florida, and parts of the Northeast in a brand-new size, the company just revealed. The 13.2-ounce bottles of Coke, Diet Coke, and Coke Zero Sugar will drop in convenience stores in the states, according to USA Today. (Related: The 7 Healthiest Foods to Eat Right Now.)
Sprite will also hit select markets before additional sparkling beverage brands roll out in the new size nationwide this summer. The new Sprite bottles will be clear instead of green, which makes them easier to recycle, according to Coca-Cola.
A 20-ounce version of the recycled plastic bottles is also rolling out this month on store shelves in California, New York, and Texas. It's important to note that the caps and the labels on both sizes of the new bottles aren't made from recycled materials.
"On-the-go consumers have been telling us they want an option like this, because it's just the right amount for the 'snacking' occasion," Coca-Cola brand manager Tammy Lee said in a post on the company's website. "We believe this innovation delivers the double benefit of convenience and sustainability."
The new bottles will help the company inch closer to its goal of making all packaging recyclable by 2025. They'll also include a message on the label to encourage consumers to "recycle me again."
Coca-Cola was recently named the "top global polluter" by Break Free From Plastic. "A total of 13,834 branded Coca-Cola plastics were recorded in 51 countries, reflecting more plastic than the next two top global polluters combined," the advocacy group wrote in its 2020 brand audit.
If you drink soda every day, you may want to read more about the Dangerous Side Effects of Drinking Soda Every Day, According to Science. And to get all of the latest soda and grocery store news delivered right to your email inbox every day, sign up for our newsletter!
Amanda is a staff writer for
Eat This, Not That!
.
Read more