Coffee May Lower Your Risk of This Disease, New Study Says
This news is especially important for those in midlife and beyond, researchers suggest.
If you can't stand the thought of giving up your morning coffee, here's some good news: Higher coffee consumption has been linked to a lower risk of developing cognitive impairment, which often precedes Alzheimer's disease, according to a study in Frontiers in Aging Neuroscience.
Researchers looked at habitual coffee intake and cognitive health of 227 cognitively normal older adults in Australia, over a period of about 10 years. They found that higher coffee consumption was associated with a slower decline in executive function and attention, and the coffee drinkers also had a lower likelihood of transitioning toward Alzheimer's.6254a4d1642c605c54bf1cab17d50f1e
Related: The Unhealthiest Coffee Drinks in America
The mechanism is likely related to how coffee keeps amyloid accumulation in check, the researchers note. Amyloid is a type of plaque that's considered a hallmark of Alzheimer's and cognitive decline because it destroys neurons in the brain. It's also been linked to less volume in the hippocampus, the part of the brain responsible for memory formation. In the recent study, those with higher coffee consumption had a slower accumulation of amyloid and better maintenance of hippocampal volume.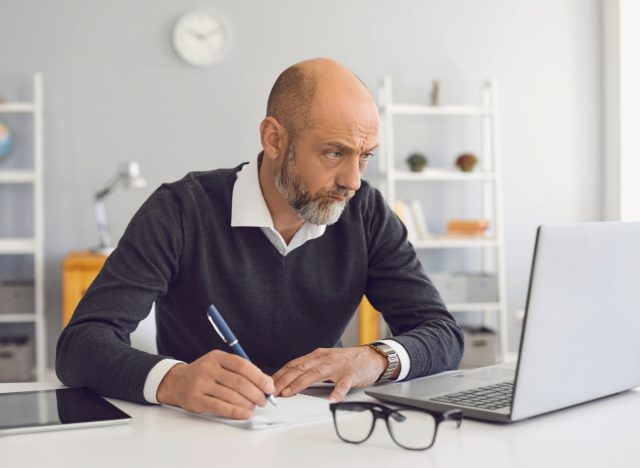 Caffeine plays a role in coffee's effect, but it's not the only substance that could be making a difference, according to Andrea Dunn, RD, a dietitian in the department of gastroenterology, hepatology, and nutrition at Cleveland Clinic. She says coffee, specifically, has unique properties that can not only affect brain health but may offer other benefits as well.
"Coffee contains about a thousand different botanical compounds, and it's actually the single best source of antioxidants in the American diet," she says, adding that research has linked the ingredients in coffee to lower risk of illnesses like type 2 diabetes, liver disease, and some types of cancer.
Like other types of food and beverages, moderation does matter. For example, one study looking at data on over 350,000 participants found heart health benefits associated with drinking one to two cups of coffee per day, but declining advantages beyond that amount. The recommendation is to have less than 400 milligrams of caffeine per day across all beverages. An 8-ounce cup of coffee usually has about 80 to 100 mg, so as long as you're keeping it under four cups, it can have a protective effect.
That's in line with other findings as well, says Dunn, and it's important to add that these studies mean you're drinking coffee—not dessert in a cup, with tons of add-ins like sugar, creamer, whipped cream, and flavored syrup.
"Loading up your coffee with sugar will negate the antioxidant effect," says Dunn. Instead, use minimal sweeteners and your brain may thank you, especially as you get older.
For more, check out 5 Foods to Help Prevent Alzheimer's, According to Doctors.
More content from
Drink This, Not That!