Omicron Symptoms Patients Mention the Most  
Common signs of Omicron and helpful ways to help avoid it, according to experts.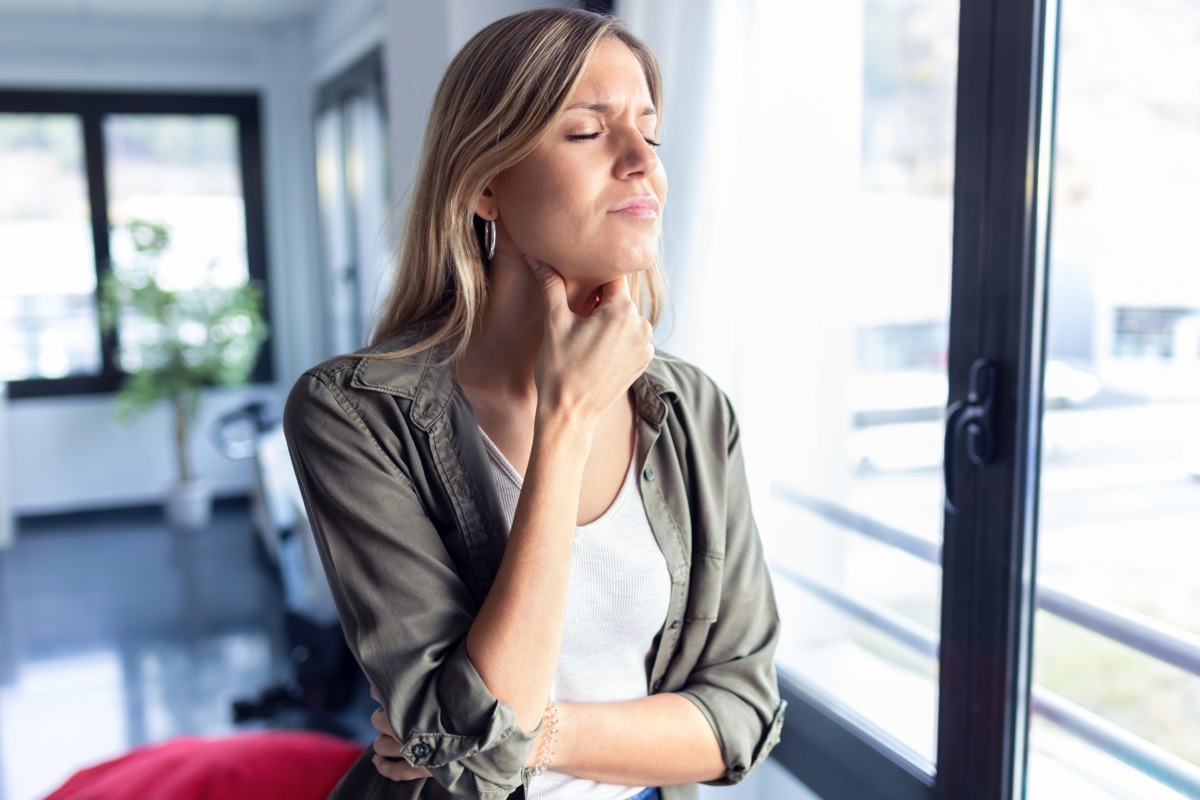 The COVID surge continues to rage across the U.S. causing hospital staff shortages and airlines to cancel flights due to employees catching the virus and calling out sick.  With Omicron spreading like wildfire, millions of people have been exposed and usually illness appears in the first two weeks of exposure. The Centers for Disease Control and Prevention states,"The incubation period for COVID-19 is thought to extend to 14 days, with a median time of 4-5 days from exposure to symptoms onset. One study reported that 97.5% of people with COVID-19 who have symptoms will do so within 11.5 days of SARS-CoV-2 infection." So how do you know what to look out for? Below are symptoms common signs that patients mention the most according to experts Eat This, Not That! Heath spoke with, as well as helpful ways to avoid catching Omicron. Read on—and to ensure your health and the health of others, don't miss these Sure Signs You've Already Had COVID.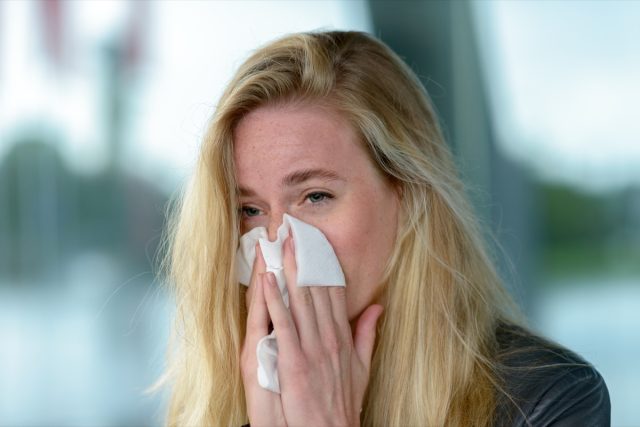 While the virus affects everyone differently, common symptoms patients are reporting include: "Sore throat, runny nose, congestion, fever, fatigue," says Robert G. Lahita MD, PhD ("Dr. Bob"), Director of the Institute for Autoimmune and Rheumatic Disease at Saint Joseph Health and author of Immunity Strong.
Erica Susky, an Infection Control Practitioner (ICP) in hospital epidemiology adds, "The symptoms that people get from Omicron, as with other strains of SARS-CoV-2 vary in type and severity depending on the individual. The most common manifestations are still respiratory symptoms seen as with the cold or allergies (cough, aches, stuffiness, sore throat, fever and chills). Some other symptoms that also occur are gastrointestinal symptoms (abdominal pain, diarrhea, nausea and vomiting), fatigue, and decreased appetite."
2
Watch Out for Mild Symptoms, Although It's Not Mild for Everyone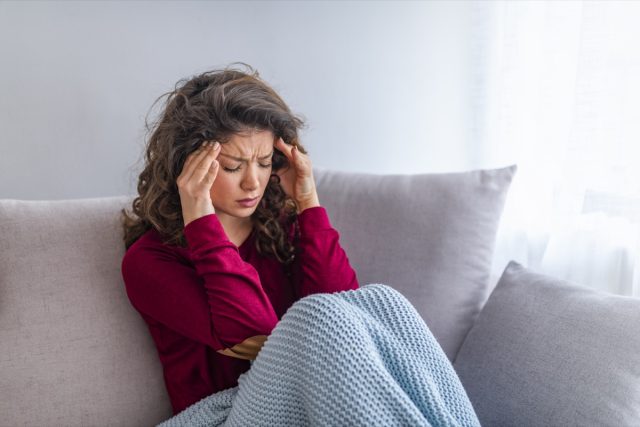 According to Susky, "A larger proportion of people are getting milder illness with Omicron as it seems to be a milder strain of SARS-CoV-2, but this may also be in part due to the partial immunity provided by vaccines reducing disease severity. Because of this, symptoms can often be very mild in a way that makes it hard to distinguish unless one is experiencing the symptoms themselves. In the hospitals, it is increasingly challenging to determine which patients may have a change in their symptoms that indicate that they may have COVID-19." Not to mention, "mild"—to medical professionals—can mean you're "not needing hospitalization." That doesn't mean you won't feel absolutely miserable if you get Omicron. Many people are.
Of course, you may experience more severe symptoms, particularly if you are unvaccinated. "People with COVID-19 have had a wide range of symptoms reported – ranging from mild symptoms to severe illness. Symptoms may appear 2-14 days after exposure to the virus. Anyone can have mild to severe symptoms. People with these symptoms may have COVID-19," says the CDC:
Fever or chills
Cough
Shortness of breath or difficulty breathing
Fatigue
Muscle or body aches
Headache
New loss of taste or smell
Sore throat
Congestion or runny nose
Nausea or vomiting
Diarrhea
3
How to Stay Healthy During COVID
Dr. Bob states, "Take Vitamin C, Vitamin D, and Zinc. Get enough quality sleep. Don't skip out on exercising – I go to the gym every single day.  Keep your stress levels down – try meditating or doing yoga for relaxation." 
Susky explains, "Ways that people can ameliorate their general immune response (or their innate immunity) would apply for any infectious disease; that would be enough rest, a good diet, and adequate hydration. For SARS-CoV-2 specifically, the best protection is to get the full series of a COVID-19 vaccine. As mentioned above, the innate immune system helps but not as much, and as not as specific/targeted as one's acquired immune system. The acquired immune system consists of B cells, T cells and antibodies which are produced in response to the vaccine."
4
Ways to Help Avoid Catching Omicron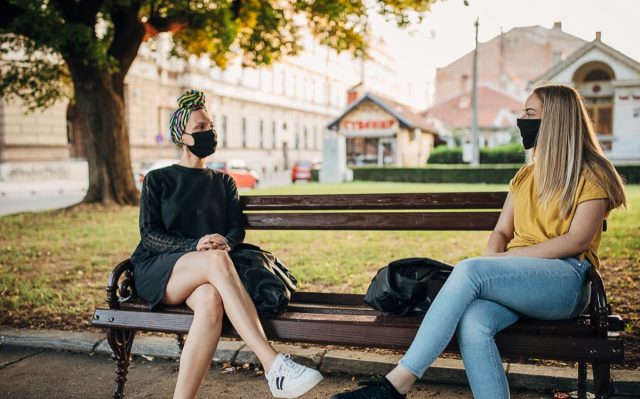 "The best way to protect one's self is to avoid large crowds as the less people one comes into contact with means the less potential exposures to SARS-CoV-2," Susky says. "Smaller groups are better, but try to meet with people or in settings where it is assured everyone will wear their masks at all times. The highest risk of an exposure is when someone spends any time in proximity to another person when one or more people are not wearing a mask. One final measure to prevent oneself from being exposed to Omicron is to try and meet others outside or in places where ventilation/air exchanges is higher." 6254a4d1642c605c54bf1cab17d50f1e
Dr. Bob adds, "Get vaccinated and don't forget your booster! Also, be sure you are taking Vitamin C, Vitamin D, and Zinc and getting enough quality sleep and exercise."
5
What We Don't Know About Omicron Yet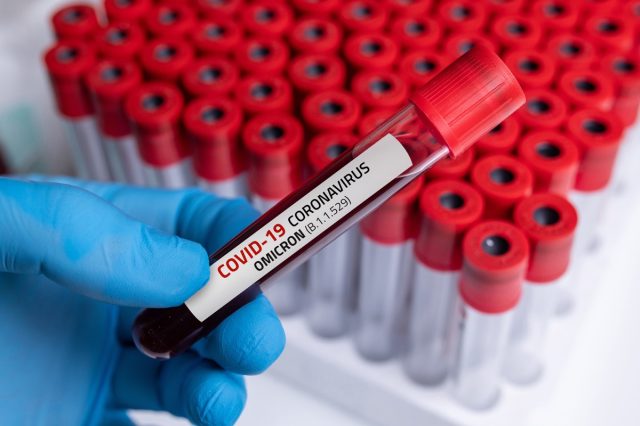 According to Dr. Bob, "We do not know if it signals that the virus will no longer have severe variants – I have been asked this before, and the truth is, even if Omicron is more mild the next variant could be severe like Delta. The best thing to do is to get vaccinated so we can all stay immunity strong together."
6
Omicron and the Vaccine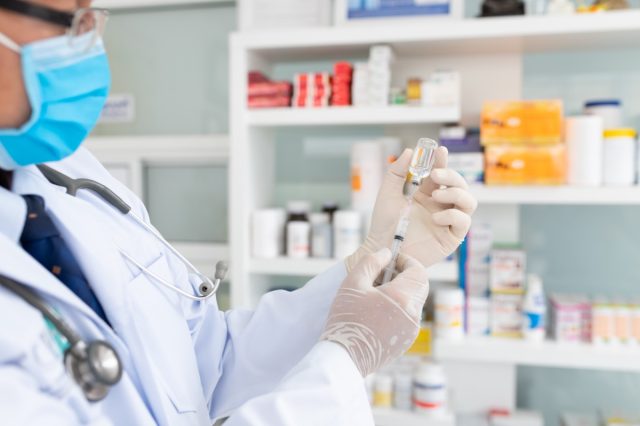 Susky says, "People with two and three doses of COVID-19 vaccine are still getting Omicron, albeit less severely. No matter how many doses of vaccine one has received, it never negates the need to adhere to public health measures. This includes wearing a mask to protect others and not going out even if one feels mildly ill. A vaccinated person may only feel mildly ill if they acquire Omicron. Vaccination against Omicron provides a benefit even though it does not prevent infection as well as it did with Delta, it will still prevent severe COVID-19 or hospitalization."
7
How to Stay Safe Out There
Follow the public health fundamentals and help end this pandemic, no matter where you live—get vaccinated or boosted ASAP; if you live in an area with low vaccination rates, wear an N95 face mask, don't travel, social distance, avoid large crowds, don't go indoors with people you're not sheltering with (especially in bars), practice good hand hygiene, and to protect your life and the lives of others, don't visit any of these 35 Places You're Most Likely to Catch COVID.
Heather Newgen
Heather Newgen has two decades of experience reporting and writing about health, fitness, entertainment and travel. Heather currently freelances for several publications.
Read more about Heather