If You Bought This Cosmetic, it May Have Toxic Chemicals, Study Warns
Chemicals used in frying pans and rugs were found in lipstick and mascara.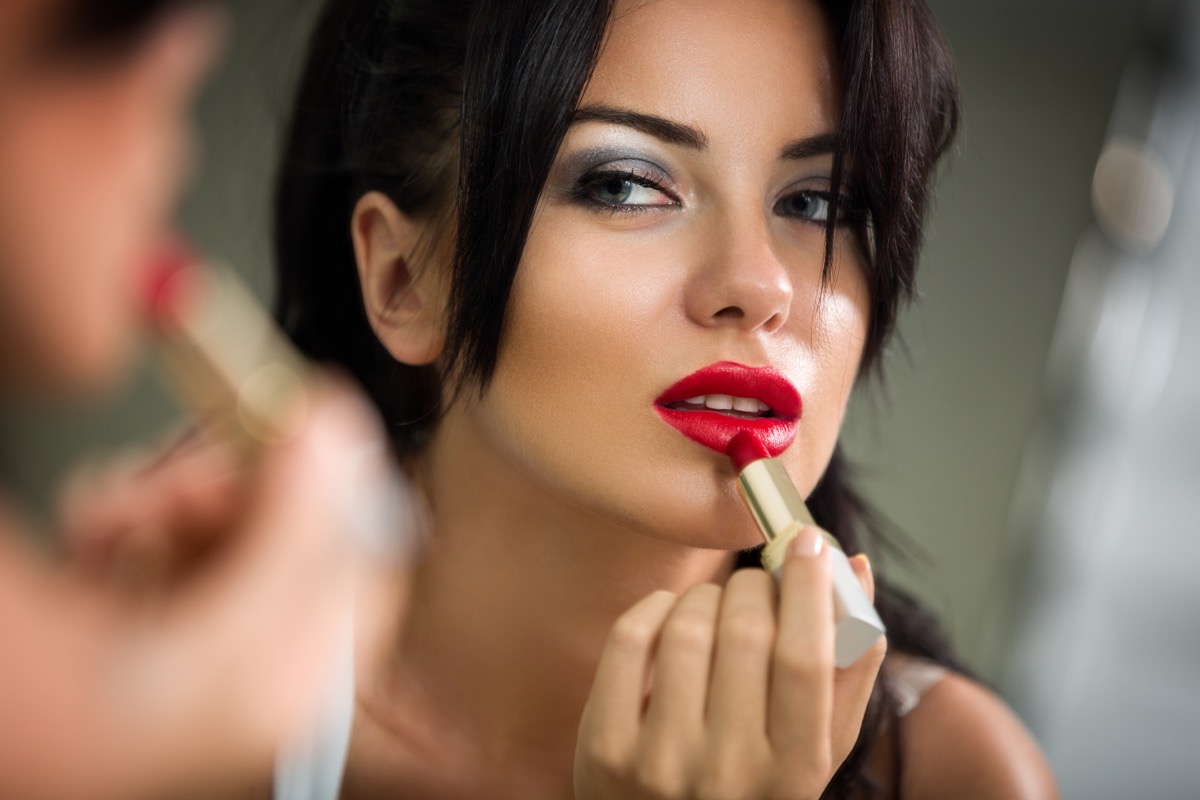 About half of the cosmetic products sold in the U.S. may contain toxic industrial chemicals that have been linked to serious health conditions including cancer, a new study has found.
In the study, researchers at the University of Notre Dame tested more than 230 commonly used cosmetics. They found that 56% of foundations and eye products, 48% of lip products, and 47% of mascaras contained high levels of fluorine. That indicates the items contain PFAS (perfluoroalkyl and polyfluoroalkyl substances) one of the "forever chemicals" that are used in products like nonstick frying pans and rugs, the Associated Press reported Tuesday. Read on to see which products have the chemicals, and to ensure your health and the health of others, don't miss these Sure Signs You Have "Long" COVID and May Not Even Know It.
"Hopefully a wake-up call"
Published in the journal Environmental Science & Technology Letters, the research indicated that some of the highest PFAS levels were found in waterproof mascara (82%) and long-lasting lipstick (62%), And 88% of the products tested did not disclose PFAS ingredients on their labels, which is required by the Food & Drug Administration. Several studies have connected PFAS with health problems including cancer, reduced immunity, and low birth weight, the AP said.6254a4d1642c605c54bf1cab17d50f1e
"It's a little shocking and hopefully a wake-up call for the cosmetics industry in terms of how widespread the PFAS contamination is across types of makeup products," David Andrews, a senior scientist for the Environmental Working Group, told CNN. "The most common PFAS is polytetrafluoroethylene, the ingredient most commonly known as Teflon, or the coating on pans. But all in all, we have identified 13 different PFAS chemicals in more than 600 products from 80 brands."
RELATED: Everyday Habits That Make You Look Older, According to Science
Bill to ban PFAS introduced
Also on Tuesday, a bipartisan group of senators—including Sen. Susan Collins (R-ME) and Sen. Richard Blumenthal (D-NY)— introduced a bill, the "No PFAS in Cosmetics Act," to ban the use of PFAS in cosmetics and other beauty products. The chemicals are used in many other products, including nonstick cookware, water-repellent sports gear, grease-resistant food packaging, and firefighting foams, the AP said.
"Americans should be able to trust that the products they are applying to their hair or skin are safe. To help protect people from further exposure to PFAS, our bill would require the FDA to ban the addition of PFAS to cosmetics products," said Collins in a statement. "Per- and polyfluoroalkyl substances (PFAS) are a class of man-made chemicals, which includes PFOA, PFOS, and GenX. These chemicals can bioaccumulate in bodies over time and have been linked to cancer, thyroid disease, liver damage, decreased fertility, and hormone disruption."
What the CDC has found
"Human health effects from exposure to low environmental levels of PFAS are uncertain," says the Centers for Disease Control and Prevention. "Studies of laboratory animals given large amounts of PFAS have found that some PFAS may affect growth and development, reproduction, thyroid function, the immune system, and injure the liver." 
The CDC has been testing the amount of PFAS in Americans' blood serum since 1999. Their researchers have found four PFAS in the serum of "nearly all" of the people tested, the agency said, noting that indicates "widespread exposure to these PFAS in the U.S. population."
To get through life at your healthiest, don't miss these First Signs You Have a Serious Illness.