Costco Is Facing COVID Outbreaks In These Major Cities
West coast Costco's have now seen over 400 positive cases.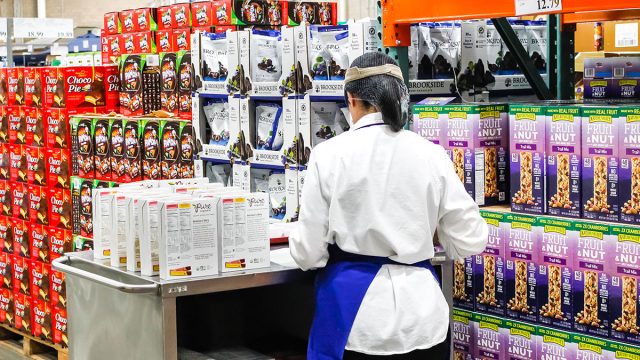 Days after news broke of a COVID-19 outbreak among 145 employees at a Yakima, Wash. Costco warehouse, information about cases at locations in another city are coming to light.
According to the Los Angeles County Health Department, eight Costco locations across the city are dealing with COVID-19 outbreaks with over 300 employees testing positive. The warehouses in Burbank, Culver City, Lancaster, Los Feliz, Monterey, Santa Clarita, Van Nuys, and Woodland Hills are being included on the list of Los Angeles County non-residential settings meeting the criteria of three or more confirmed positive tests. (To help keep yourself safe against the virus, here is The One Vitamin Doctors Are Urging Everyone to Take Right Now.)
The number of staff cases at these locations ranges from 15 at the Lancaster store to 71 at the Culver City warehouse in Marina Del Ray. Like the Seattle-area Yakima location, all LA Costco's are still open, according to the website. Eat This, Not That! has reached out to the grocery store chain for any information about additional safety measures and cleaning at these locations.
In order to keep all employees and customers safe, Costco has Special Operating Hours from 9 to 10 a.m. Monday through Friday for those 60 and older, and anyone with disabilities or who is immunocompromised. In addition, all guests aged three and older are required to wear a face mask that covers their mouth and nose at all times, and the Hearing Aid department, Costco Optical, the jewelry department, and the floral department are all closed. The food court continues to serve a limited menu.
For more grocery store news delivered right to your email inbox every day, sign up for our newsletter!
Amanda is a staff writer for
Eat This, Not That!
.
Read more