Costco Members Say They're Frustrated With This Major Food Court Change
To the most loyal Costco fans, change may not always feel like it's for the better.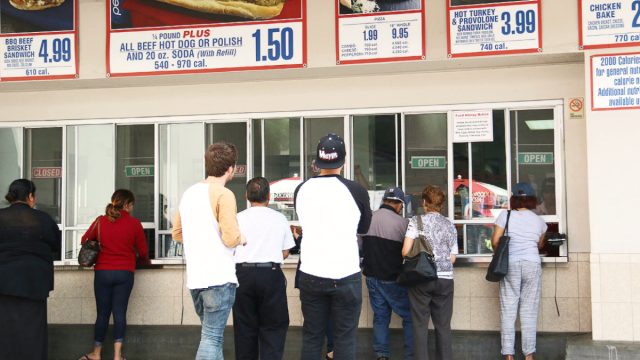 To the most loyal fans of Costco's iconic food court, change may not always feel like it's for the better. For example, the warehouse recently updated the recipe of its once-popular churros, prompting gripes about the "awful" revamp.
Now, Costco appears to have changed another long-standing fixture of its food courts. This time, it's a mainstay that's likely been in place since day one. Though shoppers speculate the bulk retailer made this change in an effort to be more green, it's clear that some are having a hard time adjusting.
u/Knox11 shared something new that they noticed at a Costco food court earlier this month with a popular community on Reddit. "So Costco got rid of their straws in favor of tabs," they wrote in the post in question. (RELATED: Popular Costco Foods That Are Making You Gain Weight, Say Dietitians)
In the past month, hundreds of fellow Reddit users have weighed in with their takes. Thus far, the post has prompted nearly 500 comments and 10,000 upvotes.
Upon reviewing the conversation, we observed the main issue being raised by commenters wasn't the fact that Costco appeared to be phasing out straws. Rather, many individuals didn't find the design of the new lids to be user-friendly. "My husband assumed it was like a coffee lid that flips up and ended up ripping it off," the original poster added.
Amid debates between several users over how to properly operate the new lid, u/lightoftheembersky piped in with a critical observation. "Actually as a designer myself, if multiple consumers use it the wrong way, then they designed it wrong," the individual commented. "It should not need any instruction to use, and be intuitive."
Meanwhile, others observed that even if Costco's intention was to limit plastic usage, the lid itself is still plastic. Of the plastic tops, u/sabrtoothlion added, "I'm sure no one is going to litter with [it]."
Eat This, Not That! reached out to Costco to confirm if plastic straws were indeed being phased out at food courts. The warehouse chain declined to comment.
For more food news, check out: 
To get all of the latest Costco news delivered right to your email inbox every day, sign up for our newsletter!
Krissy is a senior news editor at <em>Eat This, Not That!</em>, managing morning and weekend news related to nutrition, wellness, restaurants and groceries (with a focus on beverages), and more.
Read more