Costco Is Running Out of This Grocery Staple—Again
Is it March 2020 all over again?
The first pumpkin spice latte of the season has already been unveiled, but it might not feel like fall is right around the corner the next time you step into a Costco warehouse. Instead, you might feel like you just took a step back in time to March 2020.
There currently appears to be a shortage of one of the most essential household items on every grocery shopping list. Yes, we're talking about toilet paper!
Recently, Costco members have taken to social media to voice their frustrations about dwindling supplies of toilet paper on warehouse shelves. There are reportedly new purchase limits in place on the number of packs that customers can buy at some locations. For example, one individual tweeted that members were only able purchase one pack of toilet paper each at a store they visited.
The evidence suggests that Americans could be stockpiling toilet paper again as COVID-19 cases rise across the country.
Related: Popular Costco Foods That Are Making You Gain Weight, Say Dietitians
A lengthy recap isn't really necessary, since most Costco members are unlikely to have forgotten that they could only purchase one pack of toilet per visit in the early months of the pandemic. A whole year went by before the warehouse chain dropped its purchase restrictions and allowed individual members the opportunity to buy as many rolls as they want.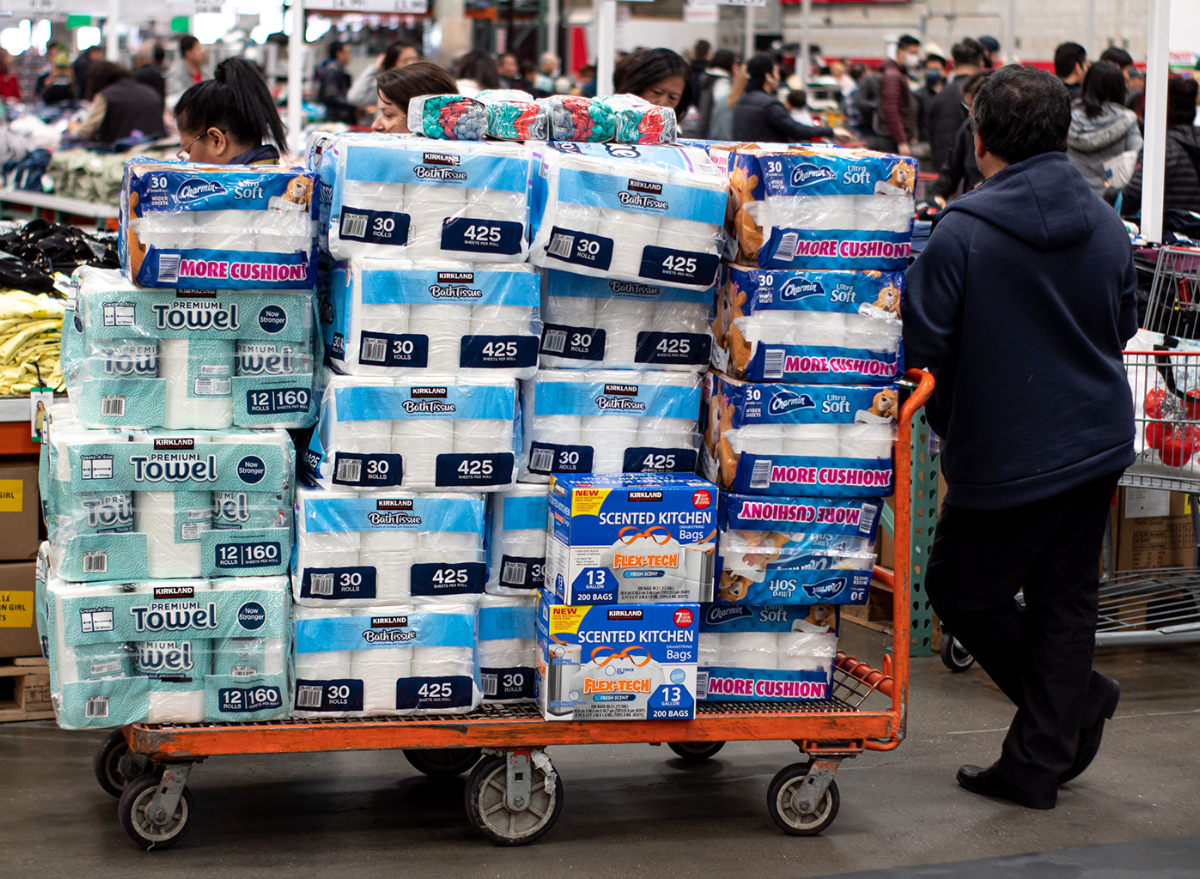 Now, there are members who claim that packs of toilet paper are nowhere to be found in their neighborhood warehouses. Potentially making matters worse? TP is also on sale right now.6254a4d1642c605c54bf1cab17d50f1e
A 30-pack of Charmin Ultra Soft usually costs $22.99, but this item is currently $5 off through Aug. 29 due to a Members Only Savings event. As with other items included in the sale, a purchase limit is in effect. Customers can only buy two packs of this product at a time. Eat This, Not That! has reached out to Costco for more information about its supply of toilet paper.
Likewise, bottles of water have reportedly been scarce at some warehouses since early August. Click here to find out the other items on your grocery list that could be in short supply.
For more news about Costco, check out:
Amanda McDonald
Amanda has a master's degree in journalism from Northwestern University and a bachelor's degree in digital journalism from Loyola University Chicago.
Read more about Amanda