This Scary Symptom Common Months After COVID, Research Shows
The coronavirus may have long-lasting effects on the brain as a rule, not an exception.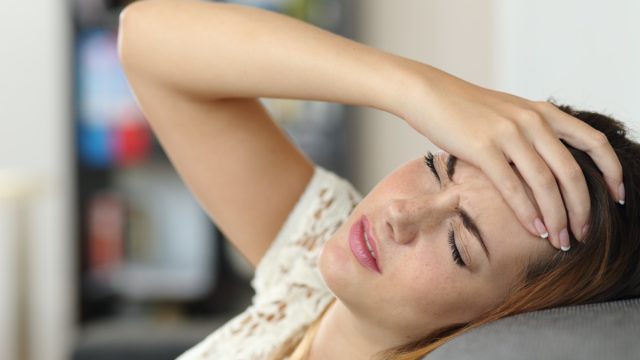 If you've had a bout with COVID-19 and found that it's affected your mental health, you're not alone. In fact, new research suggests it may be "the norm" for COVID to have effects on the brain—ranging from fatigue and depression, and even in mild cases.
That's the conclusion of a new review of studies published in the Journal of Neurology, Neurosurgery and Psychiatry, which looked at more than 105,000 people diagnosed with COVID-19 in 30 countries.
Researchers found that loss of smell was reported by 43% of COVID patients, followed by weakness (40%), fatigue (38%), loss of taste (37%), muscle pain (25%), depression (23%), headache (21%) and anxiety (16%).
Even people with mild cases of COVID—meaning, not requiring hospitalization—reported neurological effects: 55% had fatigue, 52% reported loss of smell, 47% muscle pain, 45% loss of taste, and 44% experienced headaches. 
"We had expected that neurological and psychiatric symptoms would be more common in severe COVID-19 cases, but instead we found that some symptoms appeared to be more common in mild cases," said the study's lead author, Dr. Jonathan Rogers, of UCL Psychiatry and South London and Maudsley NHS Foundation Trust. 
He added: "It appears that COVID-19 affecting mental health and the brain is the norm, rather than the exception."
RELATED: Sure Signs You Have "Long" COVID and May Not Even Know It
What causes this?
Researchers still aren't sure. COVID causes inflammation throughout the body, and inflammation or reduced oxygen in the brain may be responsible for the symptoms. 
"Many factors could contribute to neurological and psychiatric symptoms in the early stages of infection with COVID-19, including inflammation, impaired oxygen delivery to the brain, and psychological factors," said Rogers. "More studies are needed to understand these links better."
RELATED: 9 Everyday Habits That Might Lead to Dementia, Say Experts
In the meantime, doctors and patients should be aware that COVID can affect the brain and mental health and pursue treatments if appropriate, the researchers said. "Neurological and psychiatric symptoms are very common in people with COVID-19," said the study's joint senior author, Dr. Alasdair Rooney of the University of Edinburgh. "With millions of people infected globally, even the rarer symptoms could affect substantially more people than in usual times. Mental health services and neurological rehabilitation services should be resourced for an increase in referrals." So stay healthy out there, and if you're trying to lose weight, check out these 15 Weight Loss Tips That Are Evidence Based, Say Experts.