I'm a Doctor and Beg You Not to Go Here Now
We're not in a place in this pandemic to discuss allowing indoor gatherings.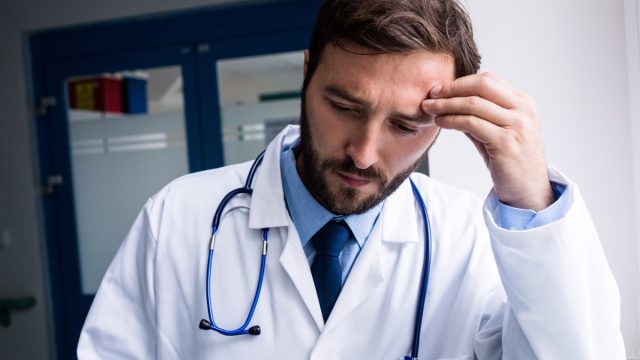 Pandemic fatigue is real. If you are reading this, you have survived the worst year of humanity for the past one hundred years. With political change and less gaslighting online, we rightfully deserve a mental health break. The very positive news of having three more new vaccines in the United States got us all perky again, but we are not out of the woods yet. Read on for what you need to know to stay safe—and to ensure your health and the health of others, don't miss these Sure Signs You've Already Had Coronavirus. 
Our Number One Priority Should be Preventing New Infections
Johnson & Johnson, Novavax, and AstraZeneca are likely to receive FDA's emergency-use authorization for their COVID vaccines. Still, we need to do more than just vaccinate people.
Working parents cannot wait to have their kids back in school. Some of us want to enjoy a date night on Valentine's day. More than anything, we social creatures like to hang out with our friends and see family without the guilt trip that goes with it. But new COVID variants have gotten us scientists concerned, and it's my duty to make sure you understand that too. 
Vaccines are our ticket out of this deadly pandemic, but we need to prevent new viral mutations. Viruses tend to mutate, and they do so when they infect new bright shiny, healthy people. We clearly need the COVID Task Force to get serious about genomic surveillance. As of today, we don't know all the variants that are attacking Americans, and how well prepared we are in our fight against them. 
I'd like to see the Biden administration create a Genome Sequencing squad, researching the genome of at least 5 percent of all cases in every state. That way, we'd have more visibility on what is actually happening with these novel mutations. It will take a while until we reach the needed 70% of Americans vaccinated. Still, now we must develop multivalent vaccines, meaning they can protect against more than one strain of the same disease. Which is a stiff challenge, and some scientists are already concerned that COVID may become a super-flu. I personally don't think that is the case yet, but our number one priority should be preventing new infections. The vaccines available in the U.S. are sufficient to prevent hospitalizations and deaths — for now. But there's no reason to be sure that it will remain like this forever because the coronavirus is mutating.
RELATED: Dr. Fauci Just Said When We'd Get Back to Normal
Please, Do Not Go To Indoor Gatherings
We have more than 100,000 people testing positive for the coronavirus every day. That opens a wide array of possibilities for new mutations. I'm afraid that if we don't take measures, we will be in this "opening and closing of businesses" loop for a very long time. 
We're not in a place in this pandemic to discuss allowing indoor gatherings. Allowing people to gather indoors is putting their health at risk. New strains may escape immune response to antibody treatment. Our number one priority, more than vaccinating people, is preventing new cases. We need to avoid new strains, new mutations and do that effectively. We need to stop the spread of the virus, containing new cases. Indoor environments are the easiest way to get the virus; avoid indoors, wear a mask, and once you're able to get a vaccine to go for it.
This virus will multiply and spread, let's stop it. Our chance to get our social life back is to do our part. Mask up, don't share your air. 
So follow the public health fundamentals and help end this surge, no matter where you live—wear a face mask, social distance, avoid large crowds, don't go indoors with people you're not sheltering with (especially in bars), practice good hand hygiene, get vaccinated when it becomes available to you, and to protect your life and the lives of others, don't visit any of these 35 Places You're Most Likely to Catch COVID.
Dr. Leo Nissola, is a Medical Doctor, Immunotherapy Scientist and Medical Advisor. Follow him on Twitter @LeoNissolaMD and on Instagram @DoctorLeo. 
Leo Nissola, M.D. is an award-winning immunologist and scientist. Follow him on Instagram @DoctorLeo and on Twitter @LeoNissolaMD.
Read more