I'm a Doctor and Beg You Read This Before Taking Off Your Mask
We may see an increase in unmasked, unvaccinated people engaging in indoor activities.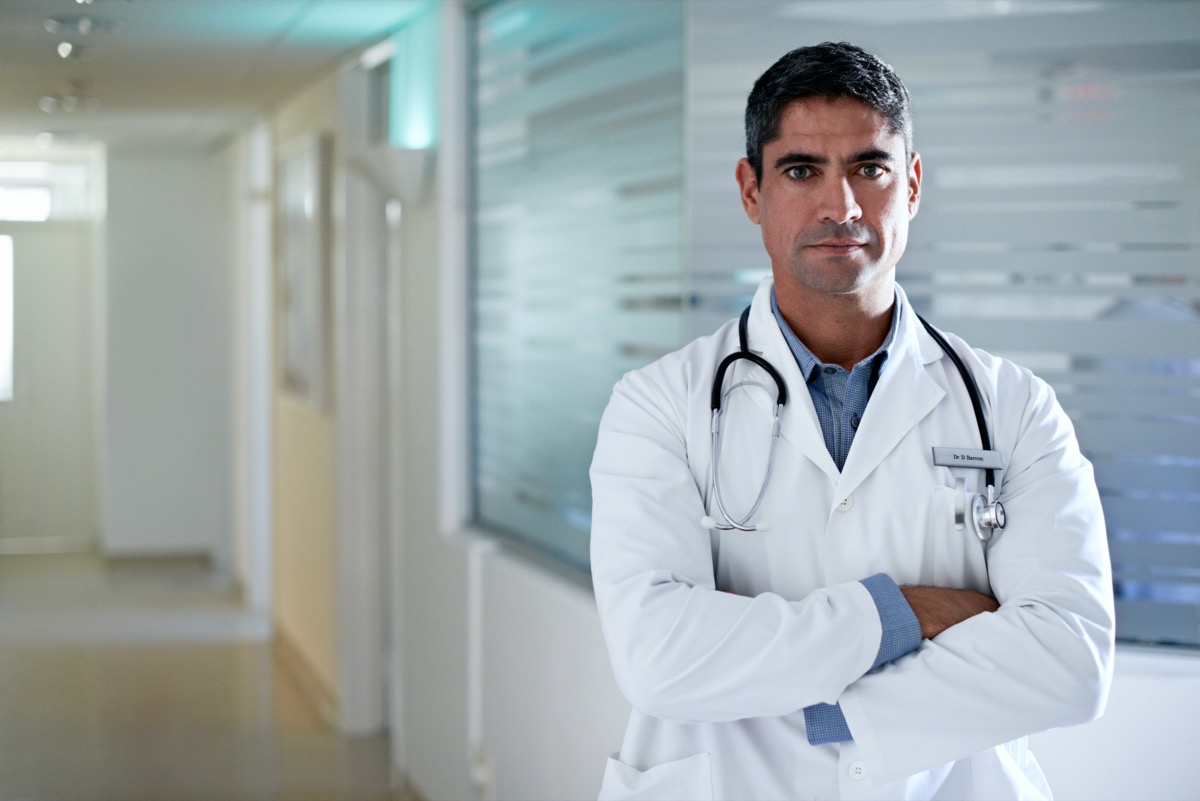 The CDC came out with new guidance regarding wearing masks on May 13, 2021. In light of the fact that current study data shows that the COVID-19 vaccines (Pfizer mRNA vaccine, Moderna mRNA vaccine and J&J Adenovirus vaccine) are extremely effective in preventing symptomatic disease, the CDC has recommended that all fully vaccinated individuals can interact indoors and outdoors with others without use of a face mask. Fully vaccinated individuals are defined as at least 2 weeks from the final shot in the series. The exceptions to this new rule include mass transit locations (buses, trains and airplanes) and high-risk institutions like healthcare facilities, prisons and homeless shelters. All people, whether vaccinated or not, are recommended to continue to wear masks in these locations. But this may cause unforeseen consequences. Read on to see what they are and how they affect you —and to ensure your health and the health of others, don't miss these Sure Signs You Had COVID And Should Tell Your Doctor.
The Pandemic is Not Over, and We May See an Increase in Unmasked, Unvaccinated People Engaging in Indoor Activities
Although the new aggressive guidance was greeted with a mix of responses from public health experts, many Americans are rejoicing at the new recommendations as a sign that the pandemic is over. Unfortunately, it is not. Currently, the national numbers of cases are down and approximately 1/3 of Americans are fully vaccinated. This is good news and likely fueled some of the confidence in the new recommendations. Also, real-world trials have demonstrated that the vaccines, specifically Pfizer's mRNA vaccine, is very effective in preventing symptomatic and asymptomatic disease in wild-type COVID-19 and some of the variants. 
6254a4d1642c605c54bf1cab17d50f1e
With all the previous mask restrictions still in place after vaccination, it's likely that the CDC is trying to promote vaccination by providing a benefit. There are a couple of problems with this idea. First, the new guidance may signal that the pandemic is over. Of course, it is not, as cases are occurring daily around the world and the death rate is still high internationally. Such a signal may be misinterpreted by Americans who might reason that they don't need to be vaccinated now that the pandemic is basically over. Again, it is not. Also, there are many Americans who refuse to be vaccinated and also refuse to wear masks. How will they be identified? What will stop them from falsely claiming that they have been vaccinated while engaging in high-risk indoor activities without a mask? The CDC said that it will not require a vaccine passport or verification. In short, we will likely see an increased incidence of unmasked, unvaccinated people engaging in indoor activities. We are far from the 70-90% vaccinated and/or infected number required to impart herd immunity. So, this is a bit concerning. 
Infections in Children May Increase
Also, although an Emergency Use Authorization has been issued for Pfizer's mRNA vaccine for children 12-15 years of age, no children under 12 are eligible for vaccination. In addition, some of the variants, like the UK variant, appear to affect children more significantly. If masks are no longer recommended indoors for vaccinated individuals and we cannot verify who such individuals are, it may result in an increased number of indoor exposures and infections in children.
Finally, the coronavirus, like many viruses, may spread more readily in the dry, cool air of winter. There is likely a seasonality to the virus. Although cases and hospitalizations are down now that it is spring/summertime, they will likely surge again in the fall/winter. Also, the virus continues to spread actively around the world. There is currently a humanitarian crisis in India where that medical system is overwhelmed, fueled partly by new variants and partly by premature opening and poor preparation by their government. These "hot spots" of viral infection are perfect breeding grounds for new variants of the virus that may be able to evade the current protections afforded by the vaccines. 
These Three "V"s Can Save Your Life—and Someone Else's
In short, the new mask guidance is a significant step that may have unforeseen consequences. The pandemic is not over and we will likely have another surge in the fall/winter. For now, we must observe three Vs – continue to be Vigilant, Vaccinate and protect Vulnerable and unvaccinated individuals. In addition, the US and other developed countries need to actively help vaccinate around the world. It is a matter of self-interest to promote international vaccination. Controlling the virus internationally is integral to preventing new strains from emerging that can evade current vaccine protection. So get vaccinated if you can, and to get through life at your healthiest, don't miss: This Supplement Can Raise Your Cancer Risk, Experts Say.
Darren P. Mareiniss, MD, FACEP
Darren P. Mareiniss, MD, FACEP is an Emergency Medicine Doctor who also practices critical care.
Read more about Darren
More content from
ETNT Health